Chillicothe Sportsmenís
Club News February 2002
<![if !supportEmptyParas]> <![endif]>
<![if !supportEmptyParas]> <![endif]>
WEB PAGE††† http://www.chillisportsmen.org/
The fourth annual Sportsmenís Banquet will be held February 24th, 2002.† As usual, there will be raffles and other drawings as well as a door prize.†† This yearís meal will be a smoked pork chop dinner including baked beans, a vegetable, salad, dinner roll, dessert and beverage.† The meal will be served from 2PM to 6PM.† The cost for the meal will be $10 (only 200 tickets will be available).† Contact Cally Morgan for tickets.† Help is always needed for making this dinner a success.† There will be a banquet planning meeting on Wednesday, February 20th at 7:00PM.† Get signed up to help and get your work hours done early this year.† Contact Cally Morgan at (309) 691-3427 to sign up to help or show up on Wednesdayís meeting.† We are also accepting donated pies and cakes in return for work hours.† Let Cally know what you would be willing to bring.
The Peoria County Jr. Air Rifle Club will hold an informational meeting for potential members, boys and girls age 8 to 18, and their parents at 7:00PM on Wednesday, February 13th, at the clubhouse.† After the meeting, previous members will have a shooting session.† The Junior Rifle Club will shoot on every following Wednesday until the end of May.
The Club uses precision air guns and other equipment on loan from the Illinois State Rifle Association to shoot the International Three Position (prone, offhand and kneeling) course of fire.† If you have any questions, call Dean Martin at (309) 691-5251.
Going, going, goneÖ† If you havenít sent in your renewal, this will be your final Newsletter.† The lock on the gate will be changed to the N lock on February 1st, 2002. †There is a late fee of $10/month assessed to anyone wishing to renew after February 1st.† Note that this is the last year we will be having the 31 day buffer period.† Starting this year, the gate lock will be changed to the new lock on January 1, 2003.
Junior Members:† Dues $5 (must be a full time grade school or high school student to qualify)
We also need you to return your M gate key after you get your 2002 gate key.† Please return the M gate key to the mailbox that is in front of the Clubhouse so we can re-cut this key for future use.† Thank you.
Associate Life Memberships are available for anyone.† If you are interested in becoming an Associate Life Member, contact any board member for more information.† The cost is $500 and you may take up to 2 years to pay for it.†
Take 5 regulation bowling pins, put them on a table twenty-five feet away and then shoot them off the table with a pistol as fast as you can.† Sound easy??† Well step right up and give it a try.†
This April, after a long absence, the sport of pin shooting is being resurrected at our club.† That's right, we're taking bowling pins out of the dark alleys and bringing them out in the sunlight where they will be shot, as they should be.
Handguns are divided into 3 classes:† .22 rim fire, minor (.38 - 9mm) and major (.40 cal and up).† You don't have to be Jerry Miculek to participate. Everyone shoots against the clock.
Any questions call Kevin Monk at 309-443-5339 (evenings or weekends).
The results are in from the Annual New Year's Shoot which takes place on the first Sunday of each year in Treuenbrietzen.† This year's match was shot with the .22 pistol.† Each shooter fired 15 shots at 25 meters on the standard target used for both 25 meter pistol through 100 meter rifle matches.† The results were very close with Axel Wilke shooting a 122 for third place; Klaus "Black Bear" Waschetzko shooting a 124 for second place and Walter "Grizzly" Wildgrube winning the match with a score of 126.† Well done! We are just beginning to plan a club trip to our Sister Club.† Our general format will be to fly as a group into Berlin, spend a few days in Treuenbrietzen and then split up into smaller groups to see other parts of Germany or Europe.† We have no firm dates, but are looking into possibilities in the mid-June to early-July time frame.† If you have interest or input, call me at 579-2914 or better yet E-mail me at pbishop@mtco.com.
The first archery event of the season will be occurring in February.† This is our annual Snow Shoot and as in the past, we will close down a portion of the Club grounds in order to use this area for the archery setup.† This is an excellent opportunity to show many of the non-member archers what our Club is like and hopefully generate some new memberships.† The Snow Shoot will be February 17th but we will be doing the setup on February 16th.† NOTE that the south ranges (3,4,and 5) will be closed to firearms shooting for both those days.† Please come out and participate in a fun and challenging course.
The indoor range at the Clubhouse will be open once again during February (and March depending on participation) on the first Sunday of the month from 1PM to 4PM.† You may come out and shoot .22 rifles, pistol caliber rifles (non-magnum) or any pistol that is not a magnum.† Lead bullets only Ė no jacket bullets are allowed.† Eye and ear protection are required.† A small fee will be charged.††
The Hunter Education Program was started in the 1960ís by Vernon Taylor as part of the old NRA program.
The state got involved in 1976, after the NRA dropped Hunter Ed and its potential of 300,000 new members every year to put more emphasis on international shooting. This club took a position as one of the leading clubs in Illinois. In October of 1977 the instructor certification class for Central Illinois was held in our basement. The main floor of the clubhouse was not finished: there was no roof, no glass in any window, and the step-less stairwell was open to the blowing rain of the second night.
Volunteer instructors from Peoria to Princeton were certified in our basement on October 4. All of our active instructors were club officers or board members. We held our first state class of twenty-eight students on October 8 of that year.
When Vern started going to New Mexico for the winters, Herb Neuswanger became the team leader. After Herb had a heart attack, Lowell Bennett became team leader. The team of nine members now runs four classes a year at the club, averaging 50-55 in a class.
A 1996 Illinois law requires that all hunters born after January 1, 1980 successfully complete the hunter education course before they can receive their first Illinois hunting license. Participants completing the hunter education course receive a Hunter Education Certification, valid in all fifty states and Canada, verifying that they have passed the safety instruction.
By the way, if you were born after January 1, 1949, and wish to hunt in Colorado or Canada, you must take and pass a Hunterís Ed course.† The free course includes instruction in wildlife management, firearms safety, hunter ethics, game identification, first aid, survival techniques and hunting regulations.
For more information about the course and to reserve a seat, contact the coordinating instructor, Lowell Bennett, at (309) 274-5586. Space is limited. The next Hunterís Ed Course will be March 14th, 15th, and 16th.
If you have any questions or concerns about your Club you may contact any Club Officer listed below or any board member.
<![if !supportEmptyParas]> <![endif]>
President††††††††††††††††††††††††††††† Vice-President††††††††††††††††††††††††††††††††††† Secretary†††††††††††††††††††††††††††† Treasurer
Cally Morgan††††† Paul Aaron††††††††††††† Tim Vik†††††††††† Dale Schroeder
(309) 691-3427†††††††††††††† (309) 274-2370†††††††††††††††††††††††††† (309) 274-4018†††††††††††††† (309) 274-3082
Acronyms - What the heck do they mean!!???!!?!?
Wonder what all the acronyms used out on the range and in this newsletter mean? This area of the newsletter is dedicated to helping explain these. If I forget some or misidentify them, please let me know.
SASS††††††††† Single Action Shooting Society
USPSA ††††††† United States Practical Shooting Association
DCM†††††††††† Department of Civilian Marksmanship (old designation)
CMP†††††††††† Civilian Marksmanship Program (new designation)
IPSC††††††††† International Practical Shooting Confederation
NRA†††††††††† National Rifle Association
PPC†††††††††† Police Practical Combat
<![if !supportEmptyParas]> <![endif]>
<![if !supportEmptyParas]> <![endif]>
Contact Tim Vik via e-mail at sprtsman@mtco.com if you would like to receive the CSC Newsletter and calendar of events via e-mail at no cost to you.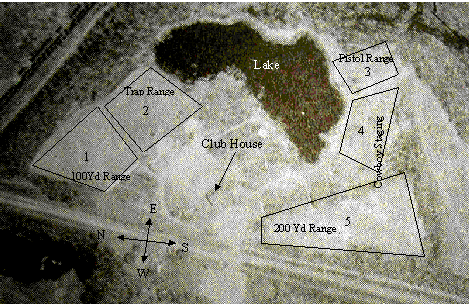 Contact Tim Vik via e-mail at sprtsman@mtco.com if you would like to receive the CSC Newsletter and calendar of events via e-mail at no cost to you.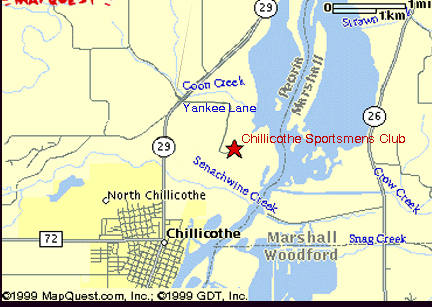 <![if !supportEmptyParas]> <![endif]>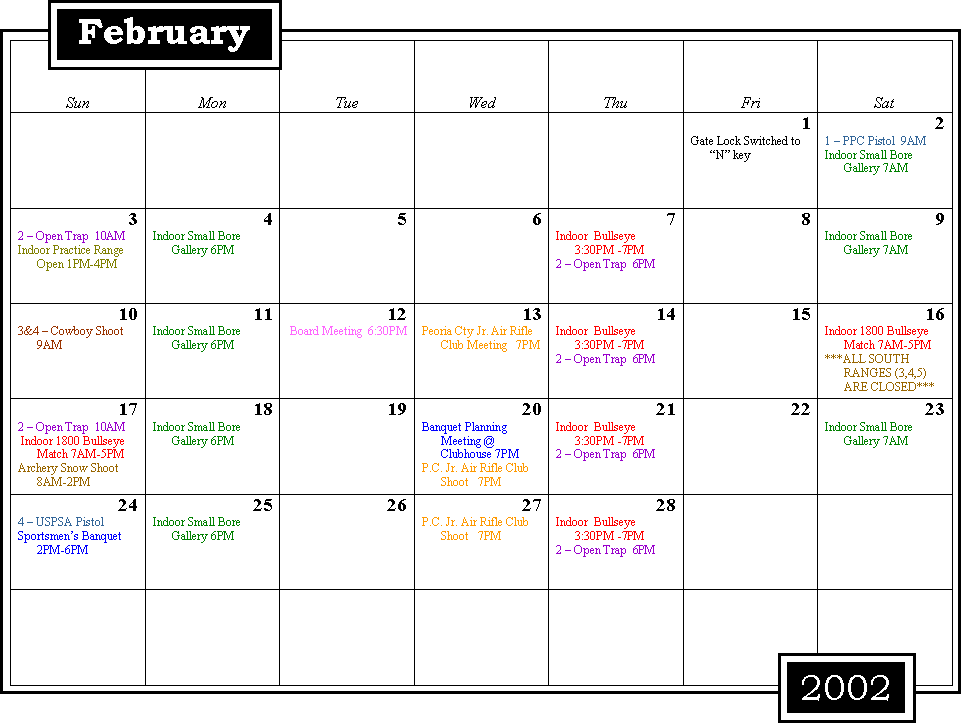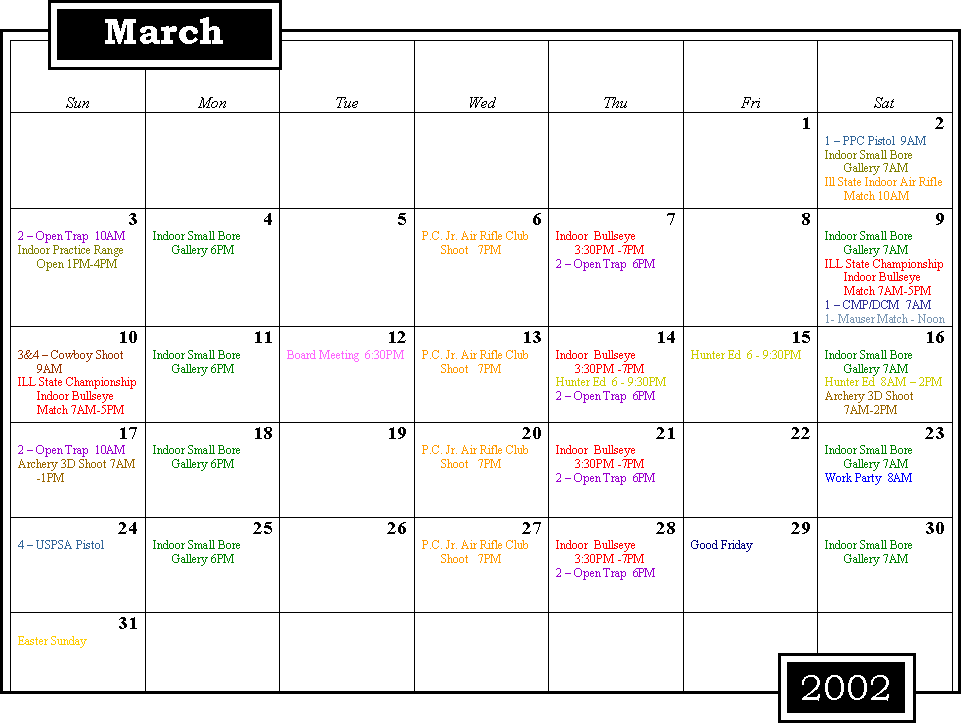 <![if !supportEmptyParas]> <![endif]>
<![if !supportEmptyParas]> <![endif]>
<![if !supportEmptyParas]> <![endif]>