Chillicothe Sportsmen's
Club News January 2003
<![if !supportEmptyParas]> <![endif]>
<![if !supportEmptyParas]> <![endif]>
WEB PAGE    http://www.chillisportsmen.org/
The Officers and Board would like to take this opportunity to wish everyone a Happy New Year.
If you haven't sent in your renewal, this will be your final Newsletter.  Your membership expires on December 31st, 2002 and starting January 1, 2003, there will be a new lock on the gate keyed O.  Members have a 31 day grace period to get their dues in.  There is a late fee of $10/month assessed to anyone wishing to renew after February 1st.
Annual Members:  Dues $50, Landfund $10 and 10 work hours or $10 for every work hour not worked.  Annual Members with no work hours would have a renewal fee of $160 for 2003.
Associate Life Members: Landfund $10 and 10 work hours or $10 for every work hour not worked.  Associate Life Members with no work hours would have a renewal fee of $110 for 2003.
Life Members: Landfund $10 and 10 work hours or $10 for every work hour not worked.  Life Members under the age of 65 with no work hours would have a renewal fee of $110 for 2003.
Please be sure to send in your membership card even if you don't have any work hours.  This includes annual members who do not wish to rejoin, annual members (with or without work hours), associate life members (with or without work hours), life members and life members over age 65 (with or without work hours).  We need your membership cards for our records.  Membership renewals maybe sent to the Chillicothe Sportsmen's Club, P.O. Box 13, Chillicothe, IL 61523.
We also need you to return your N gate key after you get your 2003 gate key.  Please return any old gate keys to the mailbox that is in front of the Clubhouse so we can re-cut this key for future use.  Thank you.
Our annual membership limit for 2002 was reached some time ago.  New annual member applications for 2003 are starting to come in and a waiting list has been started according to date received.  All previous 2002 members will have the opportunity to renew for 2003 before any new members are accepted.  Dues are due 02/01/03, but the gate lock will be changed 01/01/03.  If you know of anyone getting ready to send in a new application, please have them date it and even the application says "please include fees with application", do NOT have them send a check at this time.  We do not want to keep their checks for an extended period of time.  Those on the waiting list will be notified 02/01/03 of any openings and will be given 30 days to forward a check.
The indoor range is open for informal shooting from 1:00 to 3:00 P. M. on Thursday afternoons. If participation in this event does not increase, the practice period will be discontinued.  Pistols (no magnum loads or jacketed bullets) and .22 rimfire rifles only. Range fee is $5.00. ALL PERSONNEL MUST WEAR ADEQUATE EAR AND EYE PROTECTION. For additional information, contact Dean Martin at 309-691-5251, days and evenings, or by e-mail at DEANNJUDE@aol.com.
The 3rd annual YSSI Weekend is set for April 25-27, 2003, at our Club Grounds.  Volunteer HELP is needed on the RANGES (22 rifle, shotgun, archery, high-power rifle, buffalo shooting, muzzle loading rifle, cowboy action pistol), in the KITCHEN (cooks and cleanup), and as Youth Group GUIDES (escort groups to each station during the day on Saturday).  The Club also needs re-loaded shells in applicable shooting areas.  Work Hours will be credited.  Please contact Event CO-chair Bob Bjerke @ (309) 692-1800 with your availability and preferences.
Do you own a pistol or revolver?
Do you feel that you need some Basic Training / Education on using your gun properly and safely?  If so ---
The CSC will be hosting a NRA BASIC PISTOL CLASS during the week of March 17 – 23, 2003, in the Clubhouse.  Class dates and times are:
Monday – March 17    7:30 p.m. to 10:00 p.m. -- classroom
Thursday – March 20  7:30 p.m. to 10:00 p.m. -- classroom
Friday – March 21    7:30 p.m. to 10:00 p.m. -- classroom
Saturday – March 22  9:00 a.m. to Noon or 1:00 p.m. to 4:00 p.m. – range
Sunday – March 23    9:00 a.m. to Noon  or  1:00 p.m. to 4:00 p.m. -- range
Cost is $35.00 per participant.      (Fees due by March 1)      Maximum of 30 participants.
For details / invitation letter contact or see one of the following:  Bob Bjerke @ (309) 692-1800:  Mike James @ (309) 274-6473:  Kevin Monk @ (309) 443-5339 -- all have answering machines – leave a message if  no one is available.
Mauser Matches are held on range #1 each month through April on the 2nd Saturday at 10 AM.  At 50 meters, rules are: open sights, center-fire, 20 shots standing per relay, re-entry.  Results from the December 14th match: New shooter, Keith Kohler, shot a very respectable 3rd place score of 188-3X with his M48A 8mm mauser with cast bullets edging out Carl Dalcher, seasoned veteran cast bullet shooter, by 2 X's.  Second place went to Max Koehl, who shot a 191-6X with his Swedish mauser M38 carbine using 6.5 X 55mm reloads.  In first place was Paul Bishop with a score of 195-7X, shot with his M96 Swedish mauser rifle made in 1920, with reloads.  Note: the 6.5 X 55mm shooters are having some difficulty getting their bullets to make round holes, but in a 50-meter offhand match, rifle inaccuracy is of liitle consequence.  Come out and shoot what you have!  For more information call Max Koehl at 385-1033
We will be having our Hang Over Shoot on January 1st, 2003 starting at 10:00AM (weather permitting). 
Start saving your money – I will be getting reloading prices in early January.  Contact Dale at 274-3082 if you are interested in getting your reloading supplies or new shells.
January 1st, 2002  - Hang Over Shoot
Starting in January, there will be USPSA indoor practice on Tuesday nights from 6:00PM to 9:00PM except the 2nd Tuesday of the month.  Cost for participation will be $5.00 per session.  Contact Chuck Varnold at (309) 697-6766 for more information.
   The newsletter and calendar are available for viewing on-line.  Back issues of the newsletter are available as well and the club activities information has been updated.  Check it out.  Also, please let Tim Vik know if you are willing to get the newsletter via e-mail.  This is an excellent way of saving the Club some money by eliminating unnecessary postage charges by getting the electronic version of the newsletter.  Contact Tim via e-mail at sprtsman@mtco.com.
If you have any questions or concerns about your Club you may contact any Club Officer listed below or any board member.
<![if !supportEmptyParas]> <![endif]>
President                              Vice-President                                    Secretary                             Treasurer
Cally Morgan      Charles Varnold         Bob Bjerke        Dale Schroeder
(309) 691-3427               (309) 697-6766                           (309) 692-1800               (309) 274-3082
Acronyms - What the heck do they mean!!???!!?!?
Wonder what all the acronyms used out on the range and in this newsletter mean? This area of the newsletter is dedicated to helping explain these. If I forget some or misidentify them, please let me know.
SASS          Single Action Shooting Society
USPSA         United States Practical Shooting Association
DCM           Department of Civilian Marksmanship (old designation)
CMP           Civilian Marksmanship Program (new designation)
IPSC          International Practical Shooting Confederation
NRA           National Rifle Association
PPC           Police Practical Combat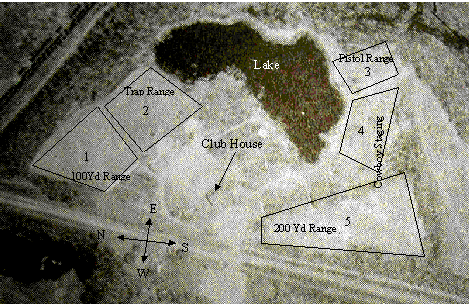 Contact Tim Vik via e-mail at sprtsman@mtco.com if you would like to receive the CSC Newsletter and calendar of events via e-mail at no cost to you.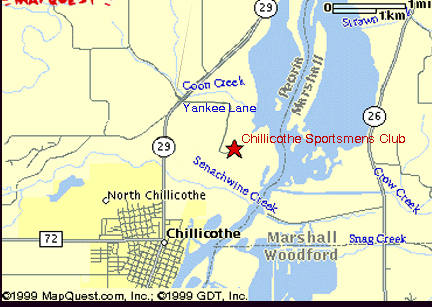 <![if !supportEmptyParas]> <![endif]>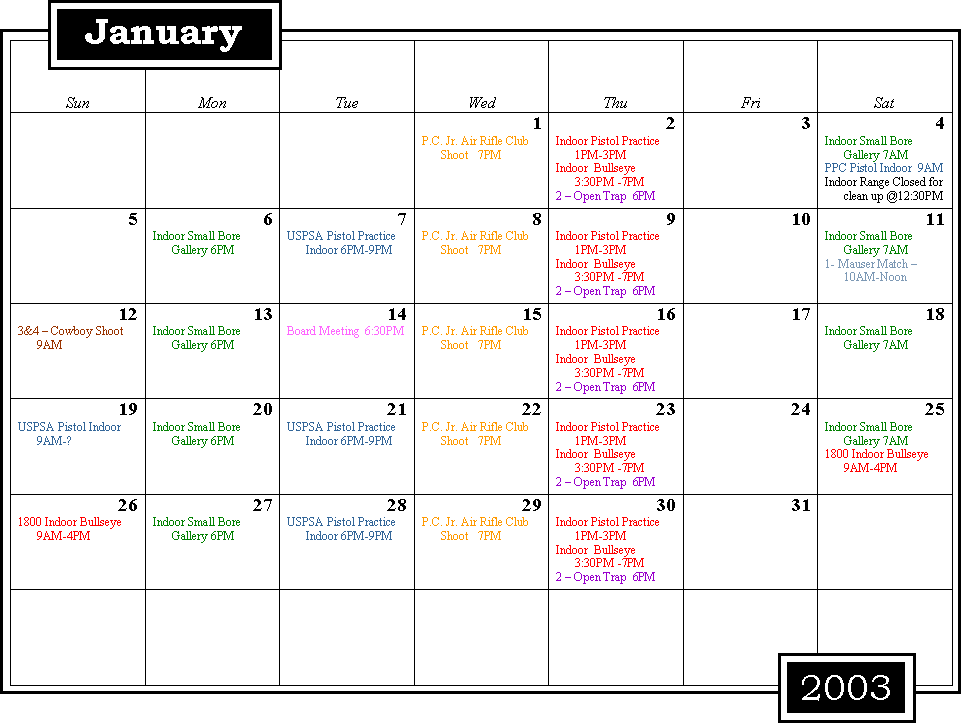 <![if !supportEmptyParas]> <![endif]>
<![if !supportEmptyParas]> <![endif]>
<![if !supportEmptyParas]> <![endif]>