Chillicothe Sportsmen's
Club News JANUARY 2005
<![if !supportEmptyParas]> <![endif]>
<![if !supportEmptyParas]> <![endif]>
<![if !supportEmptyParas]> <![endif]>
<![if !supportEmptyParas]> <![endif]>
<![if !supportEmptyParas]> <![endif]>
THE CSC BOARD OF DIRECTORS WISHES EVERYONE HAD A SAFE AND HAPPY HOLIDAYS.  HOPEFULLY EVERYONE RECEIVED THE SANTA GIFT(S) THEY DESIRED.
<![if !supportEmptyParas]> <![endif]>
Your membership expired on December 31st, 2004, and the gate lock changed on January 1st, 2005. Don't wait until the last minute to renew your membership.  Avoid any late fees (Article 4: Section 9).  Some Associate Life Memberships are available for those who want to upgrade.  Associate Life Membership fees may be paid on an installment schedule.
Annual Members:  Dues $50, Land Fund $10 and 10 work hours or $10 for every work hour not worked.  Annual Members with no work hours will have a renewal fee of $160 for 2005.  You have to renew by February 1st to avoid being assessed a late fee (see Article 4:  Section 9).
Associate Life Members:  Land Fund $10 and 10 work hours or $10 for every work hour not worked.  Associate Life Members with no work hours will have a renewal fee of $110 for 2005.
Life Members:  Land Fund $10 and 10 work hours or $10 for every hour not worked.  Life Members under the age of 65 with no work hours will have a renewal fee of $110 for 2005.  Life Members over the age of 65 are EXEMPT from the 10-work hours requirement and will have a $10 Land Fund renewal fee for 2005.
Everyone:  Please be sure to return your 2004 membership card with your dues and/or fees even if you don't have any or only partial work hour credits.  This includes both non-renewing and renewing Annual Members, Associate Life Members, and Life Members (both under and over 65) all with or without work hours.  We need your membership cards for our records.  Thank you.
It is not absolutely necessary to return your old gate key, however old gate keys in good condition can be re-keyed.  It would be appreciated if you would deposit your old keys in the mailbox in front of the Club House.  This action will help save the Club money.  Thank you.
<![if !supportEmptyParas]> <![endif]>
INAPPROPRIATE TARGETS:  The Club has had recently observed instances of some shooters using rocks and other inappropriate items as targets.  The potential for severe injury is great.  DO NOT USE INAPPROPRIATE ITEMS AS YOUR TARGET.  VIOLATORS CAN LOSE RANGE USE PRIVILIGES. 
Gate Key:  If you forget your key and another member lets you in, place your membership card on your vehicle dash so everyone will know you are a member.
Work Hours:  The Indoor Range will be CLOSED on the 2nd Saturday of January and February after 9AM to facilitate Range Cleanup.  The cleanup should be finished by 1PM each work date.  Contact Dean Martin @ (309) 691-5251 for details.
Clubhouse:  The interior is scheduled to be re-painted during the weekend of Saturday, January 8th, and Sunday, January 9th.  A big thank you to Mike James and the crew of members he has recruited to accomplish this task as well as the other repairs that have been performed.
Event Directors:  If you have any information you want put into the monthly newsletter, you have to get it to us for potential inclusion.
<![if !supportEmptyParas]> <![endif]>
Be sure to check out this month's and next month's included calendars for All Scheduled Archery, Pistol, Rifle, Shotgun, and Other Events and Starting Times.  Check out the Club web site.  Some of our regular events have changed their dates and times for events starting later this year.  The included calendars are as accurate as possible for this month and next month.
The December 11th regular match results, weather was chilly & cloudy, were:
   First:        Jay Andrews          Persian Mauser             241-0X
   Second:       Marty Lehman         Enfield Jungle Carbine     220–1X
   Third:        Don Short            Turk Mauser Sporter        217-0X
High Raw Score shooter was Paul Bishop with a 197-9X using a M1903 Springfield.            
Ross Baer won the Carl Dalcher December Challenge Match 'any center-fire rifle with peep sights' with a 199-6X using his AR-15.
Ray Chumney II & Marty Lehman won the Special Prizes provided by Cliff's Rod & Gun Shop.
DATE CHANGE:  The next Mauser Match is January 22nd.  Signup starts at 9AM with the match starting at 10AM.
Although called 'Mauser Matches' any center-fire rifle with open sights can be used for this 20-shot slow-fire standing match.  Targets are 100-yd NRA high-power rifle standing targets at 50 meters.  Modern rifles with open sights are also welcome for these fun matches.  Your rifle does not have to be expensive.  Entry fees are reasonable and everyone has fun.
Questions – contact Max Koehl @ (309) 385-1033.
<![if !supportEmptyParas]> <![endif]>
Some of our members have moved to a new address and have not notified the Club.  The Post Office returns your monthly club newsletter and charges the Club $ .37 for each newsletter returned.  The Club then has to again pay $ .37 to forward this returned newsletter to you.  These fees are in addition to the original printing and standard rate postage charges.
If you have moved, or are moving, please let us know your new address.    Please mail your new address to the Club at P.O. Box 13, Chillicothe, IL 61523 or call one of our officers with it.  If you call and get an answering machine, please leave your telephone number also.  Sometimes the machines are unable to clearly record your message.  Thanks.
   The newsletter and calendar are available for viewing on-line.  Back issues of the newsletter are available as well and the club activities information are periodically updated.  Check it out.  The web site address is listed at the top of each monthly newsletter.
Many of you newer members and some of you older members have provided the Club with your e-mail address.  The Club will be e-mailing you your monthly newsletter.  If you have provided your e-mail address and have not received your monthly newsletter via e-mail, please let us know via e-mail so that we can get your correct e-mail address. (Some of the e-mailed newsletters have come back as undeliverable due to a bad e-mail address)  You will also continue to receive a hard copy of the newsletter, until we hear from you that the e-mail version is sufficient.  The Club can then delete your name from the club newsletter printing and mailing list.  This will save the Club money (just over $.50 per newsletter).  Tim Vik is the CLUB WEBMASTER and E-MAIL coordinator.  His E-MAIL address is sprtsman@mtco.com.  Thanks!!
The Club Website also has Club event and general Club information on it.
If you have any questions or concerns about your Club you may contact any Club Officer listed below or any board member.
<![if !supportEmptyParas]> <![endif]>
President                              Vice-President                                    Secretary                             Treasurer
Dale Schroeder    Charles Varnold         Bob Bjerke        Richard Powell
(309) 369-6569       (309) 697-6766             (309) 692-1800       (309) 697-2889
<![if !supportEmptyParas]> <![endif]>
Acronyms - What the heck do they mean!!???!!?!?
Wonder what all the acronyms used out on the range and in this newsletter mean? This area of the newsletter is dedicated to helping explain these. If I forget some or misidentify them, please let me know.
SASS          Single Action Shooting Society
USPSA         United States Practical Shooting Association
DCM           Department of Civilian Marksmanship (old designation)
CMP           Civilian Marksmanship Program (new designation)
IPSC          International Practical Shooting Confederation
NRA           National Rifle Association
PPC           Police Practical Combat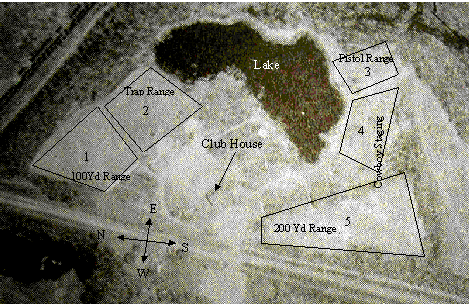 Contact Tim Vik via e-mail at sprtsman@mtco.com if you would like to receive the CSC Newsletter and calendar of events via e-mail at no cost to you.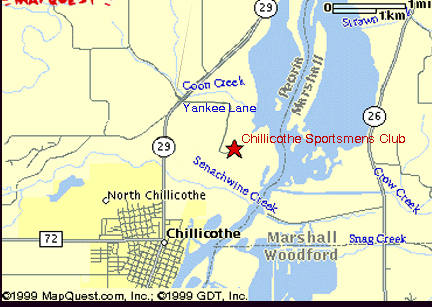 <![if !supportEmptyParas]> <![endif]>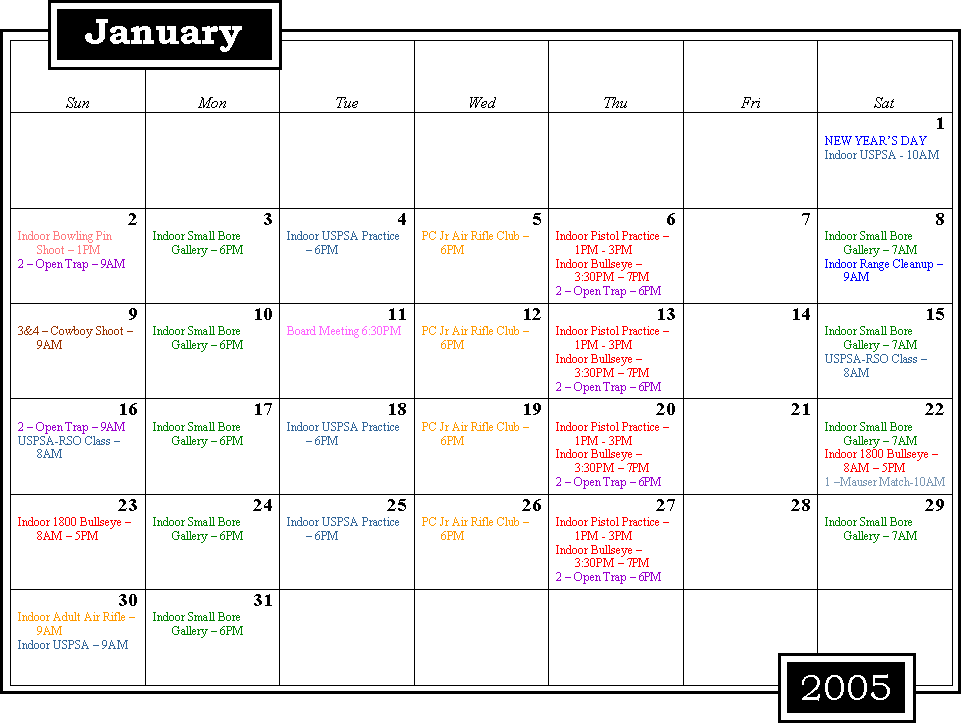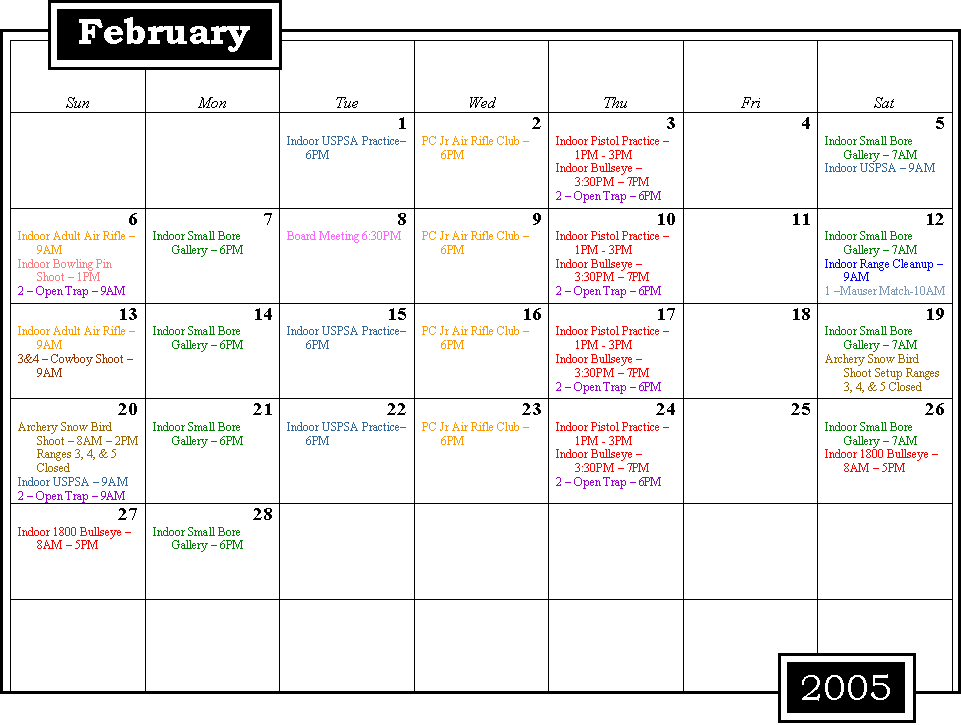 <![if !supportEmptyParas]> <![endif]>
<![if !supportEmptyParas]> <![endif]>
<![if !supportEmptyParas]> <![endif]>