Chillicothe Sportsmen's
Club News MARCH 2006
LEGISLATIVE ALERT:  The Illinois General Assembly (thru Mayor Richard Daley, Chicago, & Governor Rod Blagojevich) is again trying to push thru 'anti-gun owners' legislation - HB4693 (ban retail sales of firearms), HB4964 (storage in an unusable condition), & HB2414 (generally ban gun ownership with few exceptions).  Contact your respective elected officials and politely voice your strong objections to the passage of these and any and all additional anti-gun owning legislation bills.  Additional information on these and other bills can be found at the ISRA Website - www.ISRA.ORG or NRA-ILA Website – www.NRAILA.org and follow the appropriate links.
ISRA LOBBY DAY AT SPRINGFIELD:  Wednesday, March 15 is the date.  Meet in the Stratton Cafeteria at 1 P.M. for the finalizing of visits to your applicable elected representatives.  A reception will follow at 5:30 p.m.  Contact Dean Martin, 309/691-5251, coordinator for CSC, for the details.  Dean will have a van available for transportation to & from Springfield.
2006 CLUB STICKERS:  All members should have received a 2006 sticker with your membership renewal.  This sticker should be displayed when you are on the Club Grounds.  The sticker DOES NOT has to be attached to your vehicle.  You can lay it on your dash, tape it to your window, attach it to a piece of plastic suspended from your rear view mirror, or any other arrangement you wish to use.  The sticker should be visible from the front of your vehicle.
NEW MEMBER ORIENTATION:  Remember, all NEW ANNUAL MEMBERS have to attend one of the NEW MEMBER ORIENTATION sessions before you can receive your membership card and gate key.  If this newsletter has (**) in the middle initial area of your name line, you are one who has to attend this session.  The next scheduled sessions are:
Monday, February 27th, 7:30 – 9:30 p.m. or Monday, March 20th, 7:30 – 9:30 p.m.
Saturday, March 18th, 2:00 – 4:00 p.m.
To make your class attendance reservation or to ask any questions - Contact Charles Varnold at (309) 697-6766 or via e-mail at tunaot@insightbb.com
WORK HOURS / INDOOR RANGE CLEANUP:  The monthly indoor range cleanup is scheduled for Saturday, March 11, @ 9:00 a.m.  Dean Martin & his work-crew can always use help.  Questions – Contact Dean Martin @ (309) 691-5251.
BASIC PISTOL CLASS:  The Club will host a NRA Basic Pistol Class the week of March 13-19.  Look at the March calendar for the dates & times.  Cost is $50 for each person.  Advance reservations by March 3, are required.  Questions / Applications / Registration Forms – Contact Bob Bjerke @ (309) 692-1800.
YSSI WEEKEND:  The 6th Annual Youth Shooting Sports Weekend is scheduled for April 21–23, 2006.  Volunteer HELP is needed in all areas (Ranges, Kitchen, Guides, etc.).  Reloaded ammunition is also needed for the applicable shooting areas.  WORK HOURS will be credited.  Questions and/or Availability – Contact Bob Bjerke @ (309) 692-1800.
The semi-annual Gun Show is set for April 1 & 2, 2006, in the Clubhouse.  Show times are:
Saturday, April 1st, 8:00 a.m. to 4:00 p.m. & Sunday, April 2nd, 8:00 a.m. to 3:00 p.m.
Gun Show Work Party Dates are set for Friday, March 31, 9:00 a.m. till done for cleanup and Show setup and Monday, April 3, 9:00 a.m. till done to take down and cleanup from the Show.
CSC Tables: Do you have any gun related items (sorry – but no guns) that you wish to sell?  Some FREE Club Tables will be available for Club Members desiring to sell a few items.  If you are interested, contact Dennis Loser, at least a minimum of 3 days before the show, at number below to obtain the necessary details.
Desserts (Pies & Cakes ONLY) are also needed for the Show Kitchen.  Work Hours Credits will be given for help and desserts (1/2 hour per dessert).  To help in the kitchen and/or provide desserts - contact Carol Loser @ 309/274-4833.
To make table reservations and/or to help with the show contact Dennis Loser @ (309) 274-2721.
TRAP WORK DATES:  March 18, March 25, and April 1 are set for cleaning & painting the Trap Building, cleaning the surrounding trap grounds, and finalizing the new trap house work.  Starting time is 8:30 a.m., weather permitting.
TRAP LEAGUE MEETING:  The annual trap league meeting will be held Saturday, April 1, 10:00a.m., at the Trap House.  Questions – contact Dale Schroeder @ (309) 369-6569.
Results of the January 11th match were:
First:      Jeff Sarff        210-4X      30-06 Mauser
Second:     Mark Geason       210-2X      Turk Mauser
Third:      Terry Beachler    207-2X      M48 Yugo Mauser
Turkey Mauser Challenge Scores:  Paul Bishop 195-7X; Carl Dalcher 194-6X; and Max Koehl 189-6X.  Max Koehl won the coin toss (How does 3rd highest score qualify for the coin toss & win the prize?) to take home the prize.  
Next match is March 11th.  Be at Range #1 by 9:45 a.m. to shoot the first relay.
Special Challenge match will be for straight pull bolt-action rifles.
Questions – contact Max Koehl @ (309) 385-1033.
Many newer members and some older members have provided the Club with your e-mail address.  The Club will be e-mailing you your monthly newsletter.  If you have provided your e-mail address and have not received your monthly newsletter via e-mail, please let us know via e-mail so that we can get your correct e-mail address. (Some of the e-mailed newsletters have come back as undeliverable due to a bad e-mail address)
If you have moved, or are moving, please let us know your new address.  Mail your new address to the Club at P.O. Box 13, Chillicothe, IL 61523 or call one of our officers.  Our monthly newsletters are mailed at bulk rate, which the Post Office will NOT FORWARD to you.  The newsletters are returned to the Club as "POSTAGE DUE".
   The newsletter and calendar are available for viewing on-line at www.chillisportsmen.org  The website also lists all Club activities, events, and contains periodically updated general information as well as the current CSC Membership Application. Tim Vik is the CLUB WEBMASTER and E-MAIL coordinator.  His E-MAIL address is sprtsman@mtco.com
If you have any questions or concerns about your Club you may contact any Club Officer listed below or any board member.
<![if !supportEmptyParas]> <![endif]>
President                              Vice-President                                    Secretary                             Treasurer
<![if !supportEmptyParas]> <![endif]>
Dale Schroeder    Charles Varnold         Bob Bjerke        Richard Powell
(309) 369-6569       (309) 697-6766             (309) 692-1800       (309) 697-2889
<![if !supportEmptyParas]> <![endif]>
ARE YOU A NRA MEMBER?  IF NOT, WHY NOT?  The NRA is one of the few National Organizations that fights for your rights for you to continue to be allowed to own and use firearms for target shooting, plinking, and hunting!  Join the NRA today thru the CSC.  Dick Powell, Treasurer, has the necessary information and forms.
<![if !supportEmptyParas]> <![endif]>
Acronyms - What the heck do they mean!!???!!?!?
Wonder what all the acronyms used out on the range and in this newsletter mean? This area of the newsletter is dedicated to helping explain these. If I forget some or misidentify them, please let me know.
SASS          Single Action Shooting Society
USPSA         United States Practical Shooting Association
DCM           Department of Civilian Marksmanship (old designation)
CMP           Civilian Marksmanship Program (new designation)
IPSC          International Practical Shooting Confederation
NRA           National Rifle Association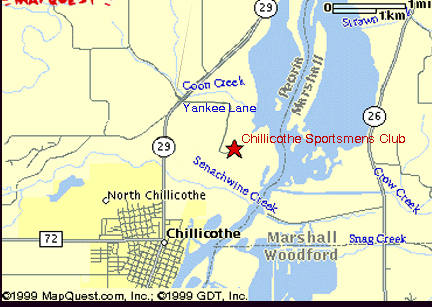 Contact Tim Vik via e-mail at sprtsman@mtco.com if you would like to receive the CSC Newsletter and calendar of events via e-mail at no cost to you.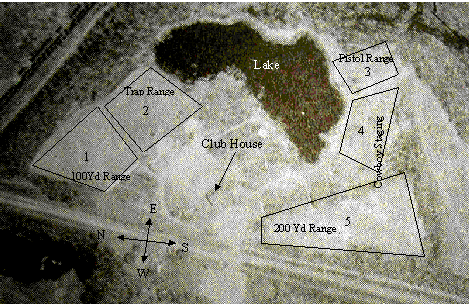 <![if !supportEmptyParas]> <![endif]>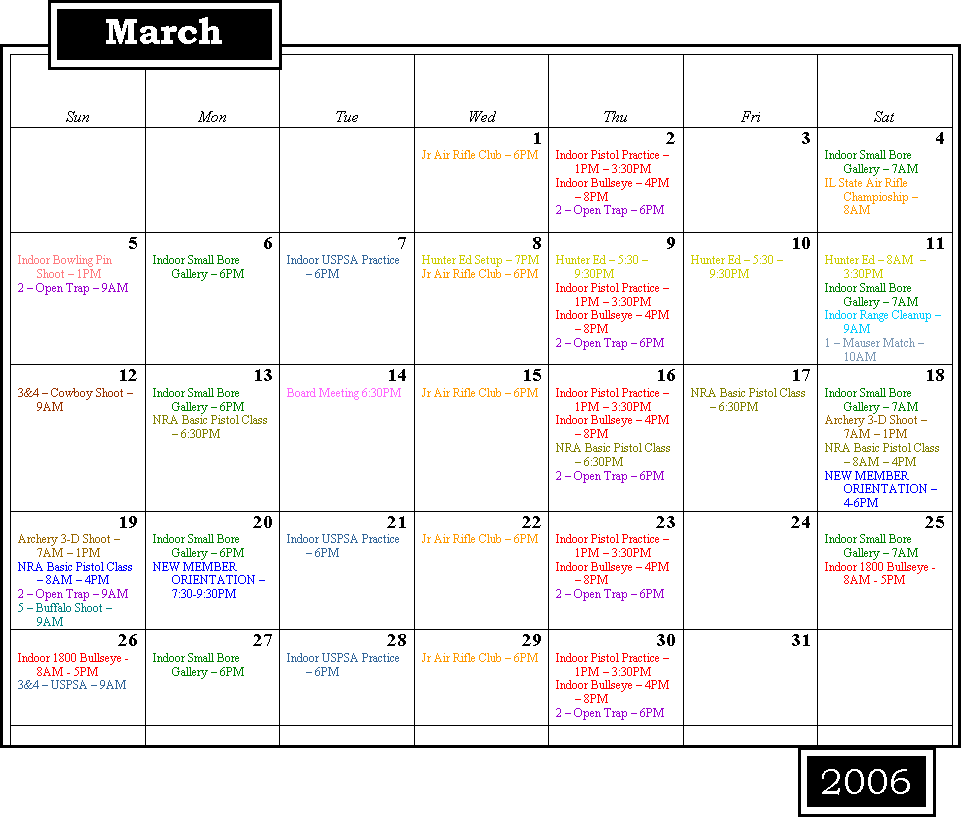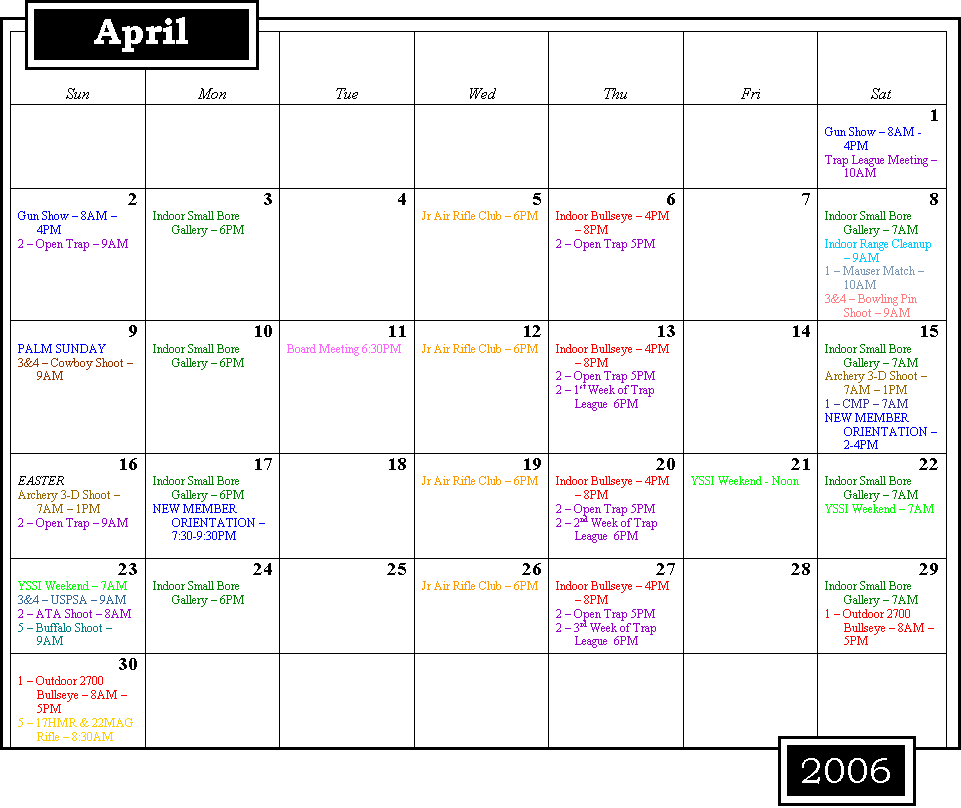 <![if !supportEmptyParas]> <![endif]>
<![if !supportEmptyParas]> <![endif]>
<![if !supportEmptyParas]> <![endif]>