Chillicothe Sportsmen's
Club News February 2007
<![if !supportEmptyParas]> <![endif]>
SCHEDULED WORK DAYS/DATES:  Saturday, February 10, 9AM, Indoor Range Cleanup.  Need 10 to 12 people to help with this project.  Questions - Contact Dean Martin @ (309) 691-5251.
Periodic checking with the Event Directors may provide insight as to upcoming work dates.
The Annual YSSI Weekend is coming up April 20-22.  HELP is needed on all ranges and in the Club House.  100 youth and adults spend time on 22 rifles, archery, shotgun, high-power rifles, buffalo rifles, muzzle-loading rifles, and cowboy action shooting.  All meals are provided for the participants and staff.  Reloaded ammunition is needed for many of the shooting stations.  Contact the appropriate event director to determine their specific ammunition needs.  Bob Bjerke, 309/692-1800, is the Chairman for this event.
GUN SHOW:  The semi-annual gun show is scheduled for March 31-April 1 weekend.  More detailed information will be included in the next newsletter.  Questions – Contact Steve Risinger @ (309) 449-6268.
CMP FEES:  Due to rising costs, the 2007 CMP Event fees are being increased to:
Entry Fees                               One Relay            Two Relays   
CSC Adult Member                     $12.00               $18.00
Adult Non-Member                     $18.00               $30.00
Junior (Member or Not)                      $ 5.00               $ 7.00
AMMO (.223, .308, 30-06)                    $18.00               $36.00
Questions:  Contact Steve Schneckenburger @ (309) 692-7807.
ARE YOU ONE OF THE OVER 150 MEMBERS WHO HAVE NOT YET PAID YOUR 2007 DUES & FEES?  MEMBERS NOT RENEWED BY THE FEBRUARY BOARD MEETING WILL BE REMOVED FROM THE 2007 MEMBERSHIP ROSTER!
Your membership expired December 31st, 2006, and the gate lock WAS CHANGED on January 1st, 2007.  If you HAVE NOT YET PAID your 2007 renewal fees, you CAN NOT get onto the Club Grounds until you pay your fees.  Don't wait until the last minute to renew your membership
Annual Members:  Dues $50, Land Fund $10 and 10 work hours or $10 for every work hour not worked.  Annual Members with no work hours will have a renewal fee of $160 for 2007.
Associate Life Members:  Land Fund $10 and 10 work hours or $10 for every work hour not worked.  Associate Life Members with no work hours will have a renewal fee of $110 for 2007.  Some Associate Life Memberships (cost is $500) are available for those who want to upgrade.
Life Members:  Land Fund $10 and 10 work hours or $10 for every hour not worked.  Life Members under the age of 65 with no work hours will have a renewal fee of $110 for 2007.  Life Members over the age of 65 are EXEMPT from the 10-work hours requirement and will have a $10 Land Fund renewal fee for 2007.
Please be sure to return your 2006 membership card with your dues and/or fees even if you don't have any or only partial work hour credits.  This includes both non-renewing and renewing Annual Members, Associate Life Members, and Life Members (both under and over 65) all with or without work hours.  We need your membership cards for our records.  Thank you.
ALSO, PLEASE PRINT ALL OF YOUR INFORMATION LEGIBLY ON YOUR 2006 CARD.  WE ARE HAVING SOME TROUBLE READING SOME OF THE INFORMATION AND HAVE TO GUESS AS TO THE CORRECT DATA.
It is not absolutely necessary to return your old gate key, however old gate keys in good condition can be re-keyed.  It would be appreciated if you would deposit your old keys in the mailbox in front of the Club House.  This action will help save the Club money.  Thank you.
NEW MEMBER ORIENTATION:  An (**) in your name area means you to need to attend to obtain your card & gate key.  Check the enclosed calendar for dates & times.  ADVANCE RESERVATIONS ARE REQUIRED OR NO INSTRUCTOR WILL BE AT THE CLUB FOR THE CLASS.  To make your class attendance reservation or to ask any questions - Contact Charles Varnold at (309) 697-6766 or via e-mail at tunaot@insightbb.com/
Are you going to be "TEMPORARILY AWAY" (maybe for the winter, an extended vacation or job demands)?  More and more monthly newsletters are being returned to the Club marked as "TEMPORARILY AWAY"!  When you notify the Post Office that you are going to be "TEMPORARILY AWAY" they will ONLY HOLD or FORWARD 1ST CLASS MAIL.  All other mail is returned to the sender.  Your monthly newsletter is mailed to you using Bulk Rate Postage.  Consequently, your newsletter is returned to the Club marked POSTAGE DUE @ $ .39 which the Club has to pay to retrieve it.  These newsletters cannot be forwarded, as we do not know where to send them.
If you notify the Club Secretary of any planned extended stay away from your residence before you leave, your mailing address can be updated so that you can still receive your monthly newsletter, as some members have, while on that extended stay away from your home.
THEREFORE, EFFECTIVE IMMEDIATELY, ALL RETURNED "TEMPORARILY AWAY" NEWSLETTERS WILL BE PLACED ON THE NO NEWSLETTER LIST (NNL) UNTIL YOU NOTIFY THE CLUB SECRETARY THAT YOU HAVE RETURNED.  ANY "TEMPORARILY AWAY" HELD / RETURNED NEWSLETTERS WOULD THEN BE FORWARDED TO YOU!!
Members that have "MOVED TO A NEW ADDRESS" and have not notified the Club of their NEW ADDRESS also have their newsletters returned marked POSTAGE DUE @ $ .39.  The Post Office will not forward these newsletters.  The Club then pays another $ .39 postage to forward it to you and updates your file to reflect your new address.  Please notify the Club when you are move!
Mauser Match rules are casual center-fire off-hand rifle matches at 50 meters for rifles with open sights and pre-1964 military bolt action repeaters.
January 20, Match Results
1st Place        Eran Pierce          212-1x               SKS
2nd Place        Joe Zentko           204-2x (tie broken by 10-count)   91/30 Mosin-Nagant
3rd Place        Barney Rainwater     204-2x               03-A3 Springfield
High Raw Score: Paul Bishop         199-5x               Turkish-Mauser
EAGLE EYE RIFLE Challenge Match Winner:     Paul Bishop   201-5x (tie broken by x-count) Turkish-Mauser       tied by Justin Howeler     201-3x        K-31 Schmidt-Rubin
Next match is February 10, 10AM, Range 1.  Come early if you want to shoot the first relay. Relays have been filling up early.  The February Challenge Match is "FAT 30's" – any cartridge spec'd out larger than our standard U.S. 308, such as .303 British, 7.65 Mauser, 7.7 Jap, Mosin or SKS rounds, etc.  Questions – contact Max Koehl @ (309) 385-1033.
The newsletter and calendar are available for viewing on-line at www.chillisportsmen.org  The website also lists all Club ACTIVIITIES, events, and contains periodically updated general information as well as the current CSC Membership Application. Tim Vik is the CLUB WEBMASTER and E-MAIL coordinator.  His E-MAIL address is sprtsman@mtco.com
If you have any questions or concerns about your Club you may contact any Club Officer listed below or any board member.
<![if !supportEmptyParas]> <![endif]>
President            Vice-President             Secretary            Treasurer
Dale Schroeder       Charles Varnold            Bob Bjerke           Richard Powell
(309) 369-6569       (309) 697-6766             (309) 692-1800       (309) 697-2889
<![if !supportEmptyParas]> <![endif]>
Acronyms - What the heck do they mean!!???!!?!?
Wonder what all the acronyms used out on the range and in this newsletter mean? This area of the newsletter is dedicated to helping explain these. If I forget some or misidentify them, please let me know.
SASS          Single Action Shooting Society
USPSA         United States Practical Shooting Association
DCM           Department of Civilian Marksmanship (old designation)
CMP           Civilian Marksmanship Program (new designation)
IPSC          International Practical Shooting Confederation
NMO           New Member Orientation
NRA           National Rifle Association
ISRA          Illinois State Rifle Association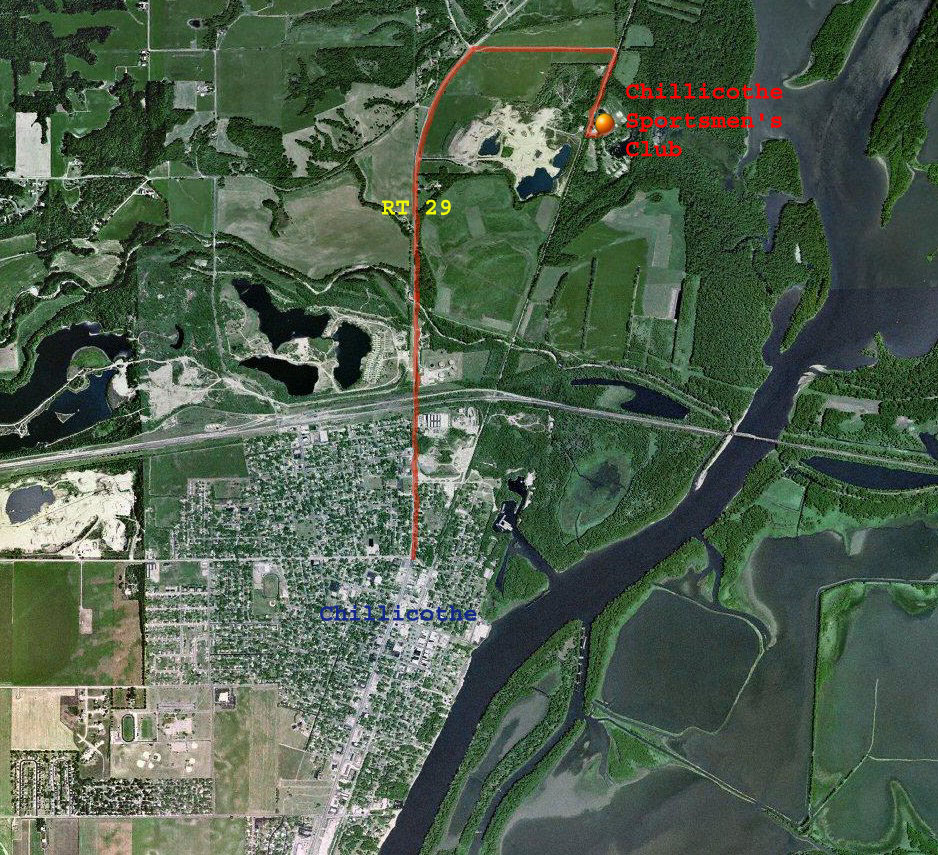 Contact Tim Vik via e-mail at sprtsman@mtco.com if you would like to receive the CSC Newsletter and calendar of events via e-mail at no cost to you.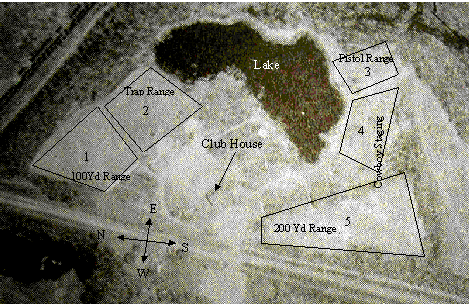 <![if !supportEmptyParas]> <![endif]>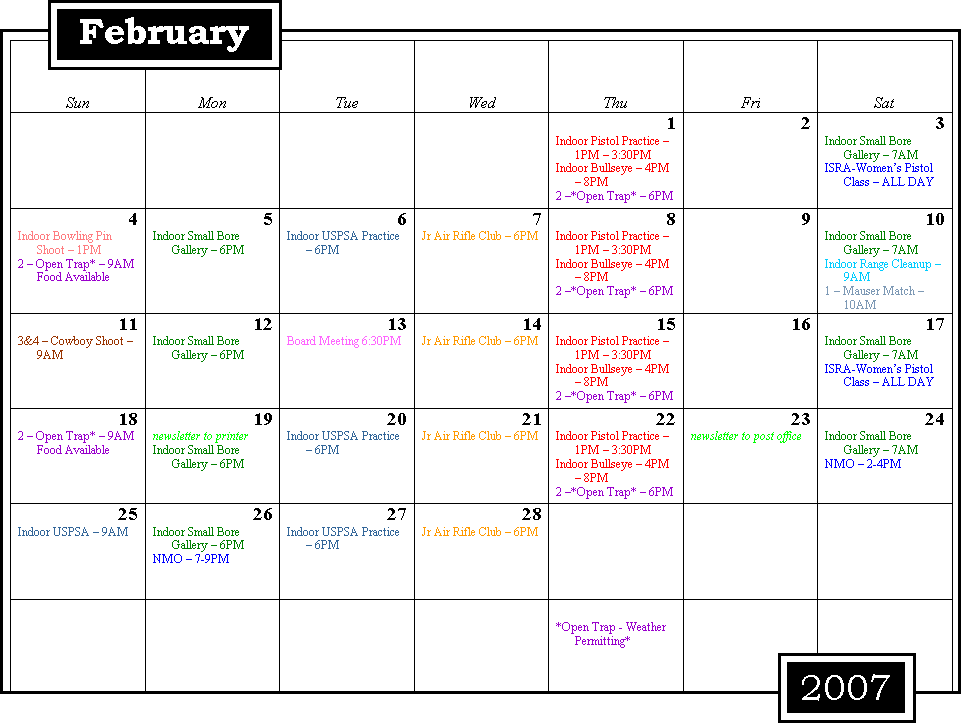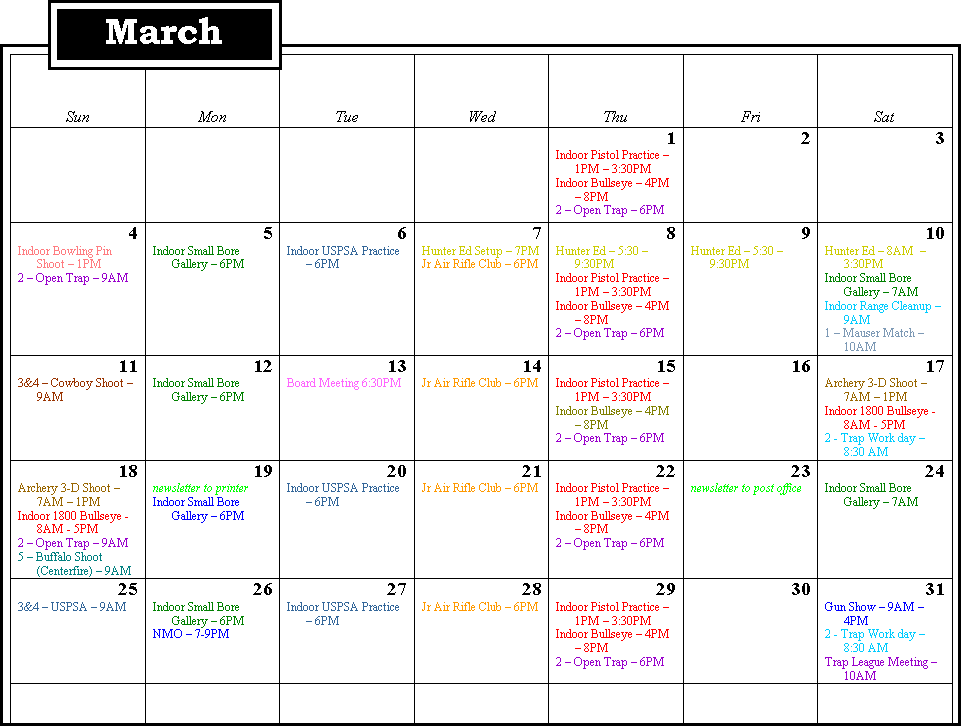 <![if !supportEmptyParas]> <![endif]>
<![if !supportEmptyParas]> <![endif]>
<![if !supportEmptyParas]> <![endif]>