Chillicothe Sportsmen's
Club News June 2007
<![if !supportEmptyParas]> <![endif]>
ANNUAL MEMBERS DUES TO INCREASE IN 2008:  CSC has not raised its annual dues since the 1980's.  Work Hours assessments were last raised in the late 1990's.
ANNUAL CLUB INCOME has remained fairly constant over the years.
However, ANNUAL CLUB EXPENSES have steadily increased and are expected to continue increasing each year.  Major expense increases have occurred in insurance (you now have $2,000,000 Liability Coverage while on the CSC Grounds), utilities (propane, electricity, phone (required because of the shooting ranges)), buildings & grounds maintenance (repairs & upkeep), and administrative expenses (postage, newsletters, etc.) since the annual dues were last increased.  Other re-occurring expenses have also increased.
Annual Expenses have exceeded Annual Income during the last few years.
CSC no longer has any excess funds for anticipated major capital improvements/repairs.  Eventually, various buildings roofs are going to need replacing.  The Interior Road towards the lake needs major erosion control work or may have to be closed.  The entrance road needs annual grading, gravel, and dust reduction covering (you can help keep the dust down by driving slower, staying under 25mph, on this road).
The Land Fund monies cannot be used for any of the above expenses.  These funds, by the by-laws, are allocated for future surrounding land acquisition to provide a continuing buffer from outside development that could cause the potential loss of the use of our ranges.
Therefore, the CSC Board of Directors, at the May 8, 2007, Board Meeting, after substantial discussion, voted to raise the Annual Member's dues to $75.00 per year beginning with the 2008 calendar year dues.  Work Hours assessments will not change.  They will remain at $10.00 per hour for non-worked hours.  The Land Fund fee will also remain at $10.00 for everyone.
<![if !supportEmptyParas]> <![endif]>
Club Affiliation Numbers:  The CSC affiliation numbers are now listed in the Club map area.
June Concealed Carry Class:  Contact Cliff Wilcox @  (309) 579-2793 0r (309) 274-9069 for all details (date, location, time, cost, etc.)
ISRA/NRA – Gun Control Issues:  Are you an ISRA and or a NRA Member?  If not, why not?!?!?
PLEASE CONSIDER JOINING EITHER OR BOTH OF THESE ORGANIZATIONS (ISRA & NRA) TODAY IF YOU ARE NOT ALREADY A MEMBER.
Annual memberships in each of these organizations are only $25.00 each, which is less than your annual dues.  ISRA membership forms are available @ www.isra.org/  Annual NRA membership, which is regularly $35.00 by mail, can be obtained from either Richard Powell, Treasurer, or Bob Bjerke, Secretary., at a special $25.00 rate.  This special NRA rate includes individuals desiring to renew their annual membership.
PLEASE CONTINUE TO PERIODICALLY CONTACT YOUR ELECTED REPRESNTATIVES AND POLITELY INFORM THEM OF YOUR STRENIOUS OBJECTIONS TO ANY AND ALL PROPOSED OR PENDING ANTI-GUN OWNER LEGISLATION.  The applicable websites, www.isra.org/ or www.nra-ila.org/ can help you find the correct names, addresses, and telephone numbers.  The CSC website has a listing of federally elected Illinois Officials.
The April 22, Centerfire Match Results and the April 29, Rimfire Match Results
1st Place        Mike Hallar          1st Place Scope & Iron Sights      Fred Roe
2nd Place        Bill Wallinger       2nd Place Scope      John Metzger
3rd Place        Mike James           3rd Place Scope (tie)       Zach Roe & Dave Wheeler
Our Buffalo Shooters took a First & 2 Seconds at the May 6, Carthage, IL Match.
June match dates, Range 5, 9AM, are: June 10 (Centerfire) & June 24 (Rimfire)
Questions – contact Tim Shoff @ (309) 745-9463 or Mike Hallar @ (309) 444-0085.
Mauser Match rules are casual center-fire off-hand rifle matches at 50 meters for rifles with open sights and pre-1964 military bolt action repeaters.
May 12, Match Results
1st Place        George Keller        207-1X        SKS
2nd Place        Dave Hale            204-7X        98-22 Czech Mauser
3rd Place        Eran Pierce          202-1X        SKS
High Raw Score: Dave Hale (new personal best)    193-7X        98-22 Czech Mauser
LEE ENFIELD Challenge Match Winner:  Chris Bach    195-2X        Lee-Enfield 2A
Next match is June 23, 10AM, Range 1.  Come early if you want to shoot the first relay. Relays have been filling up early.  The June Challenge Match is "US Springfield 1903 or unmodified 03-A3 Rifles".
Questions – contact Max Koehl @ (309) 385-1033.
NEW MEMBER ORIENTATION:  An (**) in your name area means you to need to attend to obtain your card & gate key.  Check the enclosed calendar for dates & times.  ADVANCE RESERVATIONS ARE REQUIRED OR NO INSTRUCTOR WILL BE AT THE CLUB FOR THE CLASS.  To make your class attendance reservation or to ask any questions - Contact Charles Varnold at (309) 697-6766 or via e-mail at tunaot@insightbb.com/
Are you going to be "TEMPORARILY AWAY" (maybe for the winter, an extended vacation or job demands)?  More and more monthly newsletters are being returned to the Club marked as "TEMPORARILY AWAY"!  When you notify the Post Office that you are going to be "TEMPORARILY AWAY" they will ONLY HOLD or FORWARD 1ST CLASS MAIL.  All other mail is returned to the sender.  Your monthly newsletter is mailed to you using Bulk Rate Postage.  Consequently, your newsletter is returned to the Club marked POSTAGE DUE @ $ .39 which the Club has to pay to retrieve it.  These newsletters cannot be forwarded, as we do not know where to send them.
If you notify the Club Secretary of any planned extended stay away from your residence before you leave, your mailing address can be updated so that you can still receive your monthly newsletter, as some members have, while on that extended stay away from your home.
THEREFORE, EFFECTIVE IMMEDIATELY, ALL RETURNED "TEMPORARILY AWAY" NEWSLETTERS WILL BE PLACED ON THE NO NEWSLETTER LIST (NNL) UNTIL YOU NOTIFY THE CLUB SECRETARY THAT YOU HAVE RETURNED.  ANY "TEMPORARILY AWAY" HELD / RETURNED NEWSLETTERS WOULD THEN BE FORWARDED TO YOU!!
Members that have "MOVED TO A NEW ADDRESS" and have not notified the Club of their NEW ADDRESS also have their newsletters returned marked POSTAGE DUE @ $ .39.  The Post Office will not forward these newsletters.  The Club then pays another $ .39 postage to forward it to you and updates your file to reflect your new address.  Please notify the Club when you move!
The newsletter and calendar are available for viewing on-line at www.chillisportsmen.org  The website also lists all Club ACTIVIITIES, events, and contains periodically updated general information as well as the current CSC Membership Application. Tim Vik is the CLUB WEBMASTER and E-MAIL coordinator.  His E-MAIL address is sprtsman@mtco.com
If you have any questions or concerns about your Club you may contact any Club Officer listed below or any board member.
<![if !supportEmptyParas]> <![endif]>
President            Vice-President             Secretary            Treasurer
Dale Schroeder       Charles Varnold            Bob Bjerke           Richard Powell
(309) 369-6569       (309) 697-6766             (309) 692-1800       (309) 697-2889
Acronyms - What the heck do they mean!!???!!?!?
Wonder what all the acronyms used out on the range and in this newsletter mean? This area of the newsletter is dedicated to helping explain these. If I forget some or misidentify them, please let me know.
SASS          Single Action Shooting Society
USPSA         United States Practical Shooting Association – Club Number #IL-08
DCM           Department of Civilian Marksmanship (old designation)
CMP           Civilian Marksmanship Program (new designation) - Club Number #52084
IPSC          International Practical Shooting Confederation
NMO           New Member Orientation
NRA           National Rifle Association - Club Affiliation Number  #R0570
<![if !supportEmptyParas]> <![endif]>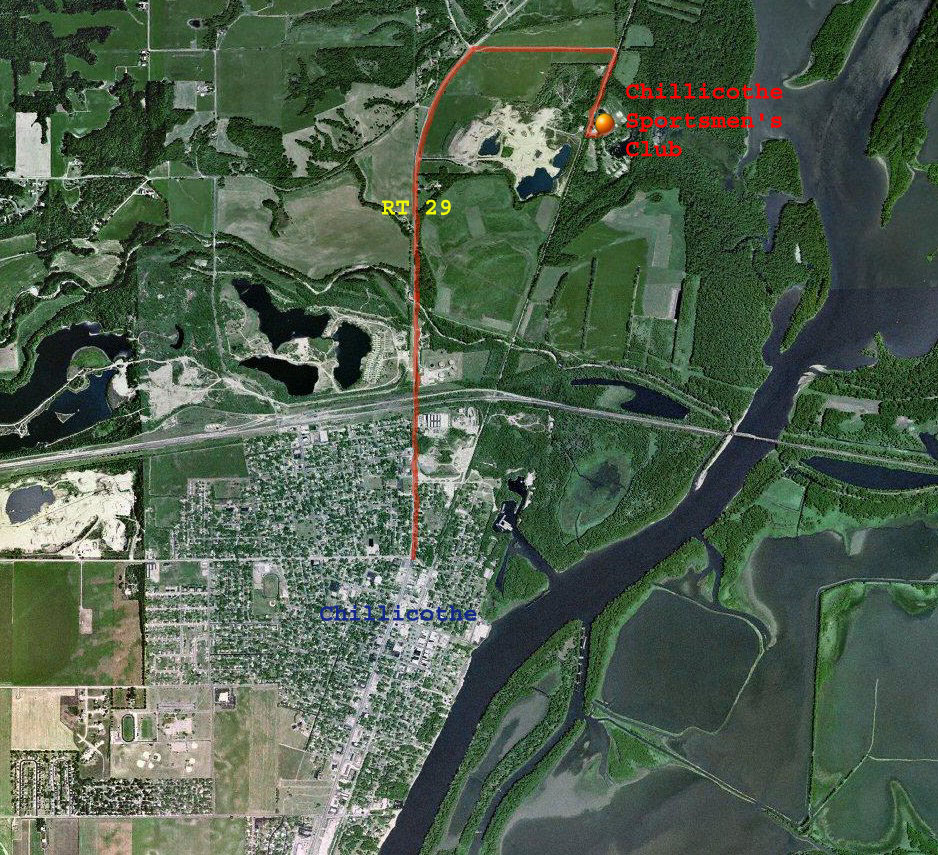 Contact Tim Vik via e-mail at sprtsman@mtco.com if you would like to receive the CSC Newsletter and calendar of events via e-mail at no cost to you.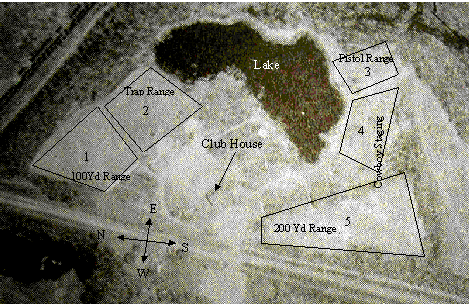 <![if !supportEmptyParas]> <![endif]>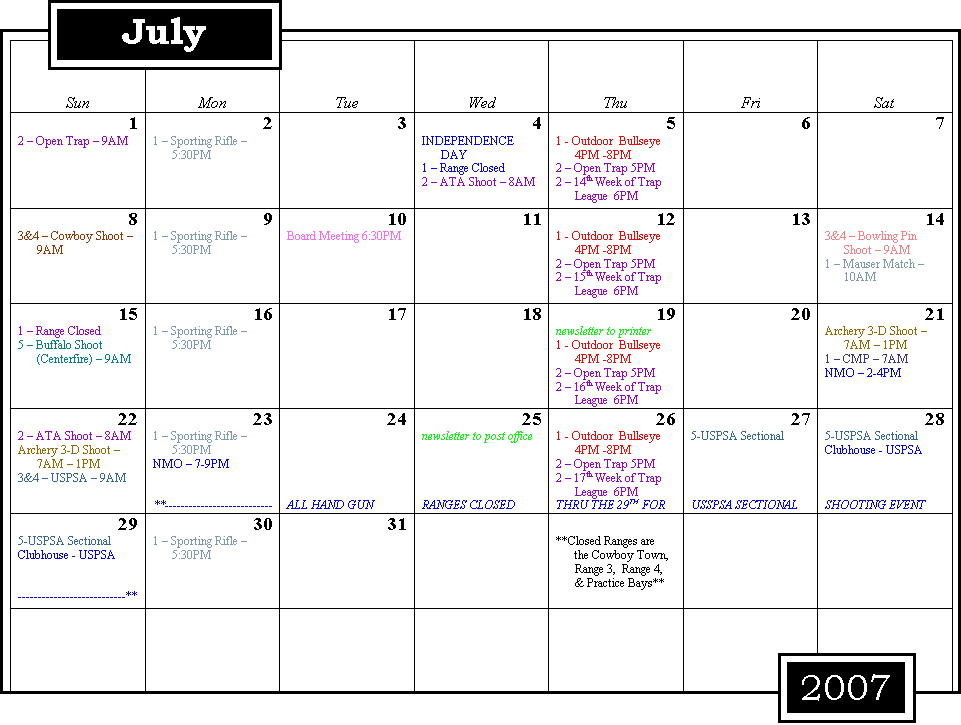 <![if !supportEmptyParas]> <![endif]>
<![if !supportEmptyParas]> <![endif]>
<![if !supportEmptyParas]> <![endif]>