Chillicothe Sportsmen's
Club News January 2009
<![if !supportEmptyParas]> <![endif]>
Happy Holidays to all and that everyone received at least one of their "SANTA" requested presents!
<![if !supportEmptyParas]> <![endif]>
LESS THAN 25% OF YOU HAVE PAID YOUR 2009 DUES & FEES TO DATE.  LET'S GET THEM PAID NOW!!
Mail your renewal to:  Chillicothe Sportsmen's Club, P.O. Box 13, Chillicothe, IL 61523.
<![if !supportEmptyParas]> <![endif]>
ALL UNPAID FOR 2009 MEMBERS:  Your membership expired on December 31st, 2008, and the gate lock was changed on January 1st, 2009.  You NO LONGER have access to the Club Grounds until you pay your 2009 fees. 
Annual Members:  Dues $75, Land Fund $10 and 10 work hours or $10 for every work hour not worked.  Annual Members with no work hours will have a renewal fee of $185 for 2009.
Associate Life Members:  Land Fund $10 and 10 work hours or $10 for every work hour not worked.  Associate Life Members with no work hours will have a renewal fee of $110 for 2009.
Life Members:  Land Fund $10 and 10 work hours or $10 for every hour not worked.  Life Members under the age of 65 with no work hours will have a renewal fee of $110 for 2009.  Life Members over the age of 65 are EXEMPT from the 10-work hours requirement and will have a $10 Land Fund renewal fee for 2009.
All Members:  Please be sure to return your 2008 membership card with your dues and/or fees even if you don't have any or only partial work hour credits.  This includes both non-renewing and renewing Annual Members, Associate Life Members, and Life Members (both under and over 65) all with or without work hours.  We need your membership cards for our records.  Thank you.
ALSO, PLEASE PRINT ALL OF THE INFORMATION, INCLUDING E-MAIL ADDRESS, LEGIBLY ON YOUR CARD.  WE ARE HAVING TROUBLE READING SOME OF THE INFORMATION AND HAVE TO GUESS AS TO THE CORRECT DATA.  ADDITIONALLY, ALL CARDS MUST CONTAIN THIS INFORMATION BEFORE THEY WILL BE PROCESSED.
It is not absolutely necessary to return your old gate key, however old gate keys in good condition can be re-keyed.  It would be appreciated if you would deposit your old keys in the mailbox in front of the Club House.  This action will help save the Club money.  Thank you.
ALL MEMBERS:  It is your responsibility to make sure that the Club has your current home address, telephone number, e-mail address, etc., for you to continue receiving your monthly newsletter and any other important communications.
<![if !supportLists]>1. <![endif]>Monthly CSC newsletters cost $ .33 each to print and $ .26 each to "bulk mail" out.
<![if !supportLists]>2. <![endif]>The USPS WILL NOT HOLD NOR FORWARD any "Bulk Mail" items when they are or are not notified of an address change or any temporary mail hold by the postal customer.  These items are marked 'return to sender' and include the monthly CSC newsletters.
<![if !supportLists]>3. <![endif]>Returned newsletters are marked "POSTAGE DUE" and cost $ .42 each (First Class Postage) to retrieve from the USPS/Post Office.  The Club is averaging 2 or 3 per month.
"TEMPORARILY AWAY" – individual is on an extended vacation, gone for the winter, or out of town for an extended job assignment.
"MOVED TO A NEW ADDRESS" – is self-explanatory.
4.  Members that receive their monthly newsletter "VIA E-MAIL" must also notify the Club Webmaster when their e-mail address changes to avoid the dreaded "Unable to Deliver" notice.
Need Work Hours?  Indoor Range Cleanup is scheduled for January 10, 9 A.M.
Questions – contact Bob Bjerke @ (309) 692-1800.
Introduction to Bulls-eye Pistol Classes:  Do you desire to learn to shoot your pistol better?  If so – introduction classes (open to everyone - youth, women, beginners) are being held on Thursday evenings in January & February on the Indoor Range (see enclosed calendar).  Cost is $4.00 per session.  A few openings still exist.
Questions – contact Ron Dennis @ (309) 697-0095.
All Event Directors & Co-Directors:  There will be a PLEASE MAKE EVERY POSSIBLE EFFORT TO ATTEND meeting on January 13, 6:00 p.m., in the Clubhouse.  The purpose is to find out if you are having any problems or concerns, to clarify some of the Club directed procedures, and what the Board can do to help you with any problems or concerns.  President Varnold requested the meeting and the Board approved it.
NEW MEMBER ORIENTATION (NMO):  An (**) in your middle initial area of your address means you need to attend to obtain your 2009 card & gate key.  Check the enclosed calendar for dates & times.  ADVANCE RESERVATIONS ARE REQUIRED OR NO INSTRUCTOR WILL BE AT THE CLUB FOR THE CLASS.  To make your class attendance reservation or to ask any questions - Contact Charles Varnold at (309) 697-6766 or via e-mail at tunaot1@sbcglobal.net
<![if !supportEmptyParas]> <![endif]>
Mauser Match rules are casual center-fire off-hand rifle matches at 50 meters for rifles with open sights and pre-1964 military bolt action repeaters.  The next match is January 10th.
December 13 Match results were:
First:          Mike Roe             205-3x        Swedish Mauser
Second:         Zack Roe             202-3x        Schmidt-Rubin K-31
Third:          Bill Wilkinson       201-1x        Mosin-Nagant 91/30
High Raw Score: Fred Roe             195-6x        Yugo Mauser
December SKS Challenge Match:  Mary Lehman         195-2x
The January 10th Special Challenge Match will be 'best relay score for one rifle, with the winner shooting the score closest to 200, handicap included.
Questions – contact Max Koehl @ (309) 385-1033.
Don't forget the New Year's Day SPECIAL NEUJAHRSSCHIESSEN SHOOT that starts at 10:00 A.M. on Range One. We will shoot our traditional speed match on Biathlon targets with .22 rim-fire rifles. We will have two categories: 1) semi-automatics and 2) all others. Any sights can be used in both categories. If it is bitter cold, the semi-autos don't always function too reliably. The Germans boiled the grease and oils out of their machine guns to keep them going in the Stalingrad Winter. You might want to remove excess lubricants from your rifle if the forecast is for cold weather on January 1st, so I hope there is a rifle in every pot this Christmas season.             Questions – contact Paul Bishop @ (309) 243-9323.
The newsletter and calendar are available for viewing on-line at www.chillisportsmen.org  The website also lists all Club ACTIVIITIES, events, and contains periodically updated general information as well as the current CSC Membership Application. Tim Vik is the CLUB WEBMASTER and E-MAIL coordinator.  His E-MAIL ADDRESS is webmaster@chillisportsmen.org
If you have any questions or concerns about your Club you may contact any Club Officer listed below or any board member.
<![if !supportEmptyParas]> <![endif]>
President            Vice-President             Secretary            Treasurer
Charles Varnold      Jerry Oglesby              Bob Bjerke           Lowell Bennett
(309) 697-6766       (309) 274-5413             (309) 692-1800       (309) 274-5586
Acronyms - What the heck do they mean!!???!!?!?
Wonder what all the acronyms used out on the range and in this newsletter mean? This area of the newsletter is dedicated to helping explain these. If I forget some or misidentify them, please let me know.
SASS          Single Action Shooting Society
USPSA         United States Practical Shooting Association – Club Number #IL-08
DCM           Department of Civilian Marksmanship (old designation)
CMP           Civilian Marksmanship Program (new designation) - Club Number #52084
NMO           New Member Orientation
NRA           National Rifle Association - Club Affiliation Number  #R0570
ISRA        Illinois State Rifle Association – Club Affiliation Number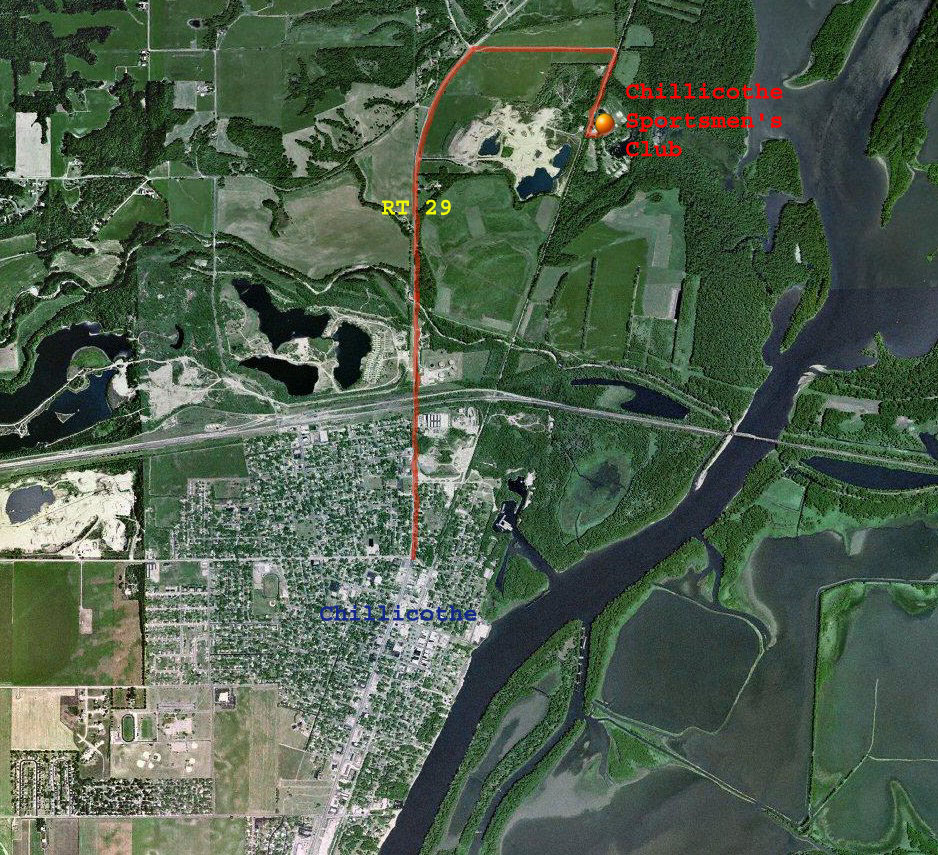 Contact Tim Vik via e-mail at webmaster@chillisportsmen.org if you would like to receive the CSC Newsletter and calendar of events via e-mail at no cost to you.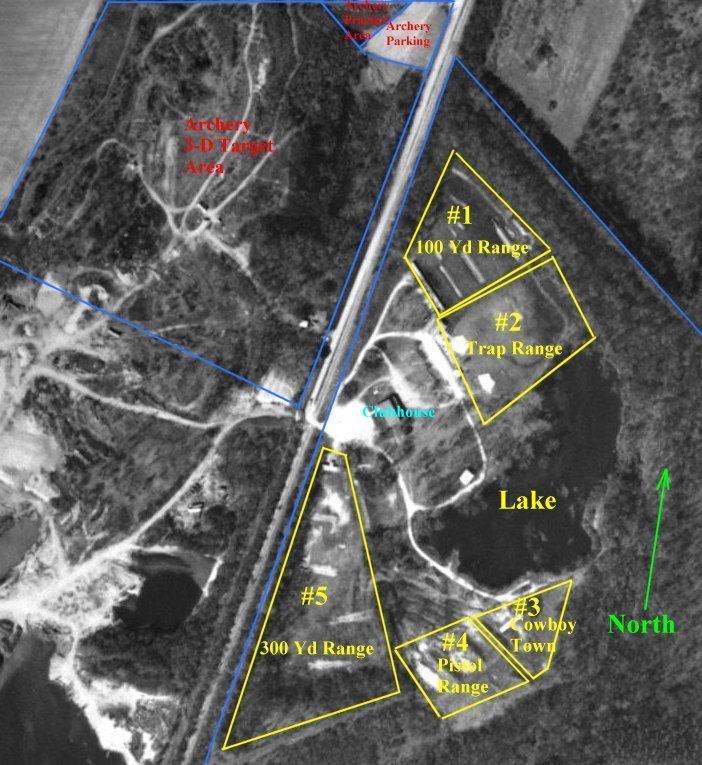 <![if !supportEmptyParas]> <![endif]>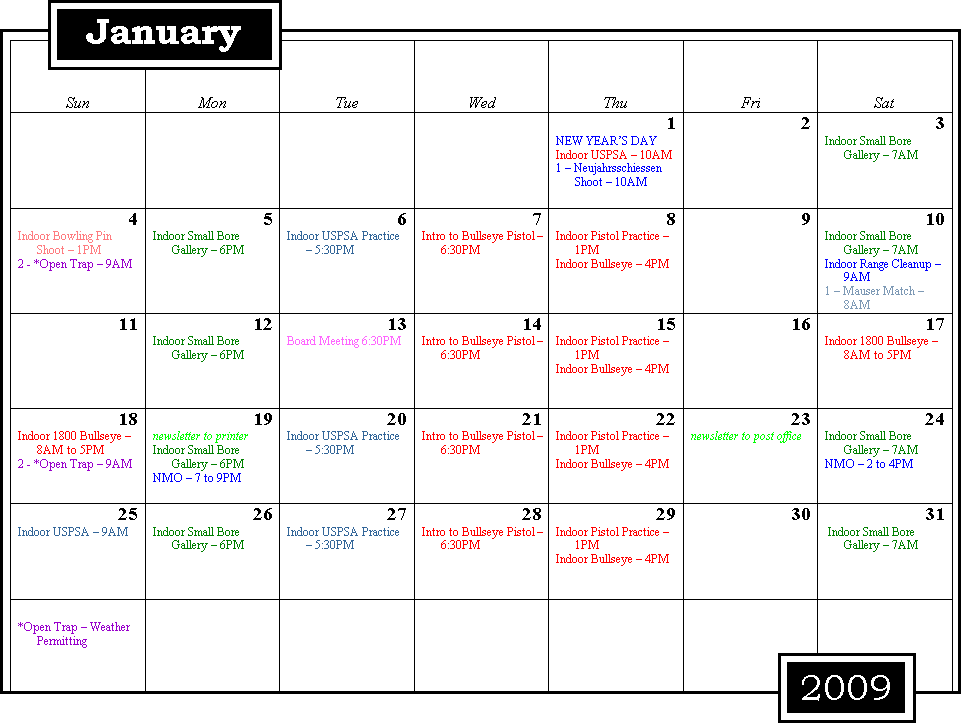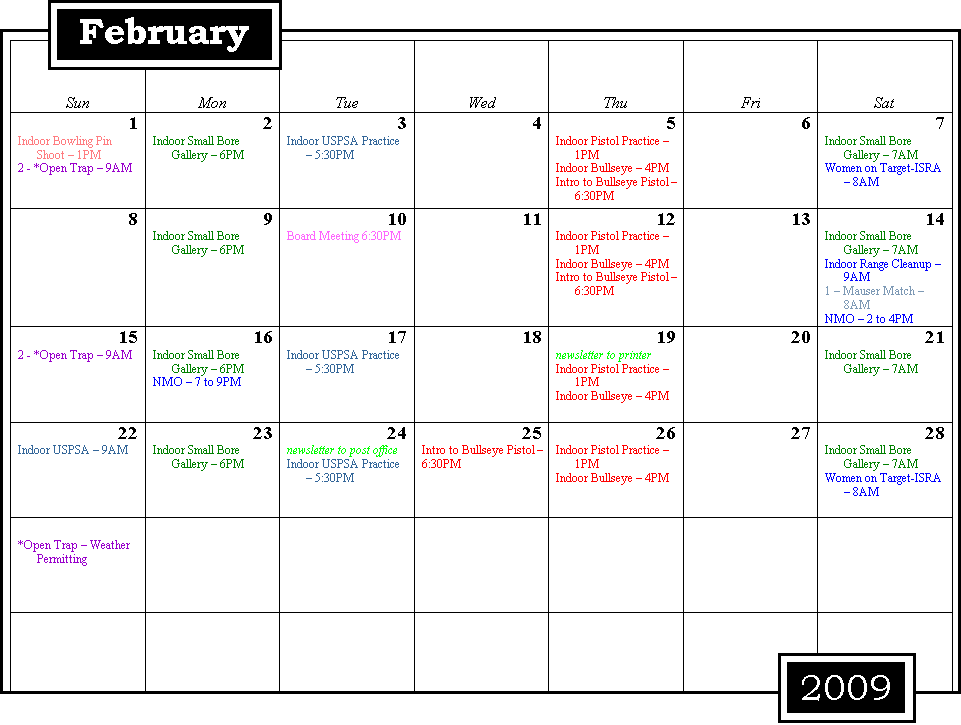 <![if !supportEmptyParas]> <![endif]>
<![if !supportEmptyParas]> <![endif]>
<![if !supportEmptyParas]> <![endif]>