Chillicothe Sportsmen's
Club
News

APRIL 2010

 

***********************************************************************

<![if !supportEmptyParas]> <![endif]>

Until further notice—the Clubhouse Deck & the stairs are CLOSED to all traffic & occupancy!

<![if !supportEmptyParas]> <![endif]>

SAFETY NOTE:

*PLEASE READ CAREFULLY*

Far too many errant shots are being fired into the ceiling (and elsewhere) on the Indoor Range.  As we move to the outdoor ranges this Spring, this is even MORE dangerous—no outdoor ceiling to confine errant shots.  REMEMBER:Finger Off The Trigger & Out Of The Trigger Guard Until You Have Established Your Safe Sight Picture—On All Ranges & In All Situations—SAFETY FIRST !!!

<![if !supportEmptyParas]> <![endif]>

CSC SPRING GUN SHOW:  DUE TO MULTIPLE SCHEDULING CONFLICTS, THE CSC 2010 SPRING GUN SHOW HAS BEEN CANCELLED.  The Fall Gun Show will be held as scheduled the last weekend of September.

 

2010 WORK HOURS:

<![if !supportEmptyParas]> <![endif]>

Indoor Range & Clubhouse Cleanup, Saturday, April 10, 9AM, contact - Bob Bjerke @ (309) 692-1800.

<![if !supportEmptyParas]> <![endif]>

Grounds: April 10, 2010 is the outdoor cleanup starting at 8:00AM, please bring brush cutting tools, rakes, shovels, etc. Contact Steven Schneckenburger at 692-7807 if you have questions.

<![if !supportEmptyParas]> <![endif]>

Does any member have a log splitter we could use at the club. Contact Steven Schneckenburger at 692-7807

<![if !supportEmptyParas]> <![endif]>

Please pickup targets, bottles, cans, hulls when you are done shooting as per range rules # 9 and 12.

<![if !supportEmptyParas]> <![endif]>

NRA &/OR ISRA MEMBERSHIP.  Are you a member of either or both of these organizations?  IF NOT, WHY NOT?  These are the only Organizations that are continually fighting for your rights that allow to own and use firearms for target shooting, plinking, and hunting!  Anti-gun legislators on both the Federal & State levels are constantly introducing legislation to VOID your 2nd AMENDMENT Rights!  Join or renew in either or both of these organizations today!  Their websites are: www.nrahq.org/ and www.isra.org/ 

INDIVIDUAL DUES INVOICES ARE NOT SENT OUT.  THE MONTHLY NEWSLETTER NOTICE, EITHER E-MAIL/WEB VERSION OR HARD COPY MAILED VERSION IS ALL THAT YOU RECEIVE.  Memberships expired on December 31st, 2009, and the lock was changed on January 1st, 2010.  All memberships were 'PAST DUE' as of 31JAN2010 & will be assessed a $10/month late fee in addition to all normal fees & work hours.  As of 30APR2010, all 'PAST DUE' memberships will be dropped from the hard copy & e-mail Newsletter list until the account is made current.   

NEW MEMBER ORIENTATION (NMO):  An (**) in your middle initial area of your address means you need to attend to obtain your current year's membership card & gate key.  Check the enclosed calendars for dates & times.  ADVANCE RESERVATIONS ARE REQUIRED OR NO INSTRUCTOR WILL BE AT THE CLUB FOR THE CLASS.  To make your class attendance reservation or to ask any questions - Contact Charles Varnold at (309) 697-6766 or via e-mail at tunaot1@sbcglobal.net

<![if !supportEmptyParas]> <![endif]>

TEMPORARILY AWAY/NEW ADDRESS/NEW E-MAIL ADDRESS

ALL MEMBERS:  It is YOUR responsibility to make sure that the Club has your current home address, telephone number, e-mail address, etc.  If you leave town, bulk mail is not forwarded.  If you don't ask us to mail to an alternate address or to suspend your mailings until you return, & we get 'failure to deliver' notices on you (& return postage fees), we will drop you from the mailings until you let us know your current info or status.

<![if !supportEmptyParas]> <![endif]>

RM1SPECIAL CMP M1 GARAND RAFFLE

The winner of the CMP Garand Raffle is Terry Beachler. Congratulations. Keep tuned to the CSC news letter for the next garand raffle later this year.         Chris Bach

The newsletter and calendar are available for viewing on-line at www.chillisportsmen.org  The website also lists all Club ACTIVIITIES, events, and contains periodically updated general information as well as the current CSC Membership Application. Tim Vik is the CLUB WEBMASTER and E-MAIL coordinator.  His E-MAIL ADDRESS is webmaster@chillisportsmen.org

If you have any questions or concerns about your Club you may contact any Club Officer listed below or any board member.

President            Vice-President             Secretary            Treasurer

Charles Varnold      Jerry Oglesby              Donald Clemens       Lowell Bennett

(309) 697-6766       (309) 274-5413             (309) 274-6870       (309) 274-5586

<![if !supportEmptyParas]> <![endif]>

Mauser Matches

Results from the March 13th match:

High Raw Score: Jay Zentko used a Finnish M39 Mosin-Nagant to fire his personal best 194-5X

First: Cody Killion, 204-1X - Finnish M91 Mosin-Nagant

Second: Jay Zentko, 201-5X - Finnish M39 Mosin-Nagant

Third: Chuck Bledsoe, 201-0X - Finnish M39 Mosin-Nagant

The Scandinavian Rifle challenge went to Marty Lehman who shot 200-4X w/M96 Swedish Mauser. Chris Bach and Jim Deig were runners up.

Results from the February 13th match:

High Raw Score: Max Koehl & Paul Bishop tied w/197-5X, Max w/Finnish Mosin-Nagant & Paul w/M1903 Springfield.

As Paul was not present at the moment of the awards, the Match Director, Max, decided the tie in favor of Max.

First: Bill Johnson, 209-1X - M1903 Springfield

Second: Max Koehl, 201-5X - Finnish Mosin-Nagant

Third: Keith Kohler, 201-4X - M1903 Springfield

The .30-06 challenge went to Keith Kohler who shot a 201-4X w/M1903 Springfield. Bill Johnson & Paul Bishop were runners up.

Next match is April 10th. The special challenge is Romanian 8X57 ammo. Bring your 8X57 rifle and the Romanian ammo will be supplied for your challenge relay.

Mauser Matches are shot with centerfire rifles with open sights and with unimproved pre-1964 military bolt action repeaters on the SR-1 target from standing at 50 meters. Call Max Koehl at 385-1033 with any questions.                        

                            Respectfully submitted by Paul Bishop for Max Koehl

<![if !supportEmptyParas]> <![endif]>

YSSI WEEKEND:

 

The 10th Annual YSSI Weekend is set for April 16-18, 2010.  Help will be needed on all ranges (Indoor Rifle, Shotgun, Archery, High-Power Rifle, Muzzleloading Rifle, Cowboy, Buffalo Rifle, USPSA) and in the clubhouse kitchen.  WORK HOUR CREDITS will be given to all volunteers who assist.  Questions – call Bob Bjerke @ (309) 692-1800.

<![if !supportEmptyParas]> <![endif]>

???SHOTGUN INSTRUCTOR CLASS???

<![if !supportEmptyParas]> <![endif]>

We have a need for more NRA Certified Shotgun Instructors.  To help fill this need, an NRA Shotgun Instructors Class is tentatively scheduled for May 21, 22, & 23, 2010—depending on interest in such a class.  If you have an interest in such a class or a question about the class, please contact Bob Bjerke @ (309) 692-1800 before April 15th.  This much time is needed to order materials if enough interest is generated.   Thank you.

<![if !supportEmptyParas]> <![endif]>
CONDITION OF ACCESS ROAD
<![if !supportEmptyParas]> <![endif]>
We are aware of the condition of our access road & are working at improving it.  The road is posted at 15 MPH.  At 15 MPH, you do not need to brake for the corner or to turn into the Club.   Braking from higher speeds causes the road base to buckle, leading to potholes.  If you are having to brake, you are part of the problem.  Please obey the posted speed limit—THANKS.
Acronyms - What the heck do they mean!!???!!?!?
Wonder what all the acronyms used out on the range and in this newsletter mean? This area of the newsletter is dedicated to helping explain these. If I forget some or misidentify them, please let me know.
SASS          Single Action Shooting Society
USPSA         United States Practical Shooting Association – Club Number #IL-08
DCM           Department of Civilian Marksmanship (old designation)
CMP           Civilian Marksmanship Program (new designation) - Club Number #52084
NMO           New Member Orientation
NRA           National Rifle Association - Club Affiliation Number  #R0570
ISRA          Illinois State Rifle Association – Club Affiliation Number  #00282
<![if !supportEmptyParas]> <![endif]>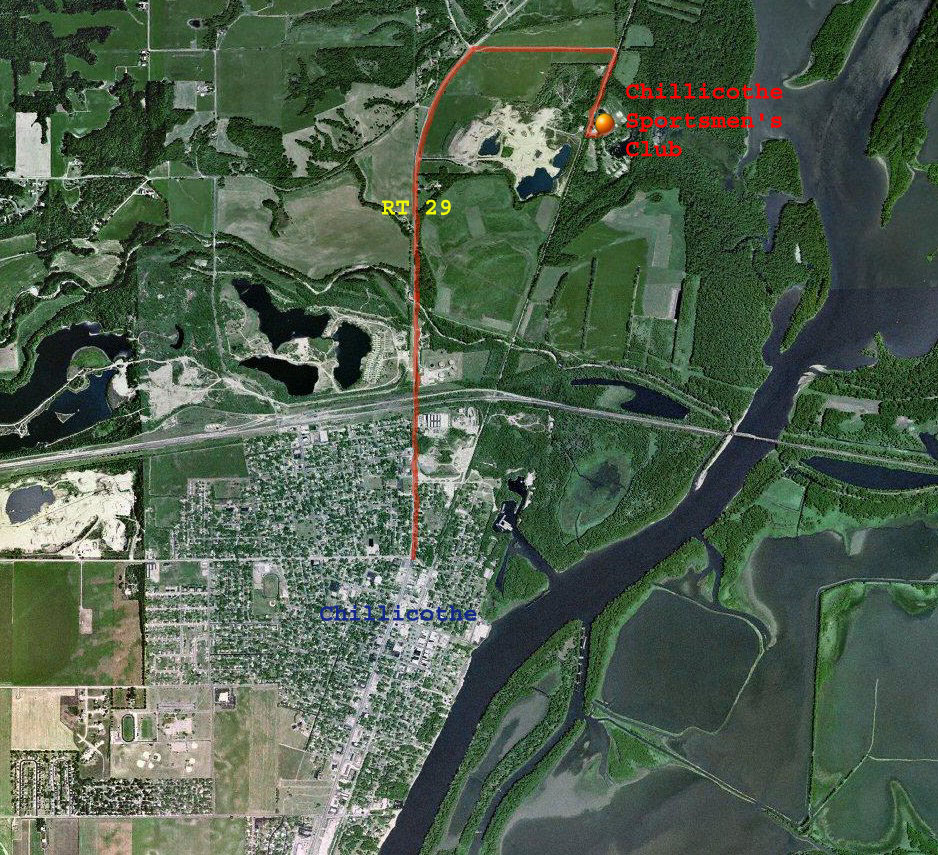 Contact Tim Vik via e-mail at webmaster@chillisportsmen.org if you would like to receive the CSC Newsletter and calendar of events via e-mail at no cost to you.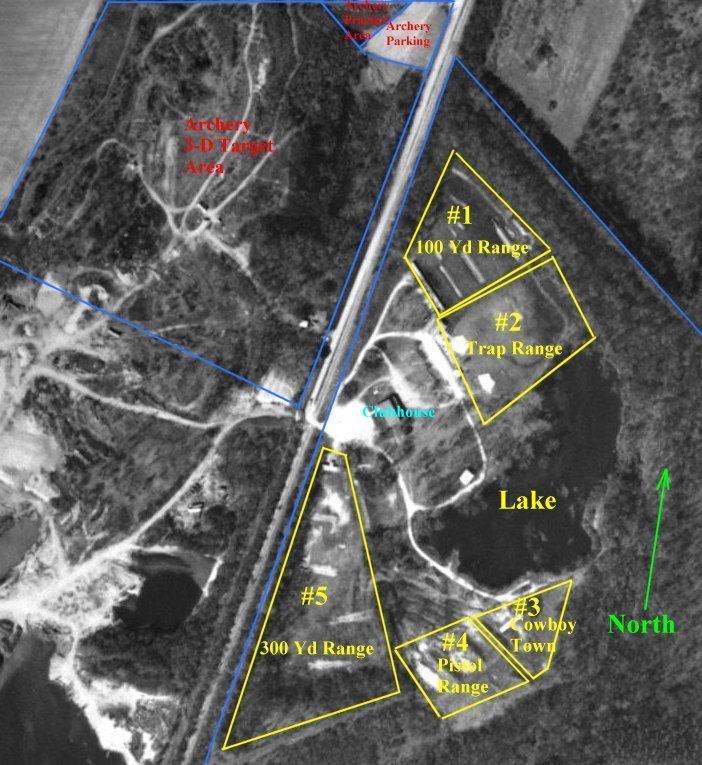 <![if !supportEmptyParas]> <![endif]>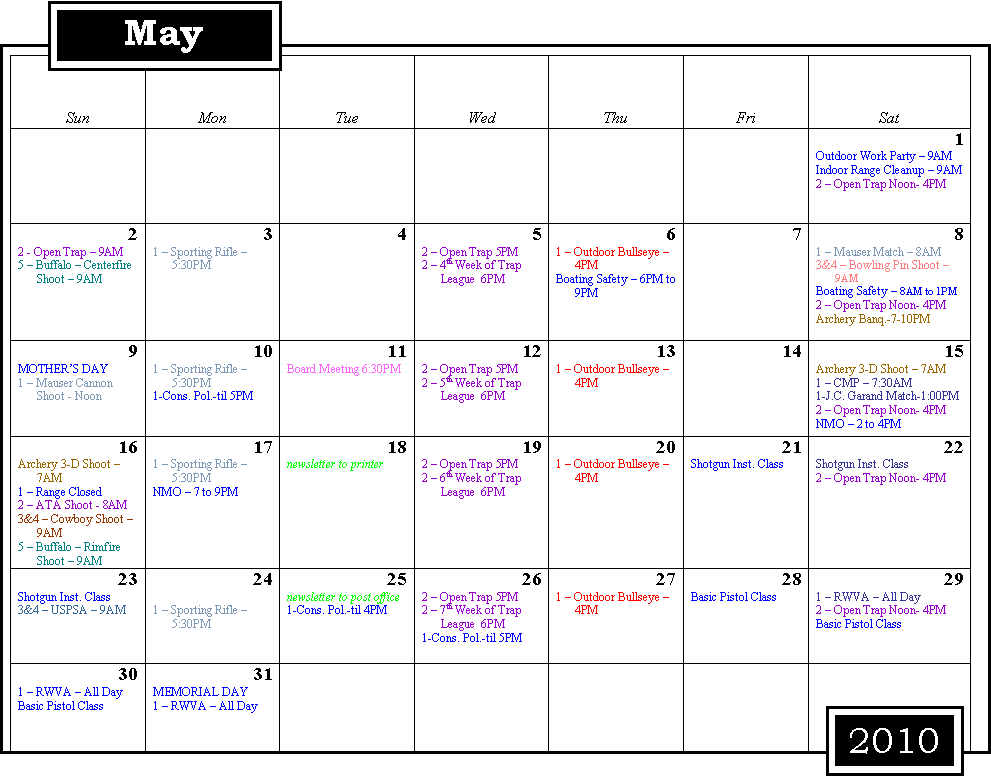 <![if !supportEmptyParas]> <![endif]>
<![if !supportEmptyParas]> <![endif]>
<![if !supportEmptyParas]> <![endif]>