Chillicothe Sportsmen's
Club News Mar. 2012
<![if !supportEmptyParas]> <![endif]>
WEB PAGE  http://www.chillisportsmen.org
<![if !supportEmptyParas]> <![endif]>
PRESIDENT'S CORNER
Some of our ranges are beginning to resemble landfills - all that's missing are the seagulls. We have some members, a limited number hopefully, who disrespect themselves and our club by throwing and/or leaving their trash on the ground instead of tossing it into the 55-gallon drums placed at each range exclusively for this purpose. I recently collected and hauled away several trash bags full of garbage from our ranges left by pigs, and I'm not talking about the four-legged kind either: THEY have redeeming value - they taste great when cooked in the ground, upon a grill or within a Crock-Pot mixed with carrots, potatoes and onions. Ours is not a public facility; it's a private organization, meaning that membership is a privilege, a revocable privilege, not a right. All we ask is that whenever you use any of our ranges that you either throw your trash away or take it with you. There is nothing difficult about this. Please stop and think. Do your fair share to help keep our ranges clean for everyone to enjoy. I would very much like to thank the couple I met on Practice Range 3 recently who were picking up the mess left by others. You know who you are. Thought for the month: Change is inevitable, except from vending machines.
Kevin Hutchison
<![if !supportEmptyParas]> <![endif]>
Gun Show Information
Do you desire to join or need to renew your NRA and/or ISRA membership?  You can join and/or renew either or both memberships at the Spring CSC Gun Show on 3/31 or 4/1 and usually obtain a better deal than the mailed notices offer you.  Come see us at the CSC Gun Show!
<![if !supportEmptyParas]> <![endif]>
We will also have a voter registration drive going at the CSC gun show. If you have changed your address since you last voted, and you haven't re-registered, stop by our table and we'll get you up to date. Your vote is important......make sure you are registered and then, make sure you vote! Remember....voting is not a privilege.....it's your duty!
<![if !supportEmptyParas]> <![endif]>
ADDRESS CHANGES
ALL MEMBERS: It is your responsibility to make sure that the Club has your current home address, telephone number, e-mail address, etc. Be aware that bulk mail is never forwarded!  Newsletters which are returned to us as undeliverable will cause your name to be deleted from the mail list. You will not receive any further Newsletters until you contact us with your new address.
<![if !supportEmptyParas]> <![endif]>
2012 WORK HOURS
INDOOR: -- Indoor Range and Clubhouse Cleanup – 9AM, 10MAR2012.
                      Indoor Gun Show set-up – 9AM, 30MAR2012
OUTDOOR: --  CMP Work Party – 9AM, 3MAR2012 to repair target frames and prepare for the
                       2012 season. Please bring hammers, saws and staplers to the meeting. Contact
                       Steve Schneckenburger at 309 692-7807 for more information.
                        -- Trap Range Cleanup – 8AM-11AM, 31MAR2012 (Cleaning up wads and rocks)
                      Bring rakes, flat shovels, and wheelbarrows.
<![if !supportEmptyParas]> <![endif]>
CONTACTS
If you have any questions or concerns about your Club you may contact any Club Officer listed below or any board member (see web site for current board members).
<![if !supportEmptyParas]> <![endif]>
            President                     V-President                  Secretary                     Treasurer
Kevin Hutchison Cally Morgan                 Donald Clemens            Lowell Bennett
            (309) 657-1518               (309) 691-3427               (309) 274-6870               (309) 274-5586
<![if !supportEmptyParas]> <![endif]>
Membership/Publications                                                                    Web-Master
            Cliff Wilcox                                                                                            Tim Vik
            (309) 579-2793                                                                                       (309) 274-4018
<![if !supportEmptyParas]> <![endif]>
<![if !supportEmptyParas]> <![endif]>
<![if !supportEmptyParas]> <![endif]>
MAUSER MATCH RESULTS FROM FEB. 11th  MATCH
Temperature at first shot – 12 Degrees Fahrenheit!
High raw score -  Jay Zentko (K-31 Swiss) 193-3X
1st – Bob Griffith (Mosin Nagant) 207-3X
2nd – Jay Zentko (K-31 Swiss) 1999-3X
3rd – Bob Killion (K-31 Swiss) 198-5X
Challenge Match: (Cast Bullets) Chris Bach 198-4X
Lucky Shooter Award: Marty Lehman
Next Match – March 10, 2012 (9:00 AM)
Challenge Match – Korean War Challenge (anything that was used in the Korean War: M1 Garand, M1 Carbine, 1903 Springfield, Mosin Nagant, SKS, AK, and Derivatives, etc.)
Coming Attractions – WWI Challenge on May 12, 2012. Sponsored by Bob Killion
<![if !supportEmptyParas]> <![endif]>
BULLSEYE PISTOL
The next class of "Introduction to Bullseye Pistol" will start on March 14th. This class is open to men, women and families, and runs for 5 weeks. The cost for this class is $35. To enroll in this class or for further information about it, please contact Scott at 309 274-8407 or Jeff at
309 264-2276.
<![if !supportEmptyParas]> <![endif]>
TRAP LEAGUE
There will be a Trap League Captain's meeting at 11AM till Noon on March 31st. Trap will start shooting on Wednesday evenings. For information, call Jerry Oglesby at 309 360-6152, or by
e-mail at oglesby.jerry@gmail.com.
<![if !supportEmptyParas]> <![endif]>
CENTERFIRE BUFFALO SHOOT
Centerfire Buffalo Shoots will be held at 9:00AM on Range 7 on the following dates; March 4, April 1, May 6, June 3, July 1, August 5, September 2, & October 7. Warm-ups start at 8:30. For information, please contact Kyle Mustain at 309 255-6339.
<![if !supportEmptyParas]> <![endif]>
RIMFIRE BUFFALO SHOOT
Rimfire Buffalo Shoots will be held at 9:00AM on Range 7 on the following dates; March 18, April 15, May 20, June 17, July 15, August 19, September 16, October 21, & November 18. Come early to sight in. The range us usually open at 7:00AM. Additional information about these shoots can be found at FACEBOOK.COM/EASTSIDEWELLNESSCHIRO, or call 309-258-2355 for more information. Check it out! 
<![if !supportEmptyParas]> <![endif]>
<![if !supportEmptyParas]> <![endif]>
CONCEALED CARRY NEWS
For all those CSC members who have Utah concealed carry permits, please be advised that Wisconsin now honors Utah's permit. Being a bordering state, this is very good news. You can learn more about Wisconsin's CCW law by visiting their website, Utah's website, and another excellent site at www.handgunlaw.us.
<![if !supportEmptyParas]> <![endif]>
CSC BOARD NEWS
Rules for the use of each range are posted. The CSC Ground Rules are also posted on our website. Please take the time to read and be aware of these rules! If you fail to comply with these stated rules, you will be asked to surrender your club ID. Your ID will not be returned to you until the board decides what further action is necessary.
Our next gun show is scheduled for 3/31-4/1. Because of the importance the upcoming election, and to support our right to vote, we will have a voter registration station at one of the tables up-stairs as a service to the folks attending our show. There will be no charge to anyone availing themselves of this service. If you know anyone who is not registered please encourage them to stop by this table and register.  Remember that the $10 late fee for renewals kicks in March 1. If you do not renew your membership by March 1st, you will be assessed an additional $10 per month after that. Also, do not send your old key in with your renewal! It tears up the postal sorting equipment. 
Note: When sending an e-mail to our president, Kevin Hutchinson, please use the e-mail address published on the website (blitzkrg@mtco.com) as this is the only address he checks on a regular basis. Thanks.
Remember, if you are receiving a paper copy and an e-mail copy of this newsletter, and the e-mail is sufficient for you, let us know, and we will stop sending the paper copy. That will save your club some postage. Every little bit helps!
                                                                                                                                                                                .
We have been notified that Michael Dudek, a CSC member of Peru, passed away on January 16th of this year. He was also a member of the Oglesby American Legion and the Marine Corps League. Mike had been awarded the Purple Heart for wounds he received while serving with the Marine Corps during the Viet Nam era. Our sympathies go out to his wife and family.                                                                                                                                    .
<![if !supportEmptyParas]> <![endif]>
Due to the way our club has grown over the past few years, the board felt that it would be a good idea to form an Advance Planning Committee to keep us up-to-date on the constant changes that may effect us one way or another. This committee is staffed by Jim Martin, Cally Morgan, Steve Schneckenburger, Derek Howald, Jerry Oglesby, and Lowell Bennett. Their job will be to receive, create, plan, and develop ideas and strategies for short and long term improvements to the club. They will bring those ideas to the entire board for deliberation. Anyone having any ideas or suggestions that they feel may benefit our club is encouraged to contact this committee.
<![if !supportEmptyParas]> <![endif]>
LEGISLATIVE NEWS (ILLINOIS)
On Thursday, February 9th, Chicago Mayor Rahm Emanuel called for the Illinois General Assembly to pass a $65 per handgun fee to be levied against every law-abiding gun owner in Illinois – INCLUDING YOU. Of course, gang bangers, murderers, robbers and rapists are exempt from the fee. This fee would be charged every 5 years on every handgun you own. Additionally, you would have to register with the government in the same manner as sex-offenders.
If Rahm Emanuel's gun tax passes, you will be required to pack up your handguns and take them to the local police station for examination and registration. If you have 10 handguns to bring in, you'll walk out paying $650 in taxes. If you own 100 handguns, the government will lighten your wallet to the tune of $6,500. And, you'll have to repeat this process every 5 years – unless Emanuel and his buddies in the legislature bump this up to an ANNUAL FEE.
If you cannot pay the $65 tax on EACH of your handguns, you will have to surrender your guns to the local police for destruction.
If you decide not to pay the tax, the police will come to your house and take your guns away. They will also arrest you and charge you with a CLASS 2 FELONY.
What can we do to fight this? Call your state representative and ask him/her to reject this bill. In addition, please consider joining us on Illinois Gun Owners Lobby Day (IGOLD) in Springfield Wednesday, March 7, 2012, and tell him/her face-to-face.
<![if !supportEmptyParas]> <![endif]>
"It is essential that the people should be united in the Federal government, to withstand the common enemy, and to preserve their valuable rights and liberties." Samuel Adams, 1788.
<![if !supportEmptyParas]> <![endif]>
LEGISLATIVE NEWS (NATIONAL)
Illinois Republican Representative Joe Walsh needs your help in building support for H.R. 3594, the bill that reaffirms the sovereignty of the U.S. Constitution over the international treaties inconsistent with the Constitution and that prohibits U.S. funding of the United Nations should that body take action to limit the Constitutional rights of U.S. citizens. This bill is critical in blocking U.N. action on a comprehensive and intrusive Arms Trade Treaty. H.R. 3594 currently has 29 co-sponsors. We need to push that number of co-sponsors up to well over the 218 needed to pass the bill out of the house. Contact your U.S. Representative and ask him/her to support this bill.
<![if !supportEmptyParas]> <![endif]>
"A nation which can prefer disgrace to danger is prepared for a master, and deserves one."  Alexander Hamilton
TIP OF THE MONTH
According to the NRA, the proper technique for shooting a rifle is to aim at the target and squeeze the trigger. But, when shooting a shotgun, the proper technique is to point at the target and pull the trigger. Regardless whether you are shooting a rifle or shotgun, you should stay on target while maintaining your breath control, hold control, and trigger control throughout the firing process. Remember to continue to hold the trigger back until the firearm has returned to its normal position after the recoil. This is very important in follow through.
<![if !supportEmptyParas]> <![endif]>
FUNDAMENTAL NRA SAFETY RULES
<![if !supportLists]>1. <![endif]>Always keep the firearm pointed in a safe direction.
<![if !supportLists]>2. <![endif]>Always keep your finger off the trigger until ready to shoot.
<![if !supportLists]>3. <![endif]>Always keep the firearm unloaded until ready to use.
<![if !supportEmptyParas]> <![endif]>
Let's discuss these rules in more detail.
Number 1 means to keep the muzzle of your firearm pointed down range (or in cases where this is not practical, straight up in the air). Be aware where you are pointing at all times, especially when packing or unpacking the firearm at your shooting position.
Number 2 means that your trigger finger should not touch the trigger until your sights are on target. Practice laying your finger alongside the frame of your firearm until you have your sights on the target. When you are on target, move your finger to the trigger and fire. Remember, do not touch or handle any firearm while there are people down range!
Number 3 means that you do not insert your clip, magazine, or loose ammo into the firearm until you are ready to fire it. Then, remember to remove the clip, magazine, and all ammo from the firearm before calling the line clear. Chamber flags should be used, even when you are the only shooter on the line!
These three safety rules are very important for the safe handling of firearms. You should say these rules over in your head again and again until you can recite them word for word. Then,
practice them every time you use the range. We have been very fortunate at CSC with our safety record. Let's all work together to keep SAFETY our number one goal. We thank you for your cooperation in keeping our ranges safe!
<![if !supportEmptyParas]> <![endif]>
"The laws that forbid the carrying of arms...disarm only those who are neither inclined nor determined to commit crimes...Such laws make things worse for the assaulted and better for the assailants; they serve rather to encourage than to prevent homicides, for an unarmed man may be attacked with greater confidence than an armed man." Cesare Beccaria, father of modern criminology, 1764. (YEP! 1764!)
<![if !supportEmptyParas]> <![endif]>
IGOLD in Springfield March 7, 2012!
Bus leaves Walmart parking lot on
University at 9:00AM – Cost $25
Reservations at IGOLD.ISRA.org.
<![if !supportEmptyParas]> <![endif]>
<![if !supportEmptyParas]> <![endif]>
<![if !supportEmptyParas]> <![endif]>
Don't Forget....CSC Spring Gun Show
March 31 & April 1 starting at 9:00 AM
Tell your friends -- Bring the family!
<![if !supportEmptyParas]> <![endif]>
ç==============================================================è
Acronyms - What the heck do they mean!!???!!?!?  
Wonder what all the acronyms used out on the range and in this newsletter mean? This area of the newsletter is dedicated to helping explain these. If I forget some or misidentify them, please let me know.
<![if !supportEmptyParas]> <![endif]>
SASS               Single Action Shooting Society
USPSA             United States Practical Shooting Association – Club Number #IL-08
DCM                 Department of Civilian Marksmanship (old designation)
CMP                 Civilian Marksmanship Program (new designation) - Club Number #52084
NMO                 New Member Orientation
NRA                 National Rifle Association - Club Affiliation Number  #R0570
ISRA                 Illinois State Rifle Association – Club Affiliation Number  #00282
WTPS               Women's Target Pistol Shooting (new group at CSC)
ATA                  Amateur Trapshooting Association
WITO                Women In The Outdoors
WOT                 Women On Target
===================================================================
<![if !vml]>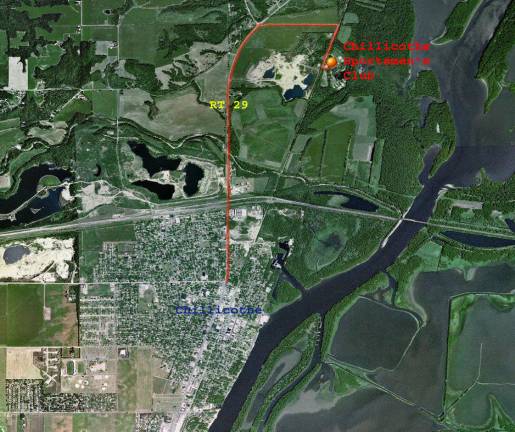 <![endif]>
<![if !supportEmptyParas]> <![endif]>
Contact Tim Vik via e-mail at webmaster@chillisportsmen.org if you would like to receive the CSC Newsletter and calendar of events via e-mail at no cost to you.
<![if !supportEmptyParas]> <![endif]>
The following are the new range numbers:
RANGE   LOCATION
1  --         100 yard range
2  --         Trap range
3  --         Short lakeside range (NEW) (just north of Cowboy Town)
4  --         Cowboy Town
5  --         Practice Range
6  --         3-bays
7  --         300 yard range
8  --         Archery Range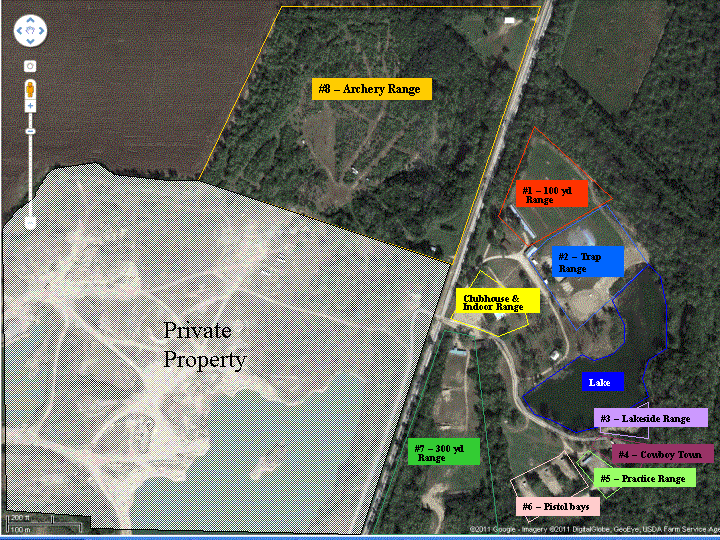 <![if !supportEmptyParas]> <![endif]>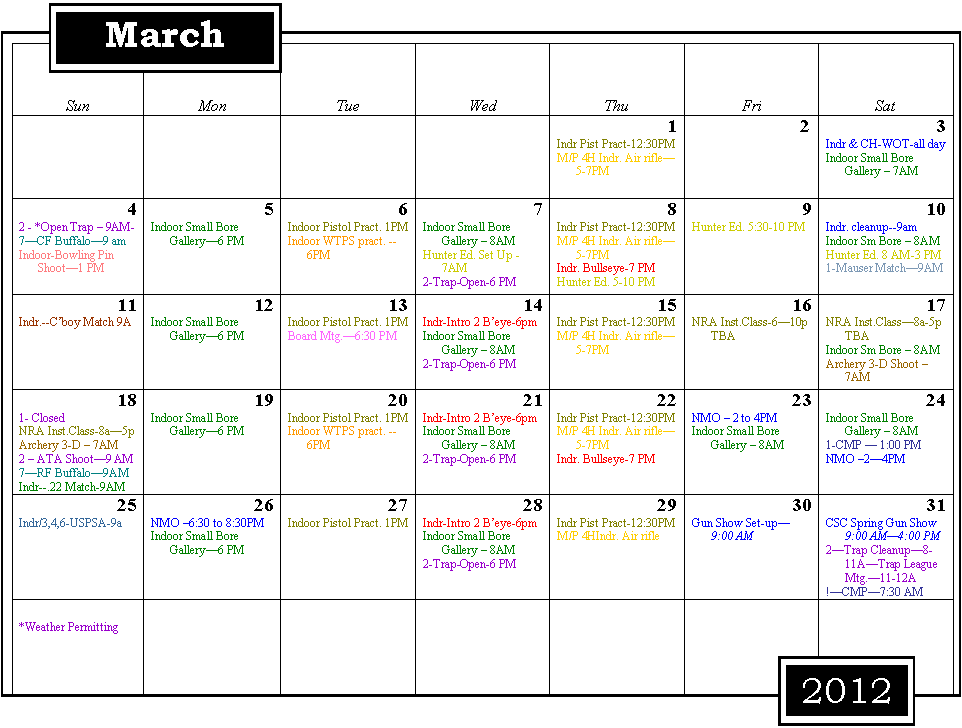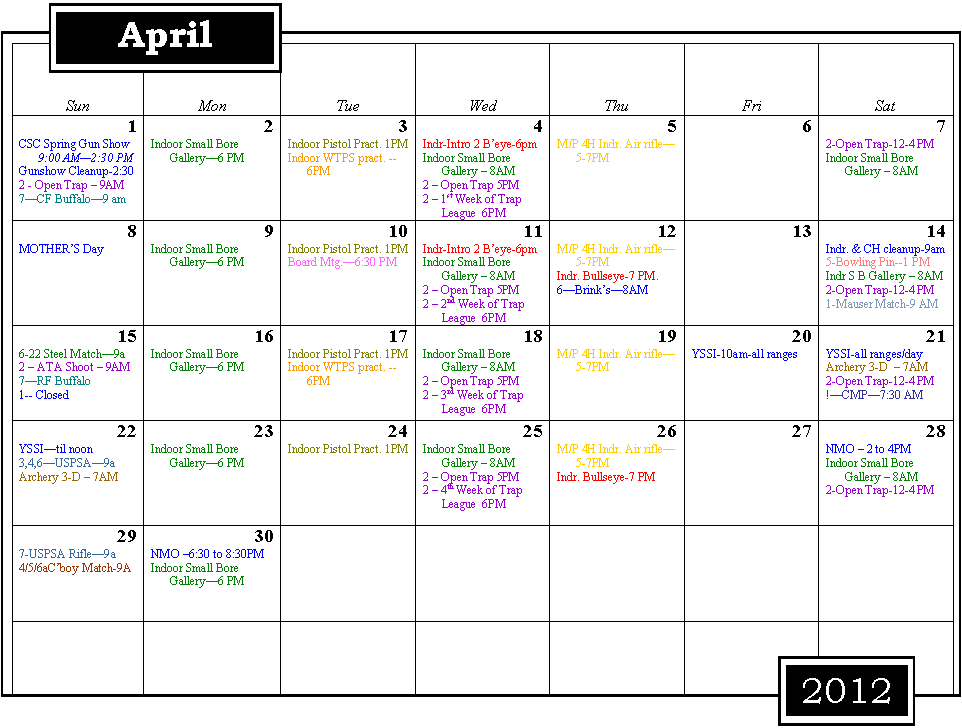 <![if !supportEmptyParas]> <![endif]>
<![if !supportEmptyParas]> <![endif]>
<![if !supportEmptyParas]> <![endif]>