Chillicothe Sportsmenís Club News June 2012
WEB PAGE: www.chillisportsmen.org
Presidentís Corner:
I walked into a restaurant the other day and sat in a booth adjacent to one occupied by a couple older gentlemen. One wore a ball cap identifying him as a Marine Corps veteran from World War 2. I was wearing my Patriot Guard skull cap, or do-rag as some might call it and I noticed the Marine had been looking at it with obvious interest. He introduced himself as Bill and said "I've heard of you. You're the guys who attend military funerals and keep demonstrators away from the families." "Yes sir," I replied. He smiled, extended his hand and said thank you for being there. I told him that the only reason why we of the Patriot Guard, and all Americans, are here is because YOU were THERE. Bill's silent appreciation was deafening. We ended up talking about a number of issues and he brought up a couple outstanding points that I felt are worth sharing. The first was that far too many people have forgotten what it means to be an American and how to do it. He also said that if Americans ever allow their right to keep and bear arms to be taken from them, America will no longer be the land of the free, the land that he and all veterans fought and died for. He prays this never happens. What can you and I do to help protect this right? Become active, write and call your representatives, and join the National Rifle Association.
"Patriotism means to stand by the country. It does not mean to stand by the president or any other elected official."
Theodore "Teddy" Roosevelt
Kevin
Member Suspended
On May 8 the Chillicothe Sportsmenís Club Board of Directors imposed a 60 day suspension of a memberís Club privileges and a requirement that he attend the New Member Orientation class for a safety violation on the part of his guest. Let this be a reminder that the handling of firearms when people are down range is unsafe and violates club rules. Each and every CSC member is responsible for the actions of any guest(s) brought to the Club. Although this was an unfortunate situation, our commitment to safety remains paramount. Let's all work together to make sure we do not have to take this action again.
CSC Rifle Team To Perform 21 Gun Salute
In honor of our veterans on Memorial Day weekend, CSC members will perform a 21 gun salute prior to the start of the Chillicothe River Run at 8:00A on Saturday May 26 at city park. A civil war cannon shot will signal the start of the race.
CSC Members Do Well At USPSA Event
Our club members shot in the United States Practical Shooting Association (USPSA) Single Stack Nationals at Barry, Illinois on May 2-5, 2012. There were 301 competitors. Finish order:
Paul Brenkman† -† 67
Chuck Hoelscher† -† 223
Bob Clift† -† 227
Chuck Varnold† -† 245
Good Job Gentlemen!
Raffle Opportunity:
The Club is offering the opportunity to purchase† a chance on a Remington model 1100 Classic Trap shotgun. 125 tickets will be sold at $20 each. The drawing will be held on August 29, 2012 or whenever the last ticket is sold.
Contact:
Jerry Oglesby (309)360-6152
Kevin Wunder (309)256-6349
Work Hour Opportunities/Work Parties:
Grounds:
The next outdoor work party is on Saturday June 2 at 8:00A. We will be cleaning up weeds and downed trees. Please bring chain saws, weed trimmers, trucks, or trailers. All ranges except 1 will be closed until approximately 12:00P. Contact Steve Schneckenburger for more information at (309)692-7807 or 675-0170.
Indoor:
Bob will reschedule a work party to finish maintenance on the indoor range. This will include painting and other tasks. Contact Bob Bjerke @ 309-692-1800
Events (From Our Event Directors):
June: 1911 Pistol Match
To celebrate over 100 years of John M. Browning's legendary 1911 pistol, there will be a competitive match held exclusively for these firearms on Saturday June 2nd from 9:00am until 3:00pm. If the weather is nice, the match will be held on Range 1. If it's raining, we will use our indoor range in the lower level of the club house. The goal of this event is simply to have some fun with the world's finest pistols. The course of fire is simple and somewhat challenging, but not overly so. You do not have to be a highly experienced competitor to take part. All you need to join the fun is a single-action 1911 style pistol in a centerfire caliber, hearing and eye protection, a couple of magazines, a belt holster, and 50 rounds of ammunition (bring more ammo if you want to shoot the course more than once). The entry fee is only $3. Each re-shoot is equally cheap, $3. Prizes will be awarded. To receive an informational bulletin on the match, contact Kevin Hutchison at blitzkrg@mtco.com.
Trap:
When activity is taking place on range 2 (trap range) the North end of the lake is off limits. There was recently a case of fishermen being in a dangerous position.
Cowboy Match:
The latest results:
1ST Long Fingers (Troy Noble) 123.50 (Clean Score)
2ND Taquila Tab (Tab Bumgardner) 143.45
3RD Rance (Rodger Hopper) 152.34
Members: Sorry for the monkey up on the target frame last month. Letís try this again
Members: Try This On Ranges 1 And 7.
<![if !vml]>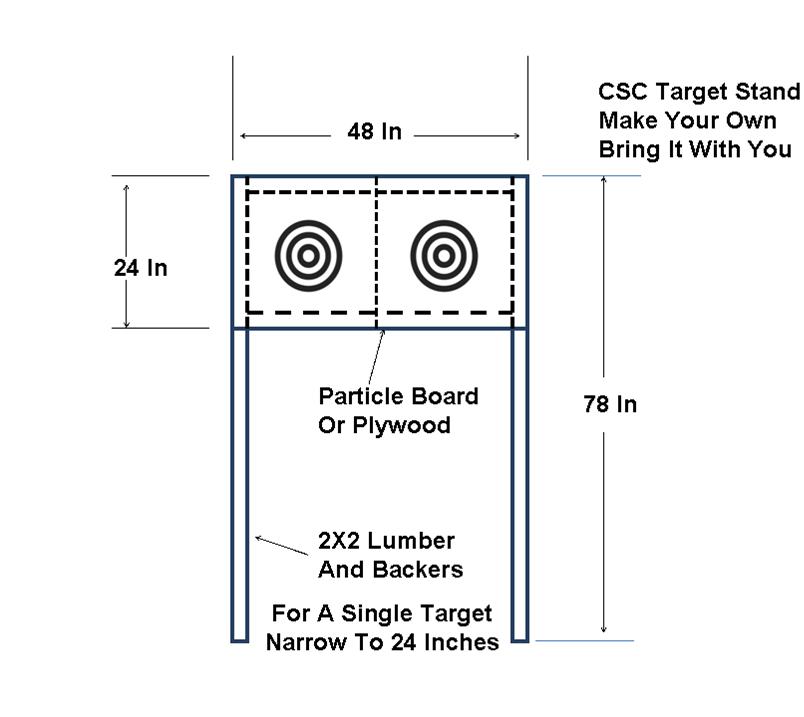 <![endif]>
The 24 inch model will fit in your car better
And Finally:
I had the opportunity to visit the American Cemetery at Omaha Beach in Normandy on May 2. 10,000 of our boys are buried there, many of them 18-20 years old. Lest we forget on this Memorial Day weekend. God bless America!
Jim
<![if !vml]>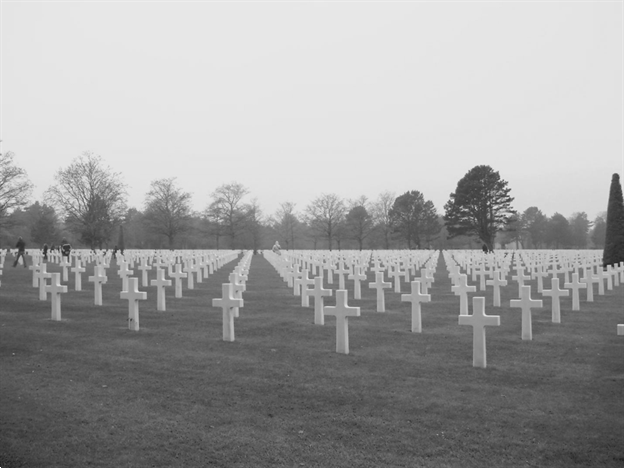 <![endif]>
Á==============================================================Ť
Acronyms - What the heck do they mean!!???!!?!? †
Wonder what all the acronyms used out on the range and in this newsletter mean? This area of the newsletter is dedicated to helping explain these. If I forget some or misidentify them, please let me know.
<![if !supportEmptyParas]> <![endif]>
SASS†††††††††††††† Single Action Shooting Society
USPSA ††††††††††† United States Practical Shooting Association Ė Club Number #IL-08
DCM†††††††††††††††† Department of Civilian Marksmanship (old designation)
CMP†††††††††††††††† Civilian Marksmanship Program (new designation) - Club Number #52084
NMO†††††††††††††††† New Member Orientation
NRA†††††††††††††††† National Rifle Association - Club Affiliation Number †#R0570
ISRA†††††††††††††††† Illinois State Rifle Association Ė Club Affiliation Number† #00282
WTPS†††††††††††††† Womenís Target Pistol Shooting (new group at CSC)
ATA††††††††††††††††† Amateur Trapshooting Association
WITO††††††††††††††† Women In The Outdoors
WOT†††††††††††††††† Women On Target
===================================================================
<![if !vml]>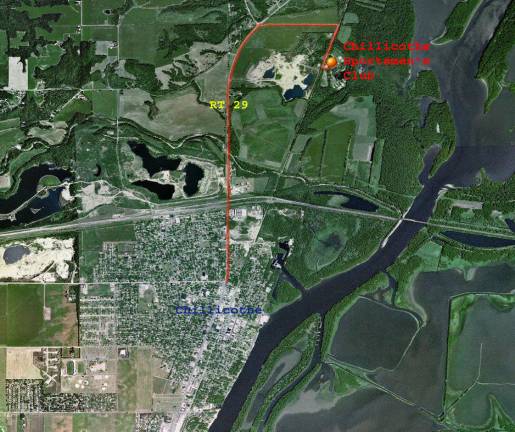 <![endif]>
<![if !supportEmptyParas]> <![endif]>
Contact Tim Vik via e-mail at webmaster@chillisportsmen.org if you would like to receive the CSC Newsletter and calendar of events via e-mail at no cost to you.
<![if !supportEmptyParas]> <![endif]>
The following are the new range numbers:
RANGE†† LOCATION
1† -- ††††††† 100 yard range
2† -- ††††††† Trap range
3† -- ††††††† Short lakeside range (NEW) (just north of Cowboy Town)
4† -- ††††††† Cowboy Town
5† -- ††††††† Practice Range
6† --†††††††† 3-bays
7† -- ††††††† 300 yard range
8† -- ††††††† Archery Range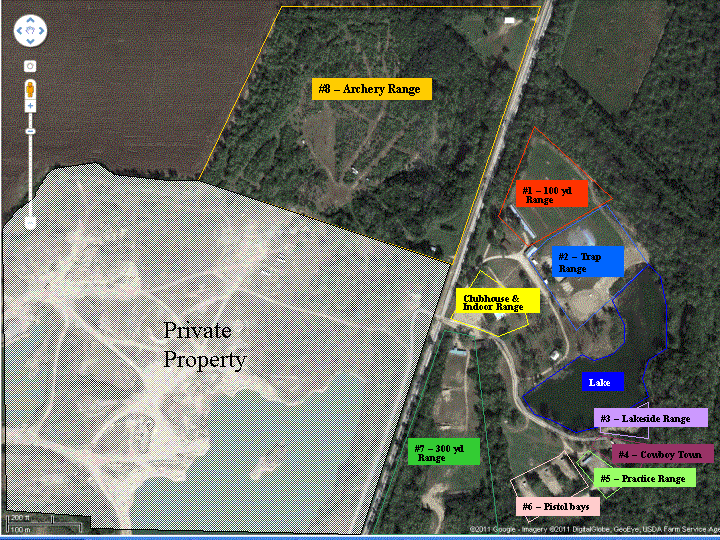 <![if !supportEmptyParas]> <![endif]>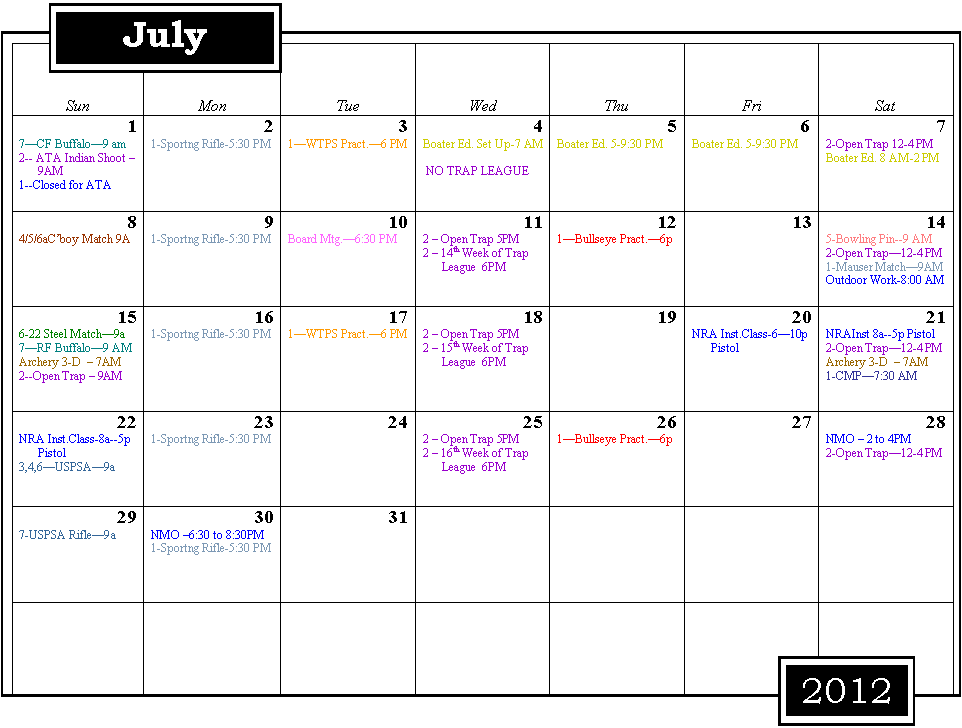 <![if !supportEmptyParas]> <![endif]>
<![if !supportEmptyParas]> <![endif]>
<![if !supportEmptyParas]> <![endif]>