Chillicothe Sportsmen's Club News September 2012
WEB PAGE: www.chillisportsmen.org
Club Contacts:
If you have any questions or concerns about your Club you may contact any Club Officer listed below or any board member.
President        V-President     Secretary      Treasurer
Kevin Hutchison      Cally Morgan   Donald Clemens   Lowell Bennett
(309)657-1518      (309)691-3427 (309)274-6870 (309) 274-5586
President's Corner:
I'd like to switch gears this month and offer my personal opinion concerning what I believe to be an exceptional educational publication addressing the topic of self-defense that I feel is well worth having. More and more, we're witnessing this issue take a front row seat in the auditorium of societal concern. Utah-based defense attorney Mitch Vilos, who is also a concealed firearms permit instructor, has written a book entitled "Self-Defense Laws of all 50 States," that can be purchased on-line through Amazon.com. I believe this book is a 'must-have' for anyone who maintains a firearm for self-defense in the home, for concealed firearm permit holders and instructors, NRA-certified defense trainers and literally anyone who simply wants more information about this delicate and prevalent topic.

Because self-defense and use of force laws can be complex, can change often, and are frequently interpreted differently by the courts, I know of no single publication that can provide the law-abiding citizen with everything he needs to know regarding the legal concepts and mandates surrounding self-defensive. What the author DOES do for the reader is provide a rock-solid foundation upon which self-defense principles rest, securely cemented by language that is easy to understand and comprehend. He spotlights the self-defense laws of all 50 states with their own statutory language and then turns their legalese into what he calls 'plain-talk' summaries.

Self-defense issues are comprised of legal, moral, political, and even geographic factors. Using both statute and case law, his own experiences as a defense attorney and a variety of real-world cases, Mitch addresses them in this detailed, easy to read and sometimes humorous work. My only complaint about the book offered through Amazon.com is that the cover design is terrible. Talk about butt-ugly! Forget about the cover, however, because it's what's inside that counts.

Costing only $29.95, with 556 pages, I feel this book is a tremendous bargain. The two most powerful assets one can have are one's mind and knowledge, and while I certainly recommend anyone interested in this topic to seek out a variety of other informational sources, I believe this work is a great place to begin one's journey. I am not affiliated with the author in any way and receive no form of compensation for recommending the book. I simply feel it's an outstanding work and wanted to share it with our membership.
We are still having a few issues with members who are leaving all forms of trash upon our ranges. I'd like to remind everyone that we have no paid personnel to police and clean our facilities. Tasks of this nature are accomplished exclusively by volunteers. We are stepping up efforts to monitor range utilization, and the memberships of those caught trashing our ranges may be in jeopardy. I also want to remind everyone that the wooden target frames upon our ranges are for pistols/revolvers, rifles and shotguns using rifled slugs only. We recently discovered one of our new wooden target frames totally destroyed by shotgun pellets. The membership of anyone caught destroying club property will be revoked and, depending upon the nature and extent of the destruction, could result in criminal prosecution. Please be respectful of our Club. It's OUR Club, meaning that it belongs to us all and we all have a moral responsibility to help maintain it for the entire membership.
Kevin
From Steve Schnurbusch 573-768-2450
American Marksman Clinic
Chillicothe Sportsmen's Club
Chillicothe, Illinois
September 1st - 8:30 to 5:00
Cost: $50.00, $30.00 for Women, $20.00 under 21
Rimfire Sporter Match $15 first match
September 2nd - 8:30 to ???
This is a fast paced course on how to shoot your rifle more accurately. It will take you from "just plinking" to being able to shoot to military standards.
· Understand your rifles sights and how to adjust them.
· Learn the 4 positions of shooting and how to establish a solid shooting platform in any terrain.
· Learn how your sling can be more than a carry strap.
· Learn how "BRASS" can make you a better shot.
· Learn how inches, minutes & clicks can save you money on ammo.
· Understanding NPOA and why it is vitally important when making that perfect shot.
usrifleman.org/events
847-920-USRA(8772)
Raffle Opportunities:
 The Club is offering the opportunity to purchase a chance on a Remington model 1100 Classic Trap shotgun. 125 tickets will be sold at $20 each. The drawing will be held on August 29, 2012 or whenever the last ticket is sold. (less than 40 left)
Contact: Jerry Oglesby (309)360-6152
Kevin Wunder (309)256-6349
The club is offering the chance to win an M1 Garand rifle. 100 tickets will be sold at 20 dollars each. The drawing will take place when all of the chances are sold. Interested:
Contact: Chris Bach 309-256-1712
                 Steve Schneckenburger 309-692-7807
Work Hour Opportunities/Work Parties:
Contact Steve Schneckenburger 309-692-7807 or Bob Bejerke 309-692-1800
The clubhouse and other buildings maybe painted and sealed soon – more later.
Planning Committee Update:
Recommendations:
1. Have our property surveyed with
      prominent markers at our property lines as
      well as a map with GPS coordinates.
2. Have NRA Technical Reps. review our
     ranges and make recommendations for
      possible improvements.
3. Plan and budget for upgrades to ranges 1
     and 7.
4. Explore an electronic badge/gate system for
    the club. This could offer some real
    advantages, but will depend on the cost. We
    will investigate.
Calendar Abbreviations:
SASS             Single Action Shooting Society
USPSA          United States Practical Shooting Association – Club Number #IL-08
DCM               Department of Civilian Marksmanship (old designation)
CMP               Civilian Marksmanship Program (new designation) – Club Number #52084
NMO               New Member Orientation
NRA               National Rifle Association - Club Affiliation Number  #R0570
ISRA               Illinois State Rifle Association – Club Affiliation Number  #00282
WTPS                        Women's Target Pistol Shooting (new group at CSC)
ATA                Amateur Trapshooting Association
WITO              Women In The Outdoors
WOT               Women On Target
And Finally:
Team USA shooting medal count at the London Olympics: 5
Skeet shooting gold medal
<![if !vml]>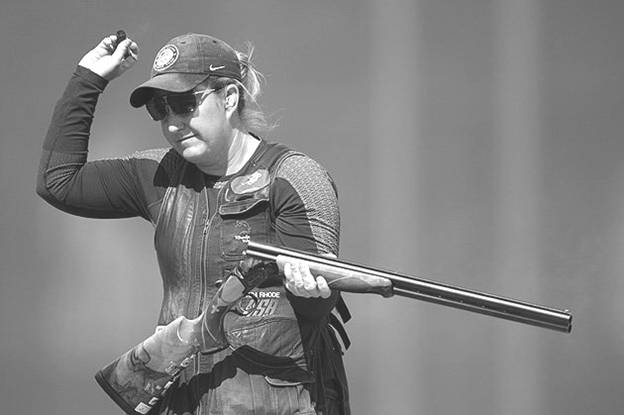 <![endif]>
Kimberly Rhode wins a gold medal in skeet shooting at the London Olympic games. She has now medaled in five consecutive Olympics. She only missed one bird in 100 shots, a new American record. I would love to have her come and talk to us. We will work on this one.
Good Shooting,
Jim
<![if !vml]>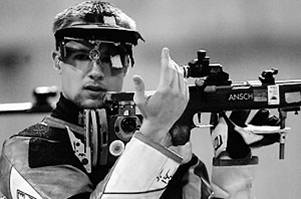 <![endif]>  <![if !vml]>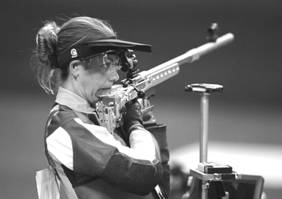 <![endif]>
Matt Emmons –Bronze                                   Jamie Gray-Gold
<![if !vml]>
<![endif]>
The following are the range numbers:
    RANGE             LOCATION   
1  --         100 yard range
2  --         Trap range
3  --         Short lakeside range (NEW) (just north of Cowboy Town)
4  --         Cowboy Town
5  --         Practice Range
6  --         3-bays
7  --         300 yard range
8  --         Archery Range
   <![if !vml]>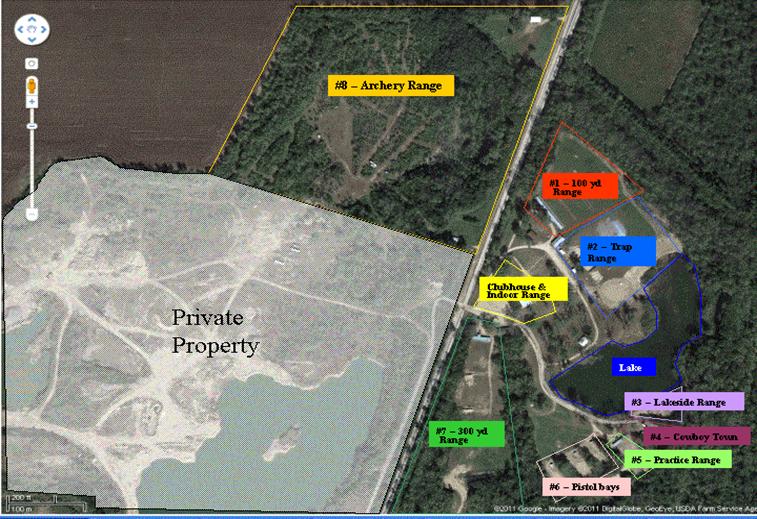 <![endif]>
<![if !supportEmptyParas]> <![endif]>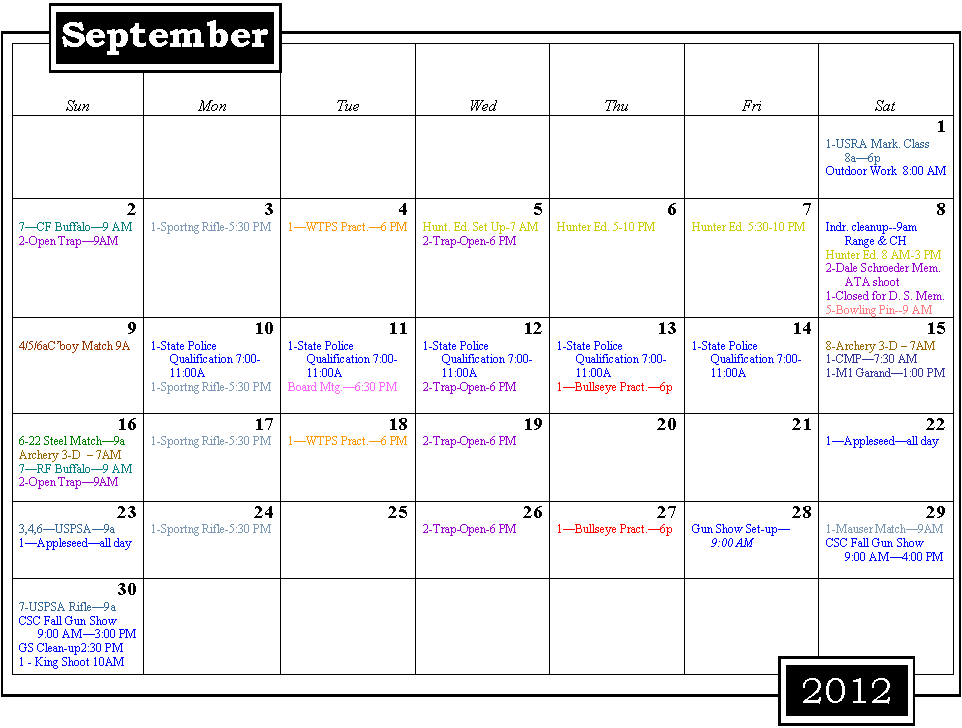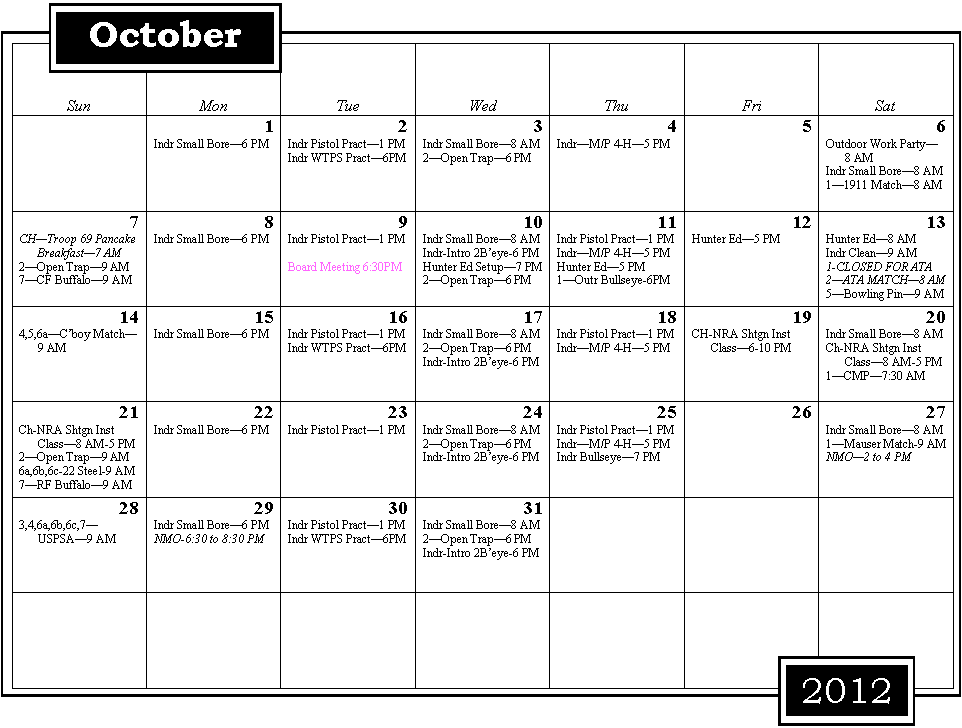 <![if !supportEmptyParas]> <![endif]>
<![if !supportEmptyParas]> <![endif]>
<![if !supportEmptyParas]> <![endif]>