Chillicothe Sportsmen's Club  News October 2012
WEB PAGE: www.chillisportsmen.org
Club Contacts:
If you have any questions or concerns about your Club you may contact any Club Officer listed below or any board member.
President        V-President     Secretary      Treasurer
Kevin Hutchison    Cally Morgan  Donald Clemens Lowell Bennett
(309)657-1518      (309)691-3427 (309)274-6870 (309) 274-5586
Fall Gun Show
September 29-30
8:30 – 4:00PM Saturday
8:30 -3:00PM Sunday
Set –Up 9:30 Friday Sept. 28
Tear Down 2:30 Sunday Sept. 30
For Information Call:  Steve Risinger  309-449-6268
                                                                    309-208-1010
                                         Gordon Young  309-397-4711
Membership Renewal
It's time to start thinking about renewing your club membership for 2013. Club dues for annual members will be $100. The $10 land fee applies to all members as does the current work hour structure of 10 hours. Unserved work hours are $10 per hour. For example: an associate life member with no work hours, the fee would be $110. Please return your 2012 card after November 1st with payment to:
Chillicothe Sportsmen's Club
P.O. Box 13
Chillicothe, IL 61523
Note:
Our small dues increase for 2013 is to bring our structure in line with other shooting clubs in Illinois, and to fund some much needed improvements to our ranges.
President's Corner:
The upcoming U.S. Presidential election may well be the most significant event of our time, having the potential to seriously, permanently and adversely alter the political and sociological fabric of the United States itself. Don't allow apathy to steal your ability to be heard. Don't allow your friends to be bad Americans by not voting. The United States is one of the few countries on the face of the earth whose people have the privilege of freely voting for their leaders. Even though political extremists have been trying their best for years to bring America into line with the rest of the world, which is either socialist, communist or autocratic, our rights and freedoms are still envied and longed for by the rest of the world. Don't allow the spirits of our Founding Fathers and military members who struggled, fought and died to earn that which we enjoy to be forever banished and lost to the yellowing pages of some unread history book.
1911 Pistol Match, Saturday 6 October
We are having another 1911 tactical marksmanship match on Saturday 6 October from 8:00am until 3:00pm on Range 1. The match will be held rain or shine, so bring rain gear just in case. The course of fire is simple and somewhat challenging, but not overly so. You do not have to be a highly experienced competitor to take part. All you need to join the fun is a single-action 1911 style pistol in a centerfire caliber, hearing and eye protection, a couple of magazines, a belt holster, and 50 rounds of ammunition (bring more ammo if you want to shoot the course more than once). The entry fee is only $3. Each re-shoot is equally cheap, $3. To receive an informational bulletin on the match, contact Kevin Hutchison at blitzkrg@mtco.com.
Kevin
Raffle Activities: 
The Remington model 1100 Classic Trap shotgun was won by Lora Murphy of Washington, IL at the annual trap league banquet  on August 28. Lora shoots on the women's trap team.
The club is still offering the chance to win an M1 Garand rifle. 100 tickets will be sold at 20 dollars each. The drawing will take place when all of the chances are sold. Interested:
Contact: Chris Bach 309-256-1712
                 Steve Schneckenburger 309-692-7807
Tickets will also be available at the gun show Sept. 29-30
Work Hour Opportunities/Work Parties:
Contact Steve Schneckenburger 309-692-7807 or Bob Bejerke 309-692-1800
Dale Schroder Memorial ATA Shoot – September 8
A beautiful day with 70 trap shooters and 15,900 rounds of ammunition expended. The winners were:
16 yard:
Class A: Larry Stine 99
Class B: Denise Stultz 98
Class C: Dave Richards 94
Class D: Don Willis 94
Woman: Kathy Turpin 93
Jr.:         Hannah Martin 89
Vet:        Don St Clair 95
Sr. Vet.: Jerry Hasler 96
Handicap:
Steve Carver 95
Doubles:
Class A: Dave Dressler 91
Class B: Larry Murphy 92
Class C: Garry Franklin 85
Class D: Clifford Glardon 84
INTRODUCTION TO DEFENSIVE HANDGUN
Sunday, November 4 8:30AM-5:00PM Cost $75
<![if !supportLists]>· <![endif]>Learn how to safely operate your handgun.
<![if !supportLists]>· <![endif]>Learn what additional equipment you should have &how to carry it.
<![if !supportLists]>· <![endif]>Get an overview on Illinois law and steps you should take NOW!
<![if !supportLists]>· <![endif]>Will cover: mindset, situational awareness, use of cover, barricades, movement, and more.
<![if !supportLists]>· <![endif]>Pre-registration is highly recommended. A certificate of completion and CCW application for Florida will be issued on site
www.usrifleman.org for information on what to bring and to register
847-920-USRA(8772)
Or Steve Schnurbusch 573-768-2450
Introduction To Bullseye Pistol Class
This class teaches pistol safety, and proper technic's of shooting and improving your pistol skills.
Open to anyone new or old who wants to learn to shoot pistols. You will get to shoot 450rds of ammo at targets
and Instructors will work with you to improve yours scores. We will supply everything you need for the class for $50.00
Class starts Wednesday October 10th at 6pm and runs for 5 consecutive weeks on Wednesday nights.
Limited to 12 people contact Jeff Payne 309-264-2276 or Scott Kirchner 309-256-3881 for more details and to sign up.
<![if !supportLineBreakNewLine]>
<![endif]>
Planning Committee Update:
Calendar Abbreviations:
SASS             Single Action Shooting Society
USPSA          United States Practical Shooting Association – Club Number #IL-08
DCM               Department of Civilian Marksmanship (old designation)
CMP               Civilian Marksmanship Program (new) – Club Number #52084
NMO               New Member Orientation
NRA               National Rifle Association - Club Affiliation Number  #R0570
ISRA               Illinois State Rifle Association – Club Affiliation Number  #00282
WTPS            Women's Target Pistol Shooting (new group at CSC)
ATA                Amateur Trapshooting Association
WITO              Women In The Outdoors
WOT               Women On Target
And Finally:
          <![if !vml]>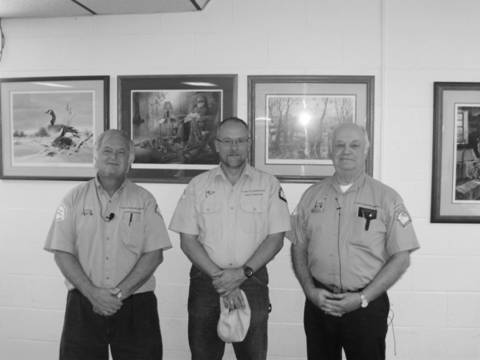 <![endif]>
Our Hunter Education Team: Tim, Bob, Lowell
A Great Class In September
Two Of Our Lady Shooters
<![if !vml]>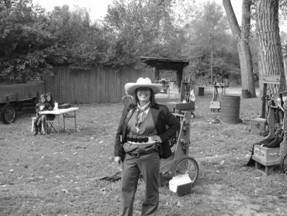 <![endif]>      <![if !vml]>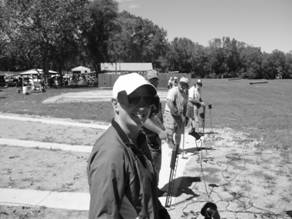 <![endif]>             
Lacey Corsette                        Kathy Turpin
Cowboy/Cowgirl                      Trap/ATA
<![if !vml]>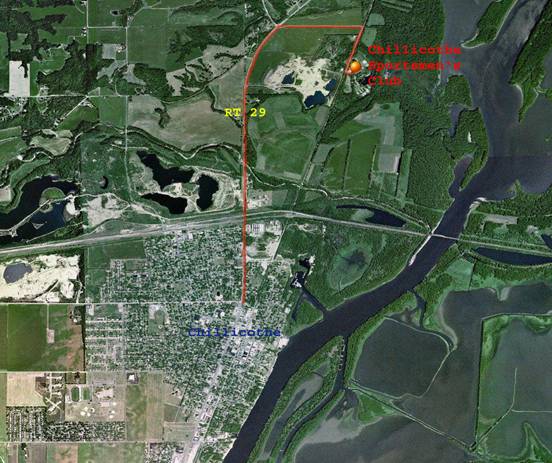 <![endif]>
The following are the range numbers:
    RANGE        LOCATION   
1  --      100 yard range
2  --      Trap range
3  --      Short lakeside range (just north of Cowboy Town)
4  --      Cowboy Town
5  --      Practice Range
6  --      3-bays
7  --      300 yard range
8  --      Archery Range
   <![if !vml]>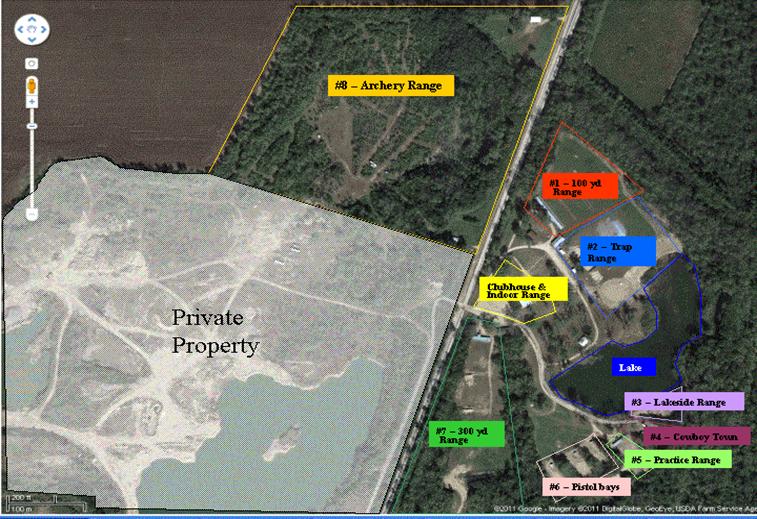 <![endif]>
Personal Protection In the Home info
October and November Work Party Info
<![if !supportEmptyParas]> <![endif]>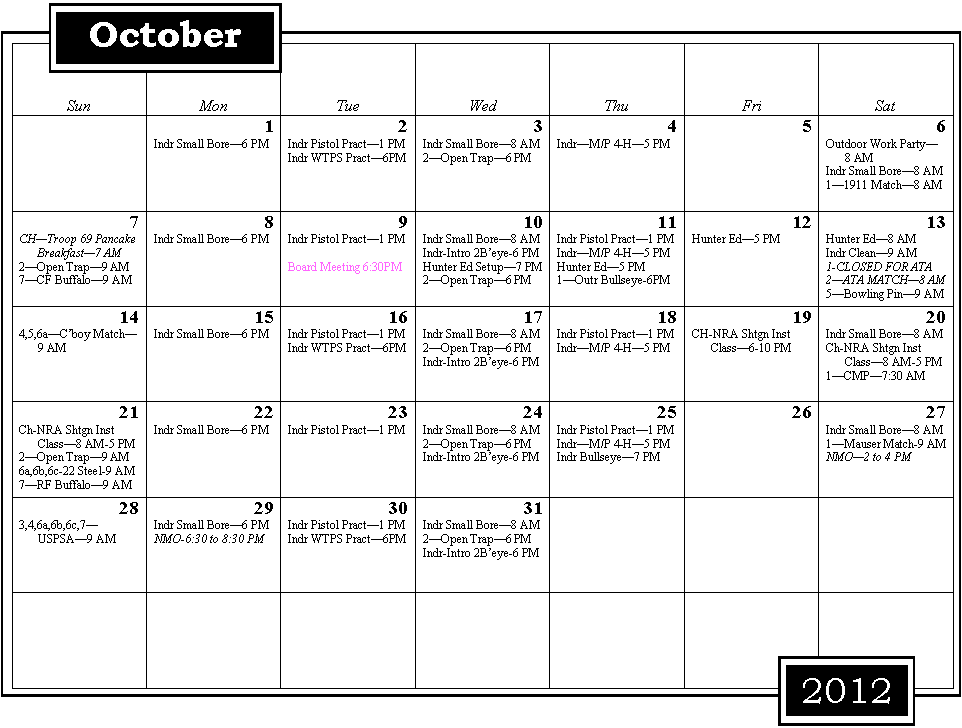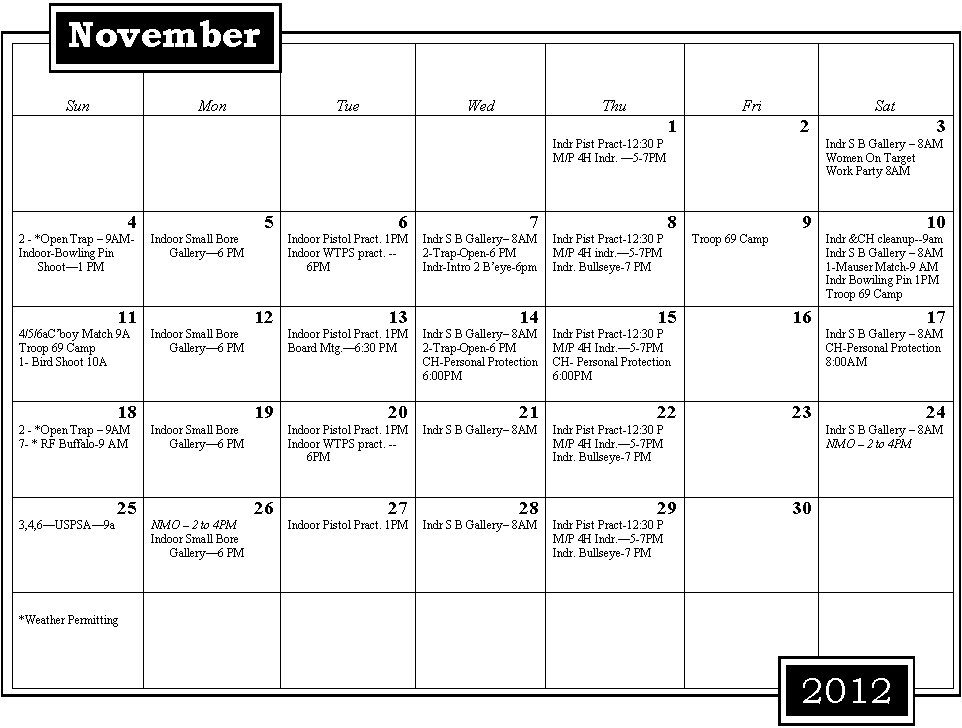 <![if !supportEmptyParas]> <![endif]>
<![if !supportEmptyParas]> <![endif]>
<![if !supportEmptyParas]> <![endif]>