Chillicothe Sportsmen's Club News December, 2012
WEB PAGE: www.chillisportsmen.org
Club Contacts:
If you have any questions or concerns about your Club you may contact any Club Officer listed below or any board member.
President        V-President     Secretary      Treasurer
Kevin Hutchison    Cally Morgan  Donald Clemens Lowell Bennett
(309)657-1518     (309)691-3427  (309)274-6870 (309) 274-5586
Election Of 2013 Officers –Annual Meeting
Our new club officers for 2013 are as follows:
President – Kevin Hutchinson
Vice President – Derek Howald
Secretary – Don Clemens
Treasurer – Lowell Bennett
2013 -2014 Directors – Chris Bach, Ken Cook, Eric Hansen, Jim Martin, Steve Risinger
 Membership Renewal
INDIVIDUAL DUES INVOICES ARE NOT SENT OUT. YOUR MONTHLY NEWSLETTER NOTICE IS ALL THAT YOU RECEIVE.
Your membership expires on December 31, 2012, and the gate lock will be changed on January 1, 2013.
Please be sure to return your 2012 membership card, with all information filled out, with your dues and /or fees, even if you don't have any or only partial work hour credits. This includes both non-renewing and renewing Annual Members, Associate Life Members, and Life Members (both under and over 65) all with or without work hours. Expired membership cards are needed for the Club's records. Thank You.
Annual dues are $100.00 plus $10.00 Land Fund plus $10.00 for each work hour NOT worked. DO NOT MAIL YOUR OLD KEY - After January 1, leave your old key in the green mailbox at the end of the sidewalk to the Clubhouse - Remember you will need this key for access until January 1.
Mail your filled out 2012 Membership Card and check to Chillicothe Sportsmen's Club, Box 13, Chillicothe, IL. 61523.
RENEW BY FEBRUARY 1 TO AVOID BEING ASSESSED THE $10.00 PER MONTH LATE PAYMENT FEE.
Comments By Our President:
The two most significant factors that forced the Board of Directors to consider a dues increase beginning with the 2013 membership year involved (1) the need for additional services such as expanded range area and support facilities in order to accommodate our growing membership and (2) increased maintenance expenses invoked significantly by a declining force of volunteer workers.
With a growing membership and its participation at a record high, the need to expand our facilities has been apparent for some time. The issue, of course, then became a question of what geographic area(s) do we expand, to what extent can we expand, and what will be the related costs? These are all complex areas that we of the Board have been painstakingly investigating and researching for several months. I'm pleased to say that we have, in fact, been making improvements based upon an impartial and educated evaluation of our specific needs. We realize additionally that more needs to be done and we are continuing our research. Although improvements are costly, our needs and potential have clearly shown that our membership will benefit from these changes, which will in reality spring forth from only a very small increase of annual dues, which I will address shortly.
Our other critical need for additional funds through an increase in annual membership dues involves numerous and normal day-to-day repairs. In times past, our membership united together into a variety of work parties designed to repair, maintain and sustain our ranges and support facilities. This spirit of mutual volunteerism was once vibrant and healthy, allowing us to maintain our facilities with a bare minimum of expense. Today's reality, however, is a stark contrast from even a few years ago. Quite simply, members are not volunteering as they once did. The end result is unquestionable: we are now having to pay for a number of services that we once received at little or no cost.
When the Board identified the need for additional funding, great caution was exercised so that the increase would fulfill our needs without being unnecessarily burdensome to our membership. A logical first step was to examine other ranges throughout the state, see what they had to offer and evaluate those features against their dues structure. Essentially, what we learned was that a substantial number of clubs in Illinois are in the $100 or more annual membership bracket and yet do not offer their patrons what we of the CSC offer ours. Dollar for dollar, we of the CSC are able to offer our membership many advantages not enjoyed by others. In fact, I have personally been to clubs that cost more than ours but give the member a lot less. We truly have one of the best clubs in the state.
As for the increase in fees, the reality is, in our view, that this is quite small, because this figure translates into only fifty cents per week. You can't even get a cup of coffee in a restaurant for this figure. Fiscal review has shown us that this pocket change, based upon our membership levels, will go a long way toward making a number of valuable improvements to our Club, which can be enjoyed by everyone.
I suspect that many of our members have no idea that it costs over six figures just to open our gate each January. In light of this, for our Board to have upheld the best interest of our members by agreeing on a bare minimal price increase that will achieve our goals for maintenance and growth speaks incredibly highly of their commitment, dedication, intellect and total concern for the CSC and its membership. This fifty cents increase is going to give us all a lot of bang for our buck.
President's Corner:
With our officer elections for the 2013 Board behind us, I'd like to thank everyone who showed up to vote and support our Club. Myself, I am honored and thankful to have been given another year to serve as President. Working with our present Board this year has truly been a great pleasure. We've got a first-rate team in place who without question have the best interest of the entire Club at heart. On top of this, our match directors and support staff are outstanding, dedicated people who take pride in all they do. It takes a tremendous amount of behind-the-scenes effort just to open our doors on 1 January of each year, and I've learned a lot from my prior service on the Board and have a genuine respect for everyone who has ever taken any kind of active role on our behalf.
Our membership level is at a record high, and we are taking steps to identify, prioritize and implement improvements through the application of sound fiscal practices. Although changes are not going to magically appear overnight, we've got a bright future ahead of us.
CSC Presents Award to Wilson Combat
On 17 October, I was at the headquarters of Wilson Combat (custom manufacturers of what I personally feel are the world's finest 1911 style pistols) in Berryville, Arkansas where I was proud to present Vice President Ryan Wilson with a very nice walnut, state-shaped, plaque from our club in appreciation for their generous support of our 1911 tactical marksmanship matches. Ryan and his executive assistant, Tressa Logue, are truly exceptional people who have befriended our Club in order to celebrate the spirit of the world's greatest handgun design and its ingenious inventor, John Moses Browning, who held over 100 firearms patents. In spite of some politicians who seemingly want to add the United States to the growing list of Third World countries, the fact remains that American ingenuity, craftsmanship and dedication are still the standards to which the world aspires. To Ryan and the tremendous staff at Wilson Combat, I thank you for your friendship!
Kevin
Raffle Activities: 
The winner of the M1 Garand rifle as drawn on October 20 was Estel Schram. This rifle was manufactured in 1955 by Harrington and Richardson, and it is a real piece of history.  M1 production ceased in 1956. This rifle is one of 306,300 produced in that serial number range. H&R had the reputation of producing a very well made rifle. Thanks to Chris Bach for his efforts.
Note: approximately 4.5 million M1 Garand rifles were produced. This is a testament to the manufacturing capability that America had in those years. Collecting them has become a hobby for a lot of shooting enthusiasts.
Indoor Range  Practice:
Just a reminder to all club members that the indoor range is open from 1:00 - 4:00 every Tuesday and from 12:30 - 3:30 every Thursday for pistol practice (.22 cal. rifles also allowed) for a nominal $5.00 range fee. Non members are also welcome to participate in this activity for an additional $1.00 more. Come out and take advantage of this opportunity and invite your friends as well. Any questions can be directed to either Bill Beluschek (309 648-0085) or Gene Perna (815 437-2286)."
Work Hour Opportunities/Work Parties:
Indoor Range And Clubhouse Cleaning
Saturday December 8, 2012
9:00AM
Contact Bob Bjerke @ 309-692-1800
Planning Committee Update:
If you have been on the club grounds recently you might have noticed the stakes with pink streamers at various locations. Mauer and Stutz Engineers have conducted a complete survey of our property. The end result will be a map and aerial photos complete with GPS coordinates. This leads the way for planning of additional ranges and better utilization of our facilities to better serve our members.
New Shelter  On Range 2:
Eagle Scout candidate Ian Borquist and his team from troop 69 in Lacon have done a bang up job on our new shelter. A big thanks to them, and the best of luck to Ian in his future endeavors.
And Finally:
Rimfire Buffalo Shooters               Our Lady Pistol Shooters 
<![if !vml]>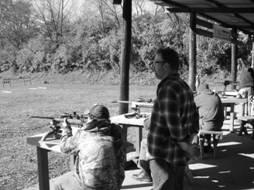 <![endif]>    <![if !vml]>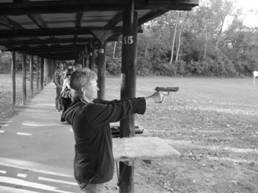 <![endif]>
  <![if !vml]>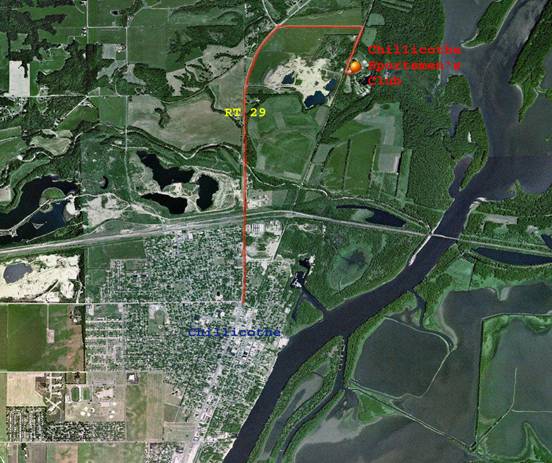 <![endif]>
The following are the range numbers:
    RANGE        LOCATION   
1  --      100 yard range
2  --      Trap range
3  --      Short lakeside range (just north of Cowboy Town)
4  --      Cowboy Town
5  --      Practice Range
6  --      3-bays
7  --      300 yard range
8  --      Archery Range
<![if !vml]>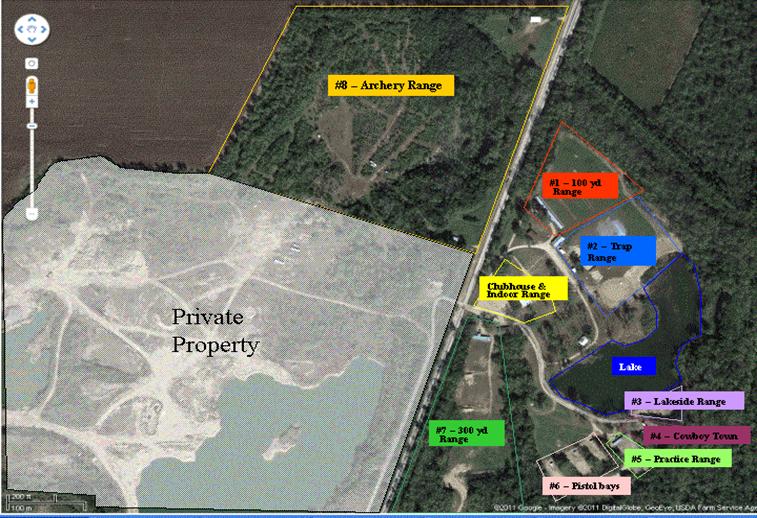 <![endif]>
<![if !supportEmptyParas]> <![endif]>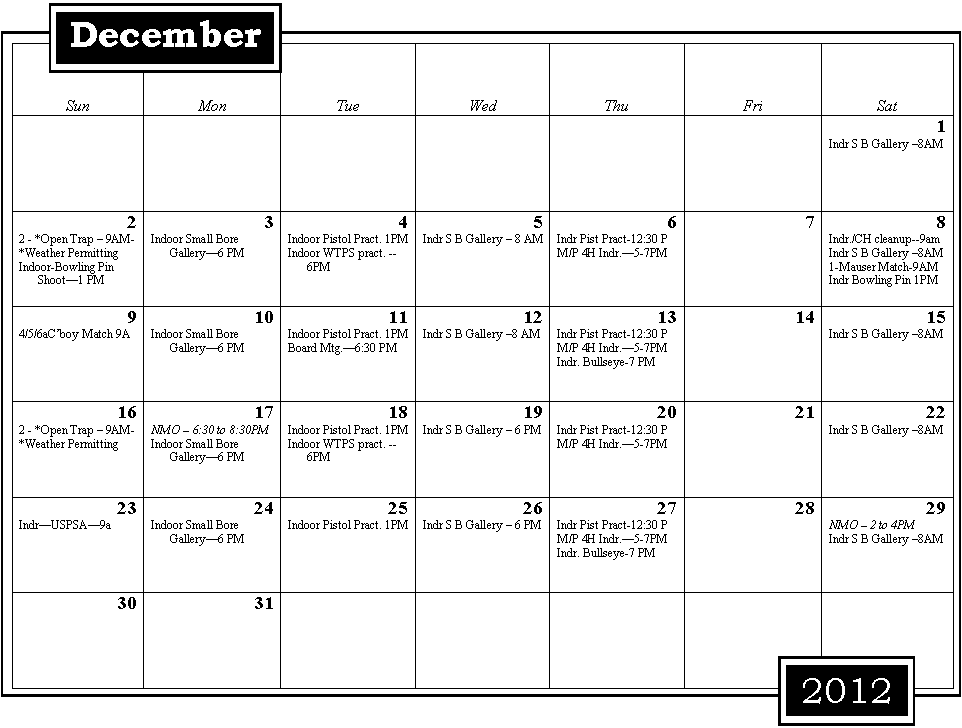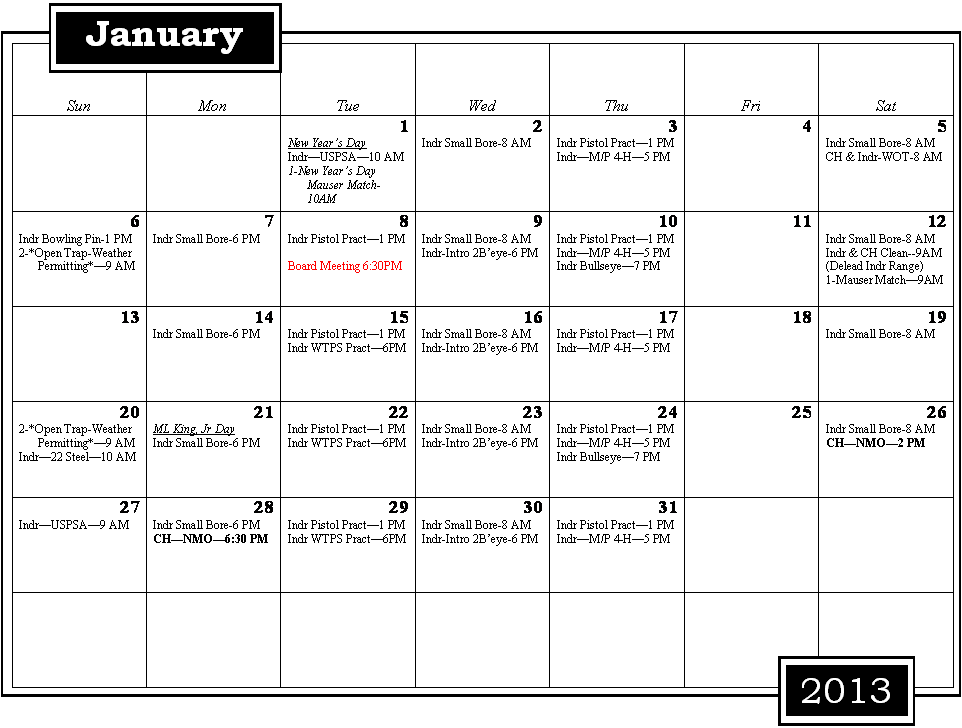 <![if !supportEmptyParas]> <![endif]>
<![if !supportEmptyParas]> <![endif]>
<![if !supportEmptyParas]> <![endif]>