Chillicothe Sportsmen's Club  News - February, 2013
<![if !vml]>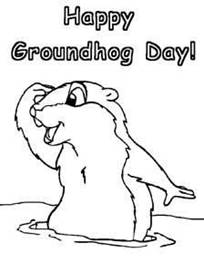 <![endif]>
I Hope I Don't See My Shadow!
WEB PAGE: www.chillisportsmen.org
Club Officers:
If you have any questions or concerns about your Club you may contact any Club Officer listed below or any board member.
President      V-President      Secretary    Treasurer
Kevin Hutchison    Derek Howald  Donald Clemens Lowell Bennett
(309)657-1518     (309)258-3116  (309)274-6870 (309) 274-5586
Membership Renewal:
We have had several comments regarding our dues structure for 2013, some con, but mostly pro. A good friend of mine recently joined a shooting club near St. Louis, MO with facilities similar to ours (although they don't have a lake). Their annual dues are $250. I submit that we offer a bargain.
Comments From Our Treasurer:
A short report on how your "club" ended up for the year 2012. To start with, it is no longer the old "club" that some of you remember from days past, but has been a business for several years.
We ended the year with 966 members.
It cost $122,602.43 to operate in 2012, with $26,753.64 going for Capitol Improvements, $25,079.81 on the Grounds, $10,849.00 for Insurance, $1305.93 for Propane Gas, $6582.80 for Property Taxes, $9828.91 on the Building maintenance and supplies, $4065.71 to Ameren Illinois, $7059.05 on Printing and Office Supplies, $2153.99 on Postage and then a whole lot of smaller expenses.
Your Dues brought in $64,540.00, Work Hours brought in $32,762.00, the Farm $6691.20, initiation and late Fees $9190.00 and the rest being covered by the activities. The two Gun Shows brought in $2817.00, Action Pistol $2927.22, Trap $6070.06, Bullseye Pistol in various forms $2279.49, Bowling Pin, $1785.48, the Driving Range, $1370.24, Archery, $1021.14, Small Bore Gallery Rifle $518.00, Sporting Rifle, $685.00, with all activities but one showing a profit or at least paying their way for the year.
Lowell
Raffle Activities:
There is still an opportunity to buy a chance on a Springfield XDM 45 ACP pistol as part of the Dean Martin memorial raffle. 100 chances will be sold.  Contact Bob Bjerke (309-692-1800) or Steve Risinger (309-449-6268)
Work Hour Opportunities/Work Parties:
Indoor Range And Clubhouse Cleaning
Saturday February 9, 2013
9:00AM
Contact Bob Bjerke @ 309-692-1800
Planning Committee Update:
Check out the improvements to the range house between range one and the trap range, new soffits, siding, and gutters. Much needed, and this will keep the hornets out.
2013 USRA Events at Chillicothe Sportsmen's Club
Intro to Defensive Handgun Range 5
Saturday April 27
Saturday May 25
Saturday June 22
Sunday September 1
Sunday October 6
American Rifle Marksmanship Range 1
Sunday May 26
Saturday August 31
usrifleman.org
847-920-USRA (8772) or Steve Schnurbusch 573-768-2450
Ladies:
You have an opportunity to continue your "Women on Target" instruction. You are invited to Chillicothe Sportsmen Club indoor range on most Tuesdays starting at 6:00 PM. We are going to shoot at 3 targets, 20 round each. Don't have a pistol, you can use a club .22 cal. pistol.
YOU MUST PROVIDE YOUR OWN EAR AND EYE PROTECTION.
Range safety officers will be present at all sessions.
Instructors will also be present to help any shooter.
NO MAGNUM CARTRIDGES ARE ALLOWED.
Where:     Chillicothe Sportsmen Club indoor range
Cost:         $5.00/session $2.00 for 60 rounds of .22 ammunition
When:       Every Tuesday (except the 2nd Tuesday due to CSC board meeting) at 6:00PM. Starting January 15, 2012.
More Info: Steven/Patricia Schhneckenburger
Home: 309-692-7807 Cell: 309-657-1170
6428 N. Devonshire Drive Peoria, Il 61615 s.schneckenburger@comcast.net
Greg/Cindy Brubaker Home: 691-7727 gdbclw1@gmail.com
                   Jim/Cheri McGann Cell: 309-253-4128
20327 N. Hampton Chillicothe,Il 61523 jimcherimcgann@yahoo.com
 Abbreviations - Event Director Contacts
NMO – New Member Orientation – Kevin Monk -
309-443-5339
YSSI – Youth Shooting Sports Invitational – Bob Bjerke - 309-692-1800
WITO –Women In The Outdoors – Maria Geiger  274-6823
M/P 4H - Marshal Putnam Youth Group – Bob Bjerke - 309-692-1800
WTPS – Women's Target Pistol Shooting – Kathy Beluschek  - 309-648-0085
CMP – Civilian Marksmanship Program – Steve Schneckenburger – 309-692-7807
ATA – Amateur Trap Association – Jerry Oglesby – 309-360-6152
USPSA – United States Practical Shooting Association – Chuck Varnold – 309-697-6766
WOT – Women On Target – Kevin Monk – 309-443-5339
Pistol: Bullseye/Practice – Scott Kirchner – 309-274-8407
Buffalo Shoot (Silhouette)
          Center Fire – Kyle Mustain – 309-255-6339
          Rim Fire – Mark Zimmerman – 309-258-2355
Sporting Rifle – Ross Baer – 309-274-3273
Small Bore Gallery – Lynn Goble – 309-685-9226
Cowboy – Kory Rickett – 309-925-5085
Bowling Pin – Kevin Monk – 309-443-5339
Mauser Match – Max Koehl – 309-256-0835
.22 Steel – Chuck Varnold – 309-697-6766
Hunter Ed. – Lowell Bennett – 309-274-5586
NRA Counselors – Kevin Monk – 309-443-5339
                              Bob Bjerke – 309-692-1800
Editor's Comments:
In light of current events it appears there is panic buying of firearms and ammunition. I noticed on the Cheaper Than Dirt web site that they had suspended firearm sales due to heavy demand. Our local dealer also tells me that he has gotten many "out of stock" responses from his suppliers on purchase requests. Be patient and write your congressperson.
Slide Fire Rifle Operation:
Our club officials recently observed a member operating a slide fire (or bump fire) rifle on one of the practice ranges. This device is not illegal, but mimics full auto operation. Our concern is rounds exiting the property due to muzzle climb, and the perception of our neighbors when the sound is heard. The board of directors voted to require approval of the use of these devices prior to operation. If you are planning to do so please attend a board meeting.
Information On Firearms Legislation:
We have had several members voice concerns about getting information to our members regarding pending legislation.
A good source is: www.isra.org
And Finally:
Mauser Match January 12                     Our Cowboys
A Full House
 <![if !vml]>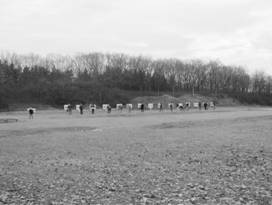 <![endif]>          <![if !vml]>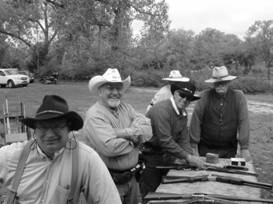 <![endif]>
<![if !vml]>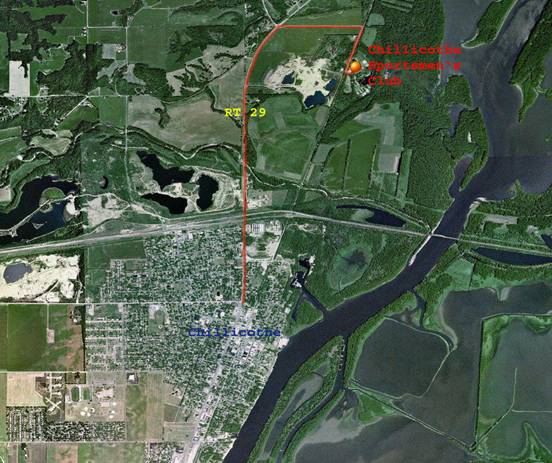 <![endif]>
The following are the range numbers:
    RANGE        LOCATION   
1  --      100 yard range
2  --      Trap range
3  --      Short lakeside range (just north of Cowboy Town)
4  --      Cowboy Town
5  --      Practice Range
6  --      3-bays
7  --      300 yard range
8  --      Archery Range
<![if !vml]>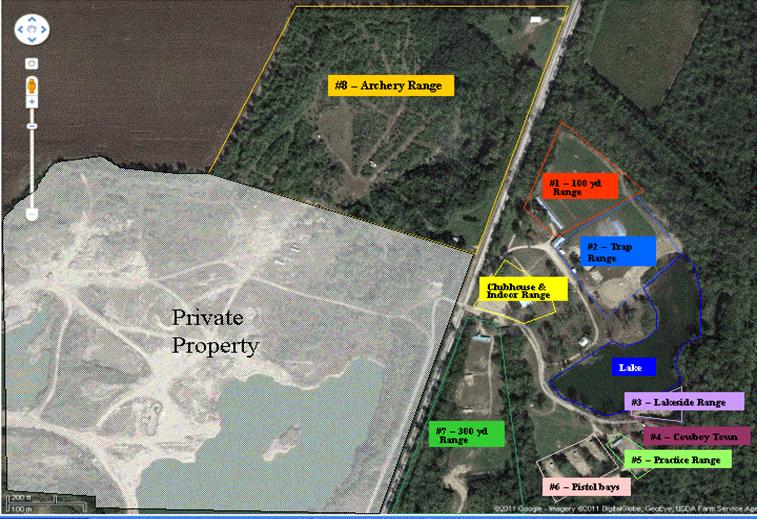 <![endif]>