Chillicothe Sportsmen's Club News - April, 2013
<![if !vml]>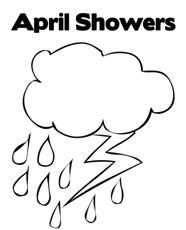 <![endif]>
Bring May Flowers And Good Shooting Weather
WEB PAGE: www.chillisportsmen.org
Club Officers:
If you have any questions or concerns about your Club you may contact any Club Officer listed below or any board member.
  President        V-President      Secretary    Treasurer
Kevin Hutchison    Derek Howald  Donald Clemens Lowell Bennett
(309)657-1518     (309)258-3116  (309)274-6870 (309) 274-5586
Membership Renewal:
We are at 857 members and rising. If you haven't renewed, please do so ASAP.
Spring Gun Show:
April 6th 9:00AM – 4:00PM
April 7th 9:00AM – 3:00 PM
  <![if !vml]>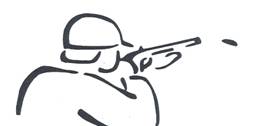 <![endif]>
Set up April 5 - 9:30 AM
We Will Need Help In The Kitchen And At The Door
Call Steve 309-208-1010 Or  Gordon  309-397-4711
Additional Gun Show Dates:
September  28 – 29
December 7 - 8
ATA Trap Shoot Event Held March 17
32 Shooters Participated, 8300 Clay Birds Flew
16 Yard Winners:
Class A:  Mike Dennis               194
Class  B:  Chad Bern                   194
Class  C:  William Murphy        194
Class  D:  John Klendworth      179
Handicap Winners:
Eric Rasmusen      93
Charles Stank        93
Richard Drennen  89
Mike Dennis          89
Raffle Activities:
<![if !vml]>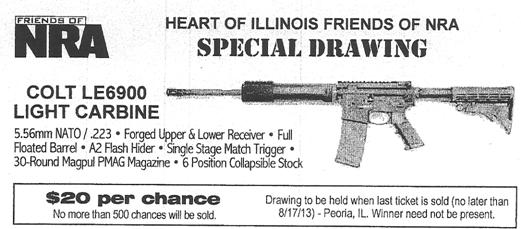 <![endif]>
<![if !vml]>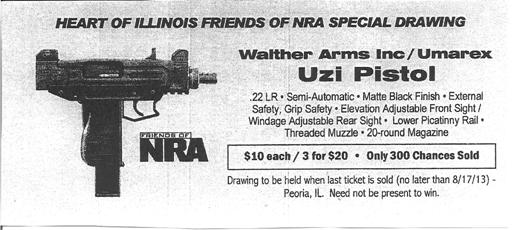 <![endif]>
Contact Bob Bjerke at 309-692-1800
M14 Raffle:
There is also an opportunity to purchase a chance on a Springfield Armory M1A. 200 tickets will be sold at $10 each and the proceeds will go to Easter Seals, a very worthy cause. You can purchase tickets at Dry Creek Firearms in Chillicothe, or call Steve Lewis at 274-5118.
<![if !vml]>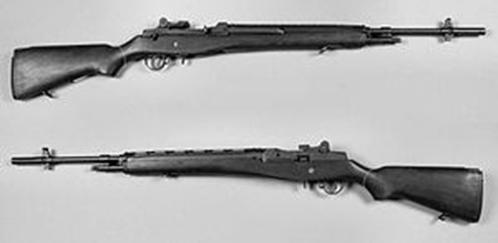 <![endif]>
M1 Garand Raffle:
<![if !vml]>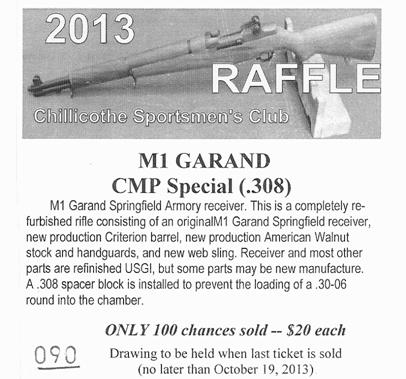 <![endif]>
Work Hour Opportunities/Work Parties:
Indoor Range And Clubhouse Cleaning
Saturday April 13, 2013  9:00AM
Contact Bob Bjerke @ 309-692-1800
Outdoor Work Party
Saturday March 30, 2013  8:00AM Target Repair And Grounds Maintenance. If you have any spare plywood or particle board please bring it to help with the effort. Meet at the range house.
Contact Steve Schneckenburger at 309-692-7807
NRA Approved High Power Rifle Matches (HPR/CMP/DCM) for 2013
 April 27, May 18, June 15, July 20, August 17, September 21, October 19, 2013 (check your calendar)
Introduction To Defensive Handgun
Saturday April 27  8:30AM – 5:00PM Cost $75
<![if !supportLists]>· <![endif]>Learn how to safely operate your handgun
<![if !supportLists]>· <![endif]>Learn what additional equipment you should have and how to carry it
<![if !supportLists]>· <![endif]>Get an overview of Illinois law and steps you should take now
<![if !supportLists]>· <![endif]>Will cover: mindset, situational awareness, use of cover, barricades, movement, and more
<![if !supportLists]>· <![endif]>Pre-registration is highly recommended. A certificate of completion  and CCW application for Florida will be issued on site
www.usrifleman.org  for information on what to bring and to register
847-920-USRA(8772)
Or Steve Schnurbusch 573-768-2450
Archery Programs:
A lot of our club members may not be aware of our club's archery ranges. We have a 32 acre site. Every 3rd weekend of the month 40 lifelike foam targets in various scenarios and distances are available so that one can rove through the course in order and shoot for score. Traditional, compound, and cross-bows are welcome at a cost of $10. Club members shoot for $5.
Information: Larry Polloack 274-9653
Editor's Comments:
Illinois Gun Owners Lobby Day Rally was held in Springfield on March 6. Several of our members attended. CSC  members Ross Baer, Paul Bishop, Justin Howeler, Bob Griffith, Steve Risenger, Jim Martin, and probably others joined thousands of others in Springfield for a rally at the Prairie Capital Convention Center and a march to the capital to lobby our legislators for our second amendment gun rights and for a sensible concealed carry law. We delivered messages to our Senator, Representative, and Senate President. Remember that the price of freedom is eternal vigilance, and the enemy of freedom is apathy. Think about that.
Rocky Mountain Elk Foundation Event:
April 6 at the Stony  Creek Inn, East Peoria, IL., raffles, silent auctions etc. Contact Chuck Gabbert at 698-2207.
YSSI WEEKEND WORK HOUR CREDITS:
 The 13th Annual YSSI Weekend is set for April 19 & 20, 2013.  Help will be needed on Saturday, the 20th, on all ranges (Indoor Rifle, Shotgun, Archery, High-Power Rifle, Muzzle Loading Rifle, Cowboy Action Pistol, Buffalo Rifle, USPSA, and in the Clubhouse Kitchen.  WORK HOUR CREDITS will be given to all volunteers who assist.  Questions – call the appropriate Range Director to volunteer for that Range or Bob Bjerke @ (309) 692-1800.
And Finally:
 Indoor Bowling Pin Match       New Member Orientation Class  
"Draw You Pinheads!"        Kevin Monk And 21 New Members
<![if !vml]>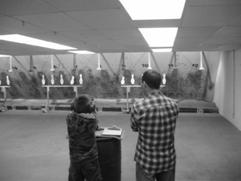 <![endif]>                   <![if !vml]>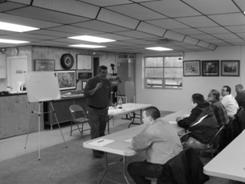 <![endif]>
<![if !vml]>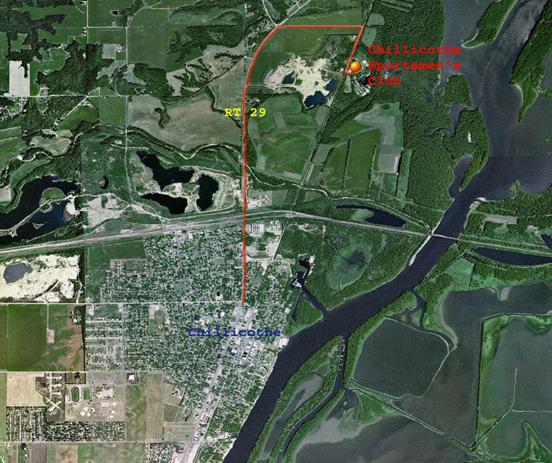 <![endif]>
The following are the range numbers:
    RANGE        LOCATION   
1  --      100 yard range
2  --      Trap range
3  --      Short lakeside range (just north of Cowboy Town)
4  --      Cowboy Town
5  --      Practice Range
6  --      3-bays
7  --      300 yard range
8  --      Archery Range
<![if !vml]>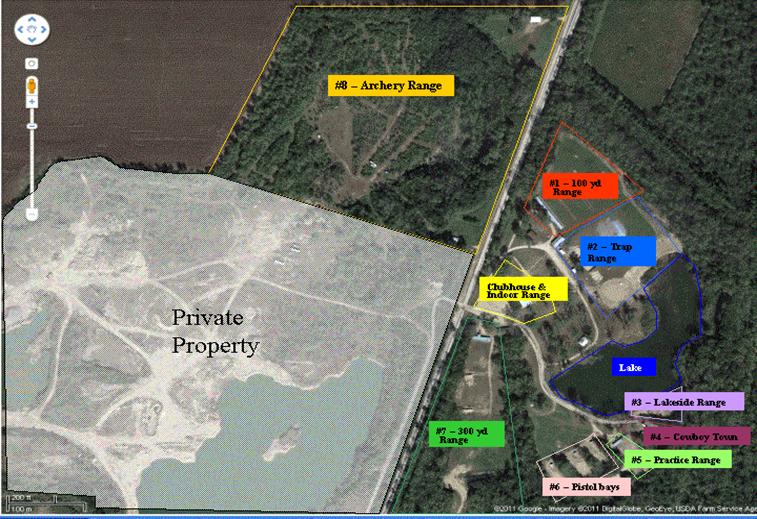 <![endif]>

----------------------------------------------------------------------------------