<![if !vml]>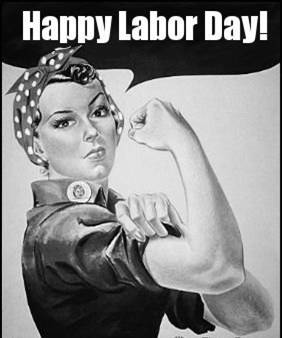 <![endif]>Chillicothe Sportsmen's Club News - September 2013
President:                                                          
Kevin Hutchison                                                                                 
(309)657-1518                                      
Vice President           
Derek Howald             
(309)258-3116
Secretary:
Donald Clemens                                                                                          
(309)274-6870                                                            
Treasurer:                                               Rosie The Riveter                   
Lowell Bennett                                       We Can Do It!
(309-274-5586                                                                                       
Safety Information:
Please do not shoot to ground on any of our ranges. What we strive for is this: the bullet leaves the firearm, it passes through the target, and impacts the backstop. NRA data shows that a shallow round can skip at up to a 40 degree angle. So it is like a knuckle ball, who knows where it is going. Please manage your targets appropriately.
Gun Show Information:
The fall gun show will be held on September 28-29 at the club house.
Setup will be on Friday September 27 at 9:00AM
Show hours are Saturday 8:30-4:00 and Sunday 8:30 – 3:00
Cleanup will be at 3:00PM on Sunday
Please contact Steve Risinger 309-449-6268/Gordon Young 309-6330143
CMP High Power Match:
The next high power rifle match is scheduled for Saturday September 21st  at 7:30 AM. We will also be hosting a M1 Garand match at 1:00 PM on this day. Contact Steve Schneckenburger at 309-692-7807 or  309-657-0170 for information
Welcome New Members:
William Aten, Scott Bell, Scott Hoecker, Rachelle Kilbey, Thomas Long, Matthew Wagner
Great to have you aboard
3 Gun Match Scheduled For September 29:
5 multi gun stages – with an added  pistol stage
For more information call Eric Henson 309-258-3116
e-mail: dubltap2@gmail.com
Work Hour Opportunities/Work Parties:
Outdoor Work Party:
Saturday September 7   8:00AM
We will be cleaning up downed trees and weeds, painting steel doors, making targets, and cleaning up trash on all ranges. Please bring chain saws, weed trimmers, trucks or trailers, rakes, etc. Ranges may be temporarily closed as tasks are performed.  Contact Steve Schneckenburger at 309-692-7807 or 657-0170 for more information.
Indoor Work Party:
Saturday September 7 at 9:00AM.  The facility was last cleaned on May 4. A thorough cleaning is needed to get the facility ready for the fall activities.
Contact Bob Bjerke at 309-692-1800 for more information
American Rifle Marksmanship Class Saturday August 31, 2013 8:00Am
Range 1 Fee $50, $20 for those under 21
standing, seated, prone, sling usage, inches-minutes-clicks, natural point of aim, and more. This is a rifle class where you can build the foundations of excellent rifle shooting.
Introduction To Defensive Handgun Sunday September 1, 2013 8:00AM
Range 5 Fee $75
Familiarization , grip, stance, reloads, drawing from a holster, movement, malfunction drills, shooting around cover, use of lawful  force, and more. This is not a class for you if you have not fired a handgun before.
Contact: usrifleman.org  847-920-8722 or Steve Schnurbusch  573-768-2450
Planning Team Update:
We are looking at upgrades to range 7 as well as the range club house. We are also looking at adding additional shooting bays to serve our members. We have received input that we need dedicated shooting bays where no events are to be scheduled so that our members can use them as their time permits.
Comments From Our Groundskeeper:
The range 1 renovation is complete. Enjoy the new facility. The blue containers are for your spent cases. Please use them as the Boy Scouts will be collecting them for recycling. All trash needs to be placed in the barrels. A reminder, no shot shells are allowed on range 1 or 7.
Raffle Result:
The .308 caliber M1 Garand rifle was won by Tom Metzke  at  the drawing during  the board of directors meeting on August 13. Congratulations Tom, you now own a piece of history.
And Finally:
Muzzle Loader Shoot                                                Mauser Match Group
         Range 5                                                             August 10
New Range 1                   
<![if !vml]>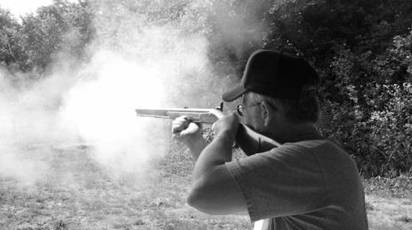 <![endif]>                   <![if !vml]>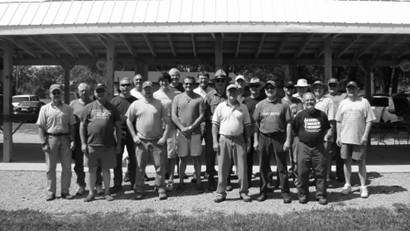 <![endif]>
The following are the range numbers:
    RANGE        LOCATION   
1  --      100 yard range
2  --      Trap range
3  --      Short lakeside range (just north of Cowboy Town)
4  --      Cowboy Town
5  --      Practice Range
6  --      3-bays
7  --      300 yard range
8  --      Archery Range
<![if !vml]>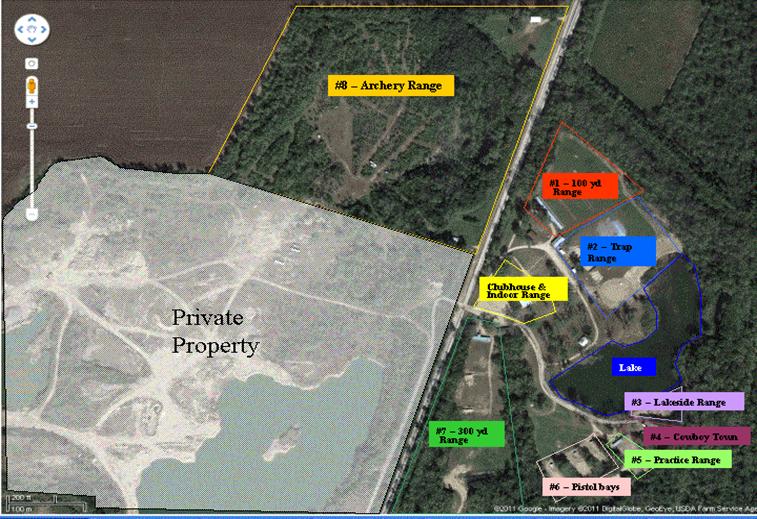 <![endif]>
/----------------------------------------------------------------------------------//>