Chillicothe Sportsmen's Club News – February 2014
<![if !vml]>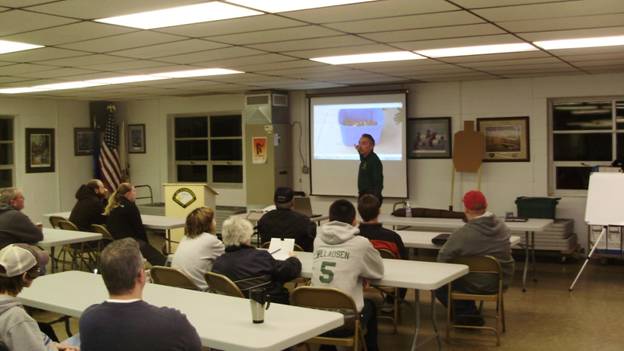 <![endif]>
New Member Orientation Class – 25 Attendees
Don Filkins – A Great Instructor
Note: We are currently at 630 members – renew your membership
Welcome New Members:
Sam Willladsen, Bryan DeNure, Tim DiBernardino, Richard Etter, Scott Gossett, Antonio Johnson, Bob Lampe, Robert Lundholm, Christopher Mize, Robert Murphy, John Myatt, James Naramore, Suzanne Pierson, Mark Reinhold, Chris Smith, Richard Stewart, Joseph Taylor, Richard Travis, Efstratios Trilikis, Christopher Wisslead, Scott Wolf.
It is great to have you on board and on our team!
Membership Renewal:
Renew your membership by sending it to Chillicothe Sportsmen's Club P.O. Box 13 Chillicothe, Il 61523. Dues are $100 for annual members plus $10 for the land fund as well as $10 for every work hour (10 required) not recorded on your membership card. The land fund fee and work hours also apply to life and associate life members. Just a reminder that if you are not timely with your renewal there will be a $10 per month penalty after February 1, and your newsletter will terminate on March 1.
 Also if you have changed address (either e- mail or residence) please notify our secretary or web master. We have been receiving many undeliverable newsletters which is an expense for the club. Thanks.
Spring Gun Show Report:
The spring gun show will be held on April 5-6 at the club house.
Setup will be on Friday  April 4 at 9:30AM
Show hours are Saturday 8:30-4:00 and Sunday 8:30 – 3:00
Cleanup will be at 3:00PM on Sunday
Please contact Steve Risinger 309-449-6268 or Gordon Young 309-633-0143
Work Hour Opportunities/Work Parties:
Outdoor Work Party:
The next work party will be on March 1, 2014 at 8:00Am  Contact Steve Schneckenburger at 309-692-7807 or 657-0170 for more information.
Indoor Work Party:
Saturday February 8 at 9:00AM.  Clubhouse Cleaning And Maintenance
Contact Bob Bjerke at 309-692-1800 for more information
High Power Rifle Work Party:
March 15 at 9:00AM at the range house. Rebuilding target frames and other things as needed. Contact Chris Bach at 309-256-1712
Raffles:
Winner of the Friends Of NRA 1911 S/R .45 ACP pistol was CSC member Greg Brubaker
Buy a chance on a Remington 1911 R1 .45 ACP for $20. 100 tickets will be sold. Contact Bob Bjerke at 309-692-1800
We are also offering an opportunity to win a 1903A4 Springfield rifle. 150 tickets will be sold at $20 each. Call Chris Bach 309-256-1712 or Bob Griffith 309-274-2068
NRA Convention:
We are contemplating a bus trip to the convention in Indianapolis on Saturday April 26. This would be a one day event leaving at 6:00AM and returning around 9:00PM. The cost would be approximately $35. If you are interested please e-mail Terry Beachler at terryb@beachlers.com   or Jim Martin at martijl2@mtco.com
Club Officers:
President: Kevin Hutchison (309) 657-1518
Vice President: Derek Howald (309) 258-3116
Secretary: Donald Clemens (309) 274-6870
Treasurer: Lowell Bennett (309) 274-5586
And Finally:
                            Mauser New Years Day Shoot
                            (Now there are some hardy SOULS!)
                     <![if !vml]>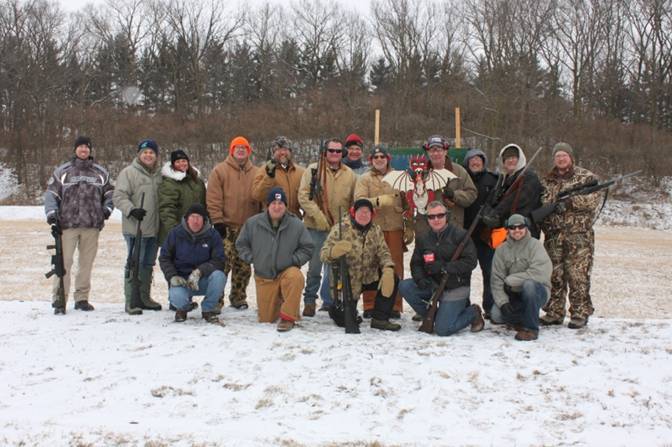 <![endif]>
The following are the range numbers:
    RANGE        LOCATION   
1  --      100 yard range
2  --      Trap range
3  --      Short lakeside range (just north of Cowboy Town)
4  --      Cowboy Town
5  --      Practice Range
6  --      3-bays
7  --      300 yard range
8  --      Archery Range
<![if !vml]>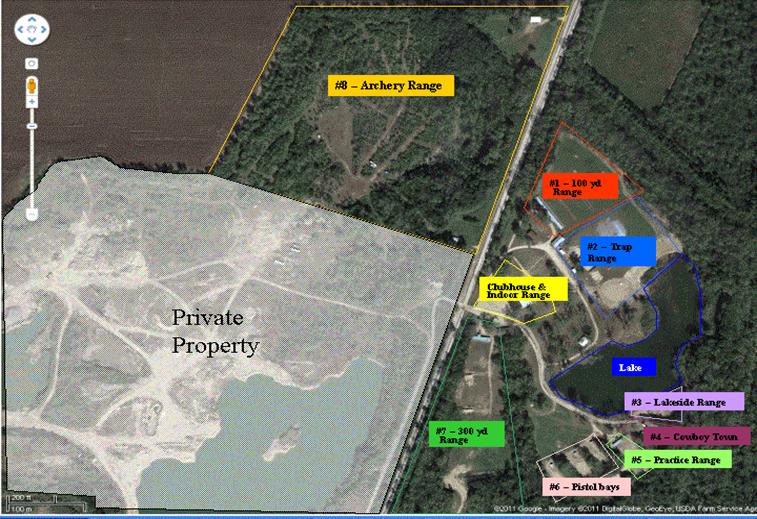 <![endif]>
/----------------------------------------------------------------------------------//>