Chillicothe Sportsmen's Club News – April 2014
In Memoriam:
<![if !vml]>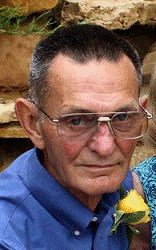 <![endif]>
John Meyers
1940-2014
One of our founders and a key member of our club who made it what it is today.
From Our Treasurer:
A short report on how your "club" ended up for the year 2013.
We ended 2013 with 994 members.
What is interesting to me is that there is not a single activity that can stand on its own, in fact no activity can even pay the real estate taxes. Without member dues to pay the expenses, there would be no club.
It cost $161,114.47 to operate in 2013, with $54,446.35 going for Capitol Improvements, $23,338.40 on the Grounds, $12,034.00 for Insurance, $6430.56 for Property Taxes, $5902.80 on Building Maintenance, $3551.94 to AmerenIllinois, $2835.66 for Propane Gas, $2678.64 for Consumable Supplies, $5776.23 on Printing and Office Supplies, $2508.08 on Postage and then a whole lot of smaller expenses.
Your Dues brought in $87,400.00, Work Hours brought in $41,755.00, the Farm $11,116.80, Initiation and Late Fees $8392.00 and the rest being covered by the activities. Those which brought in more than $500 are listed. The three Gun Shows brought in $4441.68, Bullseye Pistol in various forms $3658.85, Bowling Pin $2222.89, Action Pistol $2102.26, High Power Rifle $1821.93, the Driving Range, $1470.07, Mauser Matches $ 1116.50, Small Bore Gallery Rifle $999.50, Cowboy $995.00, Sporting Rifle, $700.00, with all activities but three showing a profit or at least paying their way for the year.
Welcome New Members:
Edwin Black, Edwin Black Jr., Matthwew Buedel, Troy Cage, Bradley Carmichael, Eric Conn, Craig Conney, Elizabeth Doyle, Brian Gillespie, Martin Hansen, Julian Jaramilo, Andrew Muir, Thomas Sanders, David Schuldt, Raiz Shaikh, Mark Vivian, Charles Wilson
We welcome you to our organization, and hope you enjoy your time with us.
Happy Shooting, fishing, archery, and using the facility.
Spring Gun Show Report:
The spring gun show will be held on April 5-6 at the club house.
Setup will be on Friday  April 4 at 9:30AM
Show hours are Saturday 8:30-4:00 and Sunday 8:30 – 3:00
Cleanup will be at 3:00PM on Sunday
Please contact Steve Risinger 309-449-6268 or Gordon Young 309-633-0143
Work Hour Opportunities/Work Parties:
Outdoor Work Party:
The next work party will be on April 5, 2014 at 8:00Am. We will need large screwdrivers, flat bars, hammers, pliers or vice grips to remove liners in the concrete target holders. We will need screw guns, saws, and hammers to make target frames. Please note: All ranges are closed to shooting until after the work party is complete at approximately 1:00PM.
 Contact Steve Schneckenburger at 309-692-7807 or 657-0170 for more information.
Indoor Work Party:
Saturday April 12 at 9:00AM.  Clubhouse Cleaning And Maintenance
Contact Bob Bjerke at 309-692-1800 for more information
USRA Introduction to Defensive Handgun
Chillicothe Sportsmen's Club Range 5
Saturday, April 5, 2014 $100
An intensive one day class. Learn new skills or get much needed range practice to compliment your carry training.
· Learn how to safely operate your handgun
· Learn what additional equipment you should have and how to carry it
· Get an overview of Illinois law and steps you should take now
· Will cover: mindset, situational awareness, use of cover, barricades, movement, and more
usrifleman.org 847-920-USRA(8772)
steve_schnurbusch@hotmail.com 573-768-2450
Trap News:
Continuing into April open trap shooting will be open on Wednesdays starting at 6:00PM weather permitting.
Raffles:
Buy a chance on a Remington 1911 R1 .45 ACP for $20. 100 tickets will be sold. Contact Bob Bjerke at 309-692-1800
We are also offering an opportunity to win a 1903A4 Springfield rifle. 150 tickets will be sold at $20 each. Call Chris Bach 309-256-1712 or Bob Griffith 309-274-2068
NRA Convention:
Some club members have organized a bus trip to the convention in Indianapolis on Saturday April 26. This will be a one day event leaving at 6:00AM from the former Shopko park ing lot at Allen Road and Pioneer Parkway and returning around 9:00PM. The cost will be $35. If you are interested please e-mail Terry Beachler at terryb@beachlers.com  or Jim Martin at martijl2@mtco.com
YSSI Weekend:
The Youth Sports Shooting Invitational is scheduled for April 25-27. Help is needed for trap, high power rifle, muzzle loader, archery, cowboy action pistol, buffalo rifle, uspsa, and in the kitchen and clubhouse. Work hour credits will be given to all volunteers who assist. We expect approximately 100 scouts and their leaders. If you would like to volunteer, contact the event director for that discipline or call Bob Bjerke at 309-692-1800.
Club Officers:
President: Kevin Hutchison (309) 657-1518
Vice President: Derek Howald (309) 258-3116
Secretary: Donald Clemens (309) 274-6870
Treasurer: Lowell Bennett (309) 274-5586
            `
And Finally:
<![if !vml]>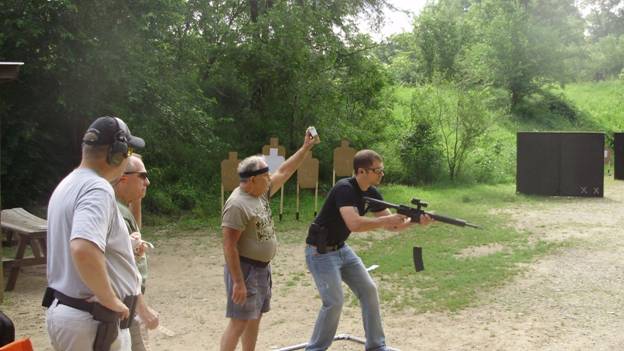 <![endif]>
                                   A Recent Three Gun Match
                                                      OOPS!
The following are the range numbers:
    RANGE        LOCATION   
1  --      100 yard range
2  --      Trap range
3  --      Short lakeside range (just north of Cowboy Town)
4  --      Cowboy Town
5  --      Practice Range
6  --      3-bays
7  --      300 yard range
8  --      Archery Range
<![if !vml]>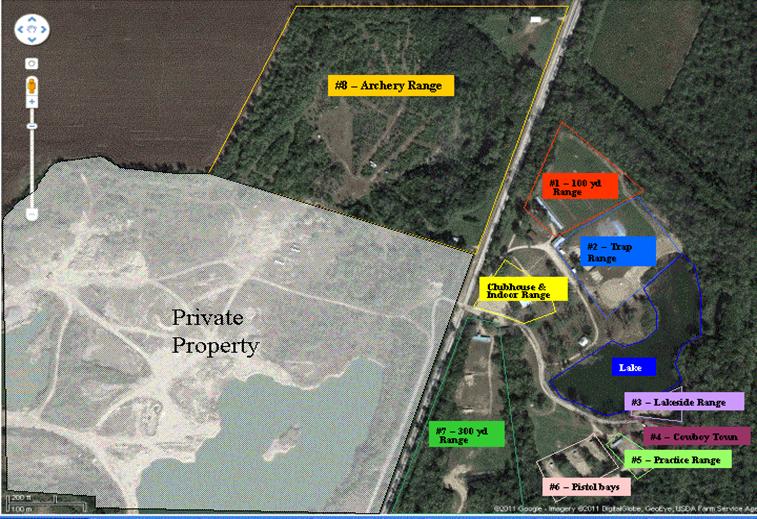 <![endif]>
/----------------------------------------------------------------------------------//>